Where did that come from? Manchester United had laboured sorely, the errors and the looseness coming from a variety of players. Atlético Madrid appeared happy and comfortable with a 1-0 scoreline and it was easy to think this was set to be another Champions League misstep from United, who have won only two knockout ties since their run to the final in 2011 – Olympiakos (2014) and Paris Saint-Germain (2019).
Ralf Rangnick's players had created next to nothing, although they were slightly better in the second half after a torrid opening period when João Félix's lovely header had been scant reward for Atlético. And then it happened.
Rangnick had introduced the 19-year-old winger Anthony Elanga in the 75th minute and, with his first involvement, he scored the goal that turned this last-16 tie upside down, breathing hope back into his team.
It was Bruno Fernandes who picked the pass – finally, after a hugely difficult evening. And when Reinildo Mandava, the Atlético central defender, gambled and lost – stretching for the interception only to miss the ball – Elanga was away. The finish was pulled low into the far corner, the angles perfect to beat Jan Oblak, and the United support could salute a new hero.
After Premier League goals at Brentford and Leeds, this was the moment when Elanga announced himself on the most glittering stage. And with such breathless composure. "Woah, it's Elanga," chorused the travelling fans, giddy at the escapology. It was dream-come-true stuff on every level.
There would still be time for Antoine Griezmann, on as a substitute for Atlético, to rattle the crossbar and it was not the first time the woodwork had denied his team. At the end of the first half, a Sime Vrsaljko header had hit Victor Lindelöf and come back off the crossbar.
It turned into United's night. And that of Elanga. They will have to play an awful lot better than this in the second leg if they are to advance and, remember, away goals no longer count double in the event of an aggregate draw. But in the emotion of the moment, it felt glorious simply to be all square.
It was United's biggest game of a troubled season and Rangnick's greatest test after a relatively gentle run of introductory fixtures at the club. The tone had been set by the raucous welcome with which the home support greeted the Atlético team bus – flares lit, songs belted out – while the slogan on the massive tifo unfurled before kick-off read: "Vuela Atleti". Fly Atleti.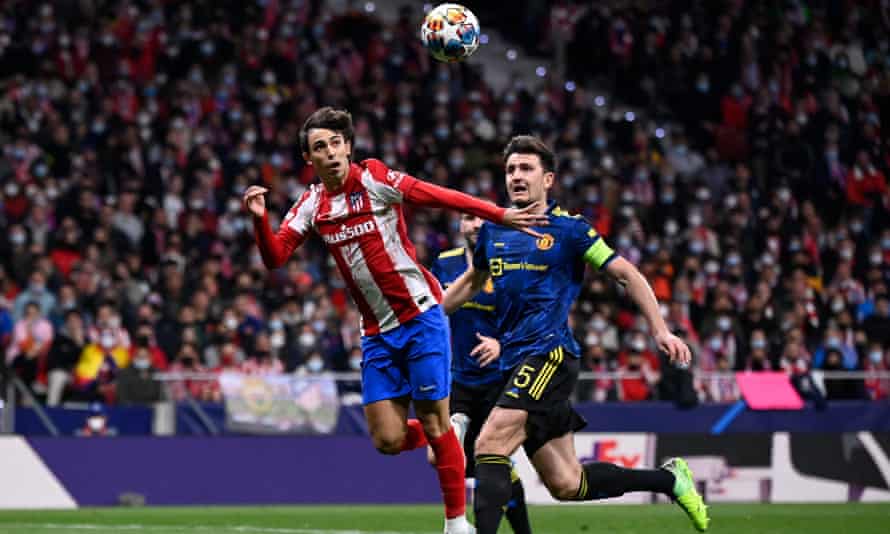 United crashed. Rangnick would say that he could not believe how bad his team were in the first half – nobody could – and the path to Félix's early goal had been well lit, albeit in a short space of time.
United were all over the place in the opening minutes. There was a needless corner concession by Harry Maguire, Fernandes gave the ball away three times in what felt like the blink of an eye and David de Gea scuffed a clearance into touch. After one of Fernandes's mistakes, Lindelöf – who struggled at right-back – needed to jump into a brave block to keep out a José María Giménez shot.
The breakthrough came after Lindelöf had cleared from a corner. Atlético worked it to Renan Lodi and his wonderful cross from the left was an invitation for Félix to throw himself at the ball. He accepted it, the diving header a moment of the highest quality, all hang time and perfect body shape. The ball kissed the inside of the near post and went in. Maguire was the nearest United defender and he was not very near.
United's response was to try to dig out a foothold by keeping possession, putting a few passes together. They did not go anywhere with them but it did not seem to matter.
Anything to distil a few dregs of confidence. And yet they continued to make basic errors for the remainder of the first half, surrendering possession, further scarring the performance. It really was the toughest of watches.
Maguire hammered a pass at Fred, which he could not control – the midfielder was fortunate to be given a free-kick after Geoffrey Kondogbia swooped in – while one moment on the half-hour seemed to encapsulate United's lack of focus. De Gea rolled the ball to Raphaël Varane on the six-yard line but the defender did not seem to know that it was there for him. He woke up just in time. It was a heart-stopper.
The only mercy for United was that the half-time damage was not heavier. It would have been had Vrsaljko converted from another excellent Lodi cross. With Cristiano Ronaldo struggling – much to the delight of the home crowd, whom he had tormented many times previously – United lived on their nerves.
The feeling was that United could not be as poor and as aimless in the second half, although Fernandes continued to struggle. He was not alone. Paul Pogba was anonymous. Marcus Rashford could get nothing going.
The tide began to turn when Rangnick made a triple change in the 66th minute; Nemanja Matic for Pogba; new full-backs, Aaron Wan‑Bissaka and Alex Telles, for Lindelöf and Luke Shaw. They made a difference and, despite it all, United retained a puncher's chance. How Elanga would make it count.