23:04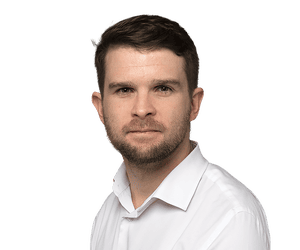 Christopher Knaus
Craig Kelly is being investigated for billing taxpayers to fly to anti-vaccine mandate, anti-lockdown rallies in Melbourne, internal records show.
Kelly, the leader of the United Australia party, charged taxpayers for his flights to and from Melbourne for two rallies in November and December last year, which were organised chiefly as protests against Victoria's pandemic powers and the Victorian premier, Dan Andrews.
The rallies were also used to protest Covid vaccination generally, particularly for children, and vaccine passports.
Kelly was a prominent figure at both rallies. At the first protest, Kelly told the crowd that Australia was being "governed by medical bureaucrats that are part of a mad, insane cult" and said the UAP would "bring Daniel Andrews to his knees" after the next election.
You can read the full report below:
22:55
Big Day Out creator Ken West dies aged 64
Overnight we learnt that Ken West, the creator of the Big Day Out festival that toured Australia and New Zealand for 22 years, has died aged 64.
His family have released a short statement, stating the music industry legend passed "quietly and peacefully".
We bring unfortunate news that Ken West, a father, husband, mentor and most of all a legend, has passed away peacefully in his sleep on the morning of the 7th April 2022.

Our family would appreciate respect and privacy during this difficult time. Ken was big and noisy in life, but passed quietly and peacefully.
Overnight, Australia has joined 92 other countries to suspend Russia from the UN Human Rights Council.
You can read more here:
Good morning all, and happy Friday! It's Matilda here with you today and let's start with the unfolding flood situation in areas of NSW.
Early this morning, evacuation orders were issued for people living in Cornwallis and the eastern part of Richmond lowlands.
Residents in parts of Cattai, Pitt Town and Agnes Banks were also told to get out for fear of being trapped without power and water.
Major flood warnings are in place for rivers in the the Hawkesbury-Nepean Valley and the NSW Central and South Coast after torrential rain drenched the Sydney, Shoalhaven and Wollongong regions on Thursday.
The downpour and threat of flooding also forced 24 schools to close today, with another 13 schools teaching classes at different sites.
Now, sticking with NSW for a moment, where the first cases of "Deltacron" and another Omicron strain of Covid-19 have been detected.
Essentially this is something called a "recombinant" infection, where two separate strains of the virus combine to create a new strain.
The state's weekly Covid-19 report showed the state has recorded two of these recombinant cases: one mix of the Delta and Omicron variants, or "Deltacron", and one combination of Omicron's two subvariants … so that's not great.
But it's worth noting that there isn't any evidence so far that these new strains would be more resistant to vaccines or cause more severe illness.
Twenty Australia Bushmaster combat vehicles are leaving in a convoy today destined for Ukraine, to help the country in its counteroffensive against Russia.
Defence minister Peter Dutton, said supplying the equipment was an honour.
We're going to gift 20 Bushmasters to the Ukraine and the idea will be to provide the support to keep people safe and to repel the Russians as quickly as possible from the Ukrainian territory.
Okay, with all that in mind, why don't we jump right into the day.