The US Senate is back in session today after its latest recess and there will be close attention on a bipartisan group of senators that is exuding increased confidence that a package of gun control measures can advance and make it into law.
Connecticut Democrat Chris Murphy is fond of the word significant. Just days ago, less than a week after the mass shooting at Robb elementary school in Uvalde, Texas that killed 19 young children and two teachers, he talked of "an opportunity right now to pass something significant".
Murphy yesterday added: "The possibility of success is better than ever before. But I think the consequences of failure for our entire democracy are more significant than ever."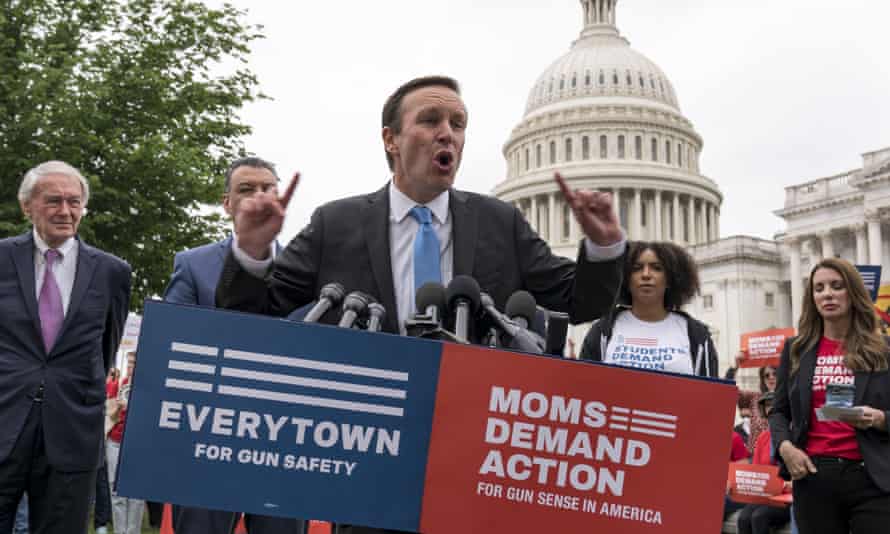 Murphy believes measures passed in Florida following the 2018 high school shooting in Parkland could attract Republican support and provide a workable template for action in Congress.
Chris Murphy of Connecticut, speaking on CNN's State of the Union, said he was optimistic that recent mass shootings in Buffalo, New York, and Uvalde, Texas, could finally prompt enough bipartisan support for legislation that has previously proven elusive.
Florida, a Republican-controlled state, acted swiftly after the murders of 17 students and staff at Marjory Stoneman Douglas high school in February 2018, passing red flag laws and raising the age requirement for buying, but not owning, firearms from 18 to 21, among other steps. The Parkland gunman was 19.
In his address to the nation last week, Joe Biden called for a federal ban on semi-automatic weapons, and raising the age requirement if that couldn't be done.
Murphy acknowledged the Florida actions and said "there is interest in taking a look at that age range, 18 to 21" during bipartisan discussions about possible legislation, led on the Republican side by Texas senator John Cornyn.
Read more here.
Washington ramps up bipartisan gun safety talks amid crisis of violence
Good morning, US politics blog readers, it's going to be an exceptionally busy, high-stakes week in Washington with Americans' constitutional rights and democracy itself under the spotlight.
Here's what's on the agenda.
The US Senate is back in session on the Hill today after its latest recess and a bipartisan group of senators is exuding confidence that a package of gun control measures can make progress, while the leading lawmaker in talks warns of "significant" consequences of failure.
Talks continue amid another series of deadly shootings at the weekend, following grotesquely on the heels of the school massacre in Uvalde, Texas and the racist killing of Black Americans in a supermarket in Buffalo.
New measures under discussion do not include the demands of Joe Biden and Kamala Harris for a ban on assault weapons, following the recent carnage, but there is more progress being made right now on legislative talks than there has been for years.
The US Supreme Court is due to issue opinions today and Thursday, June being the crunch month for decisions arising in cases from the current term and with more than 30 decision to be declared. The public (and press) are not party to which cases will be announced until the bench speaks up.
Last but not least for this briefing note: the special House committee investigating events on and around the January 6, 2021 insurrection at the US Capitol by extremist supporters of then-president Donald Trump is in final preparations for its first public hearing, this Thursday in prime time – and the right is already revving up its riposte.