66 min: Birmingham substitution Lucy Whipp and Libby Smith replace Abi Cowie and Jade Pennock.
65 min: Chance for Kerr! Another opportunity for Chelsea. Kerr collected a poor clearance on the edge of the area, had a quick touch but then dragged a tame shot wide of the near post.
64 min: Good save from Ramsey! Harder runs onto a long ball down the right, gets away from Lawley and rattles a left-foot shot that is superbly saved by Ramsey, low to her right.
64 min: Chelsea substitution Lauren James replaces Jess Carter, and Jonna Andersson is on for Sophie Ingle.
62 min The waterlogged pitch is making life tricky for Chelsea, who generally prefer to keep the ball on the floor. It's all getting very interesting.
61 min When a free-kick is only half cleared, Eriksson's snapshot smacks Louise Quinn in the face. It was a really brave block, though I suspect Eriksson's shot was going over the bar.
57 min At the other end Cuthbert makes a really important challenge on Cowie, who would otherwise have been through on goal. This is all getting a bit uncomfortable for Chelsea.
53 min: Chance for Eriksson! A long, floated cross tempts Ramsey from her line, but she doesn't get there and Eriksson heads wide from 12 yards. That was a decent chance for Chelsea.
53 min Three corners in quick succession for Chelsea, who are really putting Birmingham under pressure.
49 min Cuthbert shoots over from the edge of the area. It was only a half chance, with the ball slow to come down.
47 min I didn't realise how heavily it was raining in Birmingham, and you can see the ball holding up on the wet pitch.
46 min Peep peep! Chelsea begin the second half.
Chelsea have made a half-time substitution. Erin Cuthbert on, Beth England off.
The players are back out. It is pelting down at St Andrew's.
"As the Buddha says, pain comes from grasping," begins Zach Neeley, "so as an Arsenal fan I feel no agony because I know Kerr will inevitably score. Buddha was probably a Barca fan."
You should have heard Chögyam Trungpa's views on the sweeper system.
Half-time reading
Half time: Birmingham 0-0 Chelsea
Peep peep! A frustrating half for Chelsea, who didn't manage a single shot on target against a determined Birmingham. They did have chances, though – Pernille Harder should have scored early on and Sam Kerr hit the crossbar.
If it stays like this, Arsenal will be in control of the title race once again. But at this stage, that's a sizeable if.
45 min Another corner to Chelsea on the right. Fleming swirls it straight out of play on the far side, which sums up Chelsea's sloppy performance.
43 min Robertson is booked for flattening Charles.
41 min Berger comes for another cross and doesn't get there, which leads to a brief game of pinball in the Chelsea area. Berger has looked nervous on crosses in the last five minutes or so.
40 min Sarri's corner is punched away unconvincingly by Berger, and Bright has to smash the loose ball to safety.
37 min Birmingham continue to frustrate Chelsea, who still haven't had a shot on target. This must be agony for fans of Arsenal and Leicester, never mind the two teams who are actually playing.
34 min Cowie is booked for pulling back Reiten.
33 min Another teasing cross from Reiten is headed wide at the far post by Fleming. She was only a few yards out, but she was off balance and under pressure from Lawley.
32 min A loose touch from Ingle in the Chelsea area allows Sarri to lob the ball towards Pennock. She can only head it up in the air, under pressure from Eriksson, and Berger claims the dropping ball.
28 min Charles' cutback is cleared by Louise Quinn, though I think the ball had gone out of play anyway. Chelsea won't be worried yet, but they'd prefer it this wasn't the scoreline after an hour.
25 min … nada. Nowt. It was a decent corner, swung towards the far post, but Berger came through the crowd to flap it away.
24 min Murray's long-range shot is blocked by Carter, and then Finn wins a corner. From which…
23 min Keep telling yourself it's still 0-0. Birmingham are doing quite well, in fairness. Chelsea have had chances, and Sam Kerr hit the bar, but Emily Ramsey has yet to make a save.
20 min It's still all Chelsea. Bright, who loves a long-range blooter, clatters a shot wide from 35 yards.
16 min Harder loses Finn neatly in midfield without touching the ball. Then she runs 40 yards and plays in Reiten, whose cross shot goes a few yards wide of the far post.
14 min Still nothing much to report. Birmingham have done well to calm the game down, because it looked like they could be overwhelmed.
11 min A bit of respite for Birmingham, with nothing much happening in the last few minutes.
7 min Reiten's cross skims off the head of the leaping England in the six-yard box. It's a matter of time before Chelsea take the lead.
6 min: Kerr hits the bar! This has been a brutal start from Chelsea. Reiten moves into the area from the left and finds Kerr, who shifts the ball onto her left foot and belabours it off the underside of the crossbar!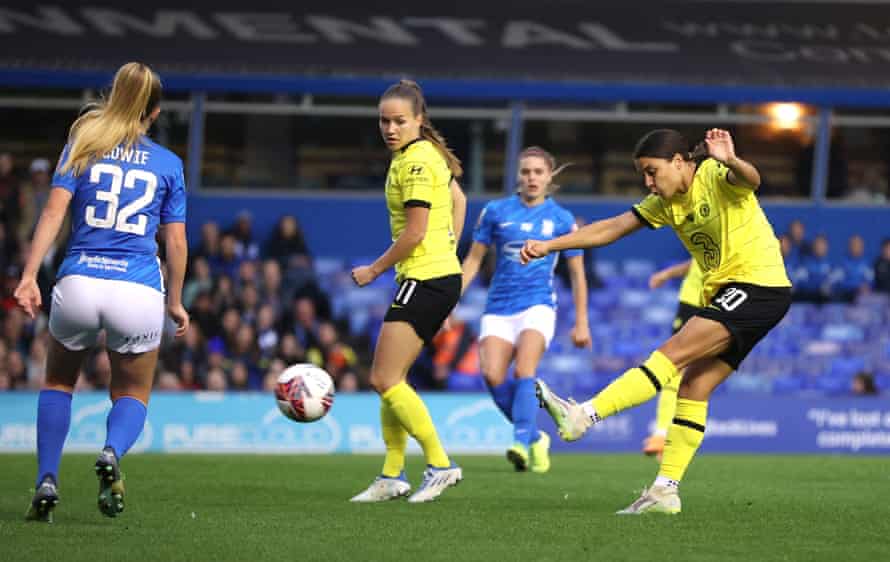 5 min Reiten's cross flashes across the six-yard box, and then Ramsey almost backpedals over her own goalline after claiming Eriksson's cross. She slipped slightly but managed to keep the ball in front of the line.
3 min: Harder misses a great chance! Chelsea should be ahead. A free-kick was played short to Ingle, who withstood a challenge and poked the ball through to Harder in the area. She had plenty of time to line up a shot but drove it just wide of the far post.
1 min Peep peep! Birmingham get this huge game under way.
A reminder of the teams
Birmingham (3-5-2) Ramsey; Scott, Louise Quinn, Lawley; Cowie, Lucy Quinn, Murray, Finn, Robertson; Pennock, Sarri.
Substitutes: Hourihan, Jenner, Wildgoose, Whipp, Worsey, Whelan, Ryan-Doyle, Ewens, Smith.
Chelsea (3-4-3) Berger; Carter, Bright, Eriksson; Charles, Fleming, Ingle, Reiten; Harder, Kerr, England.
Substitutes: Musovic, Nouwen, Mjelde, James, Cuthbert, Spence, Andersson, Abdullina.
Referee Emily Heaslip.
This is the pre-match music at St Andrew's, and what a tune it is.
The remaining fixtures for the top two
Chelsea
Birmingham (a), the noo
Man Utd (h), 8 May
Arsenal
Spurs (h), 4 May
West Ham (a), 8 May
Arsenal kept the pressure on Chelsea by hammering Aston Villa 7-0 earlier today. That means Chelsea are a point clear with two games remaining.
Birmingham are unchanged from their 3-1 win over Brighton last weekend. Chelsea make three changes from their 2-1 victory over Spurs on Thursday. Ann-Katrin Berger, Niamh Charles and Jessie Fleming replace Zecira Musovic, Erin Cuthbert and Jonna Andersson.
Hello and welcome to live coverage of the WSL match between Birmingham City and Chelsea at St Andrew's. Now, I'm too thick to fully grasp the concept of cognitive dissonance, but something of that nature might be occurring in the Chelsea dressing-room about now.
To explain. Chelsea are two wins away from the title, and the first of those matches – against the bottom club Birmingham – is ostensibly about as easy as it gets. But one of the main reasons they are top of the league is that Birmingham beat their biggest rivals Arsenal on this ground in January. It was a shocking result, still Arsenal's only league defeat this season and one of only two games that Birmingham have won.
Birmingham's need for points is just as great as Chelsea's. They still have a chance of avoiding relegation, especially after picking up four points in their last two games, though it's a long shot. But then so was beating Arsenal.
Kick off 6.45pm.