Johnson says putting a windfall tax on energy companies would cut investment.
Reid quotes from a pensioner, Elsie, who says her energy bill has gone from £15 a month to £85 a month. She is now only having a meal once a day. And she says she uses her freedom pass to spend the day on the bus, so she does not have to pay for heating.
Johnson says as London mayor he introduced the freedom pass.
Reid asks if he is saying the viewer should be grateful.
Johnson swiftly moves on. He says she may qualify for help with heating.
Q: What else should Elsie cut back on?
Johnson says he does not want her to cut back on anything. He wants to cut the price of energy, he says.
Johnson says it is "insane" that the the UK has to import electricity from France.
Q: Why not have a windfall tax on energy companies?
Johnson summarises some of the measures already taken to help consumers.
There is more that the government can do, he admits.
But he says the priority is to deal with the problem in the medium to long term.
Q: So you are not doing everything you can now.
Johnson says the government's £9bn plan is bigger than any rival plan he has seen (ie, bigger than Labour's windfall tax plan).
Q: The biggest issue for people is the cost of living, not Ukraine. Are you in touch with what people are experiencing? Prices are rising, food bank use is rising, poverty is rising.
Johnson says the government is doing "everything we can" to help with the pressures on family budgets.
But he says it is important to see the global context.
The rise in the price of chicken is "crazy", he says.
Q: Why is the UK making it hard for Ukrainian people to get visas to visit the UK?
Johnson says 86,000 visas have been issued, and 27,000 people have already arrived in the UK.
Q: Why can't we have visa free travel? These are women and children. We have seen the horrors they are trying to escape.
Johnson says, in a wartime situation, some people might be "pretending" to be refugees. The government has to protect the country.
He claims the results are "starting to be really excellent".
Q: Only a fraction of people with visas have arrived.
"Quite a big fraction", says Johnson.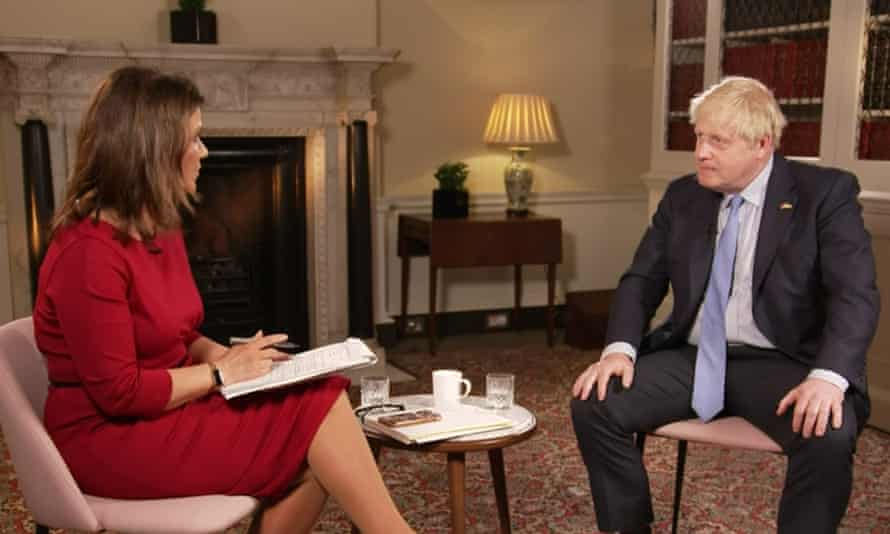 Johnson says UK is not trying to force out Putin, saying it is "indifferent' on what happens in Moscow
Johnson says the UK ambassador in Ukraine is going back to Kyiv to reopen the embassy.
What the UK is doing in Ukraine "is lead the world in helping the Ukrainians to protect themselves against wanton aggression", he says.
He says the UK is not doing this in order to "drive some geopoltical change", or have some outcome in Moscow. The UK is "indifferent" to that.
Boris Johnson claims he is honest in interview with ITV's Good Morning Britain
Susanna Reid starts the interview by saying that GMB has waited more than 1,700 days for this interview.
Q: Are you honest, prime minister?
Yes, says Johnson.
Reid puts the question again. "Yes," says Johnson, he is honest.
Q: Sometimes people say you lie.
Johnson says, if Reid is talking about the Partygate comments in the Commons, he "inadvertently" was wrong.
Boris Johnson was due on ITV's Good Morning Britain at 8.15am, but he still has not appeared.
This, from Labour's Chris Bryant, refers to an incident when the programme tried to interview him during the 2019 election campaign.
Here is the clip from 2019.
Starmer ends his Today interview saying he is "utterly focused" on winning elections.
Asked if Durham police have been in touch with Labour about the incident where Keir Starmer was filmed having a beer with party workers, Starmer says all that happened is that he and staff stopped for food when they were working.
Asked again if the police had been in touch recently about the story, Starmer sidesteps the question, and just says they looked at it months ago, and concluded that no rules were broken.
He also says it is absurd to suggest that no one returns to work after 10pm. That seems a reference to this tweet from Nadine Dorries, the culture secretary.
Dorries has been widely criticised for this tweet, mostly (but not exclusively) because it includes a picture of Starmer eating in 2015, six years before lockdown.
Starmer suggests defence spending needs to rise, saying government needs to 'look again' at issue
In his Today interview Keir Starmer says the government will have to "look again" at defence spending. He does not mean with a view to cutting it.
He also restates Labour's objection to the number of soliders in the army being cut.
This is from Ed Miliband, the shadow secretary of state for climate change and net zero, on the latest BP profit figures.
Yet again we see the oil and gas companies making billions upon billions of profits coming directly from the pockets of the British people and the government shamefully refuses to act.

The oil and gas firms may be doing their job for the shareholders of their companies but the government is negligently failing to do its job for the people of this country.

The refusal to levy a windfall tax to help cut energy bills is deeply wrong, unfair, and tells you all you need to know about whose side this government is on – and it's not the British people.
As Julia Kollewe reports, BP's profits more than doubled to $6.2bn (£5bn) in the first three months of the year, boosted by soaring oil and gas prices.
Keir Starmer is being interviewed on Today now. He is talking about the BP results announced this morning, which appear to back the Labour call for a windfall tax on energy companies because they show profits at their highest level for a decade. My colleague Graeme Wearden has more about those results on his business blog here.
Starmer says people are facing higher bills, but also having to pay more in tax because of the government's national insurance hike. Most families will be much worse off, he says.
Good morning. Boris Johnson is giving his first interview to ITV's Good Morning Britain this morning. While Piers Morgan was a presenter there, Johnson never seemed to find time in his diary to make an appearance, but with the local elections just two days away, he will be on the programme shortly, with Susanna Reid asking the questions.
Later Johnson will be channelling Churchill as he gives a virtual address to the Ukrainian parliament. In his interview he will probably be less keen to talk about a new poll suggesting the Conservatives are on course to lose nearly 550 seats in the elections. The figure comes from a poll for Electoral Calculus using MRP (multilevel regression and post-stratification) analysis. In the past MRP polls have provided a better guide to election results than conventional polls because they take conventional polling and apply it on a constituency by constitiuency basis, using data about the demographic composition of those constituencies, and what the polling says about how different groups are voting.
The Electoral Calculus analysis of the findings is here. And here are its key conclusions.
Swing of 6pc to Labour away from Conservatives

Labour set to hold 3,500 council seats, with Conservatives holding fewer than 1,000 council seats

Labour likely to gain around 16 councils, giving them control of 85

Conservatives could lose several councils, including the flagship City of Westminster, and could end up with less than 40 councils
Here is the agenda for the day.
8.10am: Keir Starmer is interviewed on the Today programme. He is also on BBC Breakfast at 8.30pm, followed by Times Radio.
8.15am: Boris Johnson is interviewed by Susanna Reid on ITV's Good Morning Britain.
Morning: Johnson is due to address the Ukrainian parliament by video link. As Aubrey Allegretti reports, Johnson will quote Churchilll, telling Ukrainians that their fight against Russia will come to be seen as their country's "finest hour".
After 4pm: Johnson is inteviewed on Times Radio.
I try to monitor the comments below the line (BTL) but it is impossible to read them all. If you have a direct question, do include "Andrew" in it somewhere and I'm more likely to find it. I do try to answer questions, and if they are of general interest, I will post the question and reply above the line (ATL), although I can't promise to do this for everyone.
If you want to attract my attention quickly, it is probably better to use Twitter. I'm on @AndrewSparrow.
Alternatively, you can email me at andrew.sparrow@theguardian.com.