Breeding in captivity can alter birds' wing shapes, decreasing their probabilities of surviving migratory flights when they're launched to the wild, new analysis suggests.
A research of the critically endangered orange-bellied parrot has discovered that in captive-bred birds, these with altered wing shapes had a survival charge 2.7 instances decrease than these born with wings near a great "wild kind" wing.
The overall inhabitants of orange-bellied parrots as soon as dropped as little as 17 within the wild, however their numbers have been bolstered lately by captive breeding and launch efforts in Tasmania and Victoria.
The fowl breeds in Tasmania and migrates to mainland Australia's southern coast for the winter.
Research writer Dr Dejan Stojanovic, of the Australian Nationwide College, mentioned there was pure variation in wing feather lengths in each wild and captive-bred orange-bellied parrots.
"Once you look throughout the lengths of all of the feathers on the wings, there's a major distinction between the lengths of feathers in captive wings versus wild wings," he mentioned.
Stojanovic has beforehand proven that captive-bred orange-bellied parrots are likely to have much less pointed and shorter wings than their wild counterparts.
"There's variation inside captivity from every little thing from an ideal wild kind [wing] to very suboptimal," he mentioned.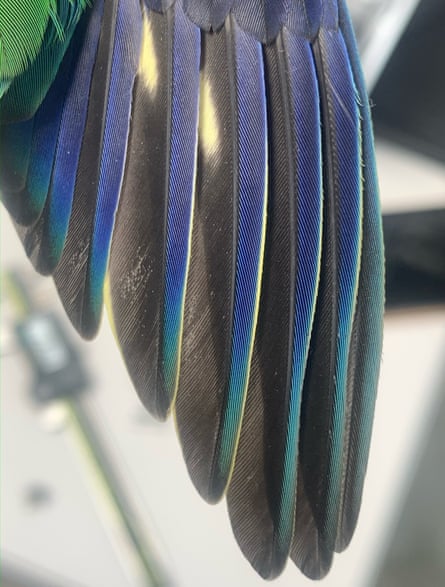 In captive-bred birds whose wings most carefully resembled the best wild wings – and which had been extra more likely to survive – a feather often known as the distal main flight feather was longer by a single millimetre.
"Actually the change for orange-bellied parrots is a 1mm distinction within the size of 1 feather. It's really easy to not detect it, however it has this main downstream consequence," Stojanovic mentioned.
"Few different restoration initiatives have the size and resourcing that orange-bellied parrots do.
"Regardless of all of that care, these modifications emerged and in addition went undetected up till now. These outcomes additionally present that these undetected modifications had been impacting survival – which is a key success measure for whether or not we're benefiting the wild inhabitants."
Stojanovic additionally analysed the wings of 16 different birds, discovering proof of altered captive wing shapes in 4 different species – budgerigars, turquoise parrots, sunset parrots and Gouldian finches.
"Clearly what that exhibits is that this phenomenon is much more widespread … and may truly be a [pattern] that had gone undetected," he mentioned. "The following section is to know what it's that's truly driving these modifications.
"Possibly it's a household trait, or an atmosphere trait … we truly simply don't know."
"We should be higher typically at scrutinising the standard of the animals that we're breeding relatively than simply specializing in their amount."
The analysis was revealed within the journal Ecology Letters.