"Not wishing to defend any club's greed but aren't Chelsea banned from getting money from kit sales?" says Lloyd Mills. "I suspect those charmers from TV are responsible: blue and red are very similar aren't they?"
Oh, you might be right. I automatically assume any deviation from the norm is on some level driven by avarice.
"Is Klopp's season a failure," begins Sean Orlowicz, "if he ends up with nothing but a League Cup?"
No.
"Banter!" is the ominous subject line of Matt Dony's email. "Two European Cups? Adorable. Up there with Benfica and Nottingham Forest. (Disguising nerves with swaggering hubris. That's healthy, right? Ignore how you're actually feeling and just project a fake self-image? Definitely a sustainable coping mechanism for life.)"
Team news: Havertz out, Lukaku in
The Liverpool team is as expected. The Chelsea team is not: Trevor Chalobah has been preferred to the club captain Cesar Azpilicueta and Romelu Lukaku starts up front. Chelsea's big-game specialist Kai Havertz must be injured as he isn't even on the bench
Mateo Kovacic is also fit enough to start – well, he starts – and N'Golo Kante is among the subs.
Chelsea (3-4-3) Mendy; Chalobah, Thiago, Rudiger; James, Jorginho, Kovacic, Alonso; Mount, Lukaku, Pulisic.
Substitutes: Arrizabalaga, Kante, Werner, Loftus-Cheek, Saul, Barkley, Ziyech, Azpilicueta, Sarr.
Liverpool (4-3-3) Alisson; Alexander-Arnold, Konate, van Dijk, Robertson; Keita, Henderson, Thiago; Salah, Mane, Diaz.
Substitutes: Kelleher, Milner, Firmino, Gomez, Jones, Jota, Tsimikas, Origi, Matip.
Referee Craig Pawson.
In precisely five minutes, we'll find out whether he'll be on the pitch at kick off.
This is the second of three FA Cup finals this week. Chelsea play Manchester City in an equally exciting women's final tomorrow – read all about it – and Manchester United have already beaten Nottingham Forest in the FA Youth Cup final. My colleague Tim de Lisle wrote about that game with his usual flair and expertise, and came up with one of the year's better headines.
"I see Chelsea will be wearing their yellow away kit today," says David Hancock. "Why? I've never understood why a team that doesn't have a colour clash with their opponents end up wearing their away kit. What's the point?"
I'm not r£ally $ur€.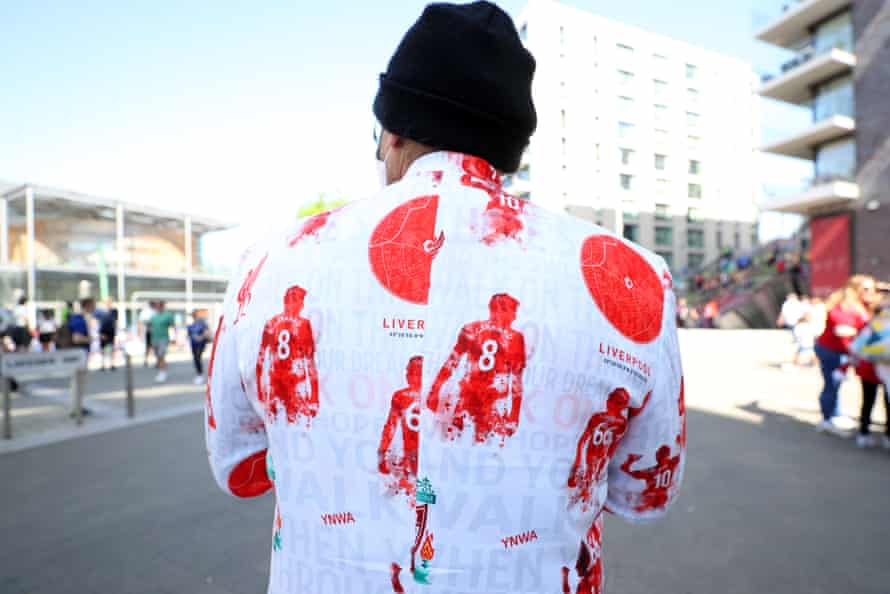 Happiness is… a warm gun called Hamlet. It's also remembering when your side won the FA Cup. A couple of years ago, when we all had bugger all to do because of Covid, liveblog genius Scott Murray wrote retro MBMs on two famous FA Cup final victories for Chelsea and Liverpool. They are brilliant, funny and evocative, and you're very welcome.
Pre-match quotes, part 2
In his press conference, Jurgen Klopp's cited the little-known Del Amitri B-side "Don't Come Home Without a Quadruple".
Pre-match quotes, part 1
Thanks for putting a Billie Eilish worm in all our ears, Thomas.
Twenty-five years ago today, Chelsea's trophy cabinet was dusty. In their 92-year history they had won only one league title, one FA Cup, one League Cup, one Cup Winners' Cup, a couple of Full Members' Cups and one Community Shield.
Then, on 17 May 1997, they beat Middlesbrough in the FA Cup final to win their first major honour in 26 years. Roman Abramovich's takeover in 2003 took the club to another level, but the Boro game was the birth of Modern Chelsea.
In the last 25 years Chelsea have won five league titles, two Champions Leagues, a Club World Cup, a Europa League, a Cup Winners' Cup, seven FA Cups, four League Cups, two Super Cups and three Community Shields.
They're still chasing that elusive third Full Members' Cup, though.
"It is not for show when Tuchel says that he loves his job"
At some stage today, a Chelsea player will have a one-on-one. But there are one-on-ones, and one-on-ones with Alisson.
"Leisurely build up," muses Matt Dony. "Yes. That sounds about right. No nerves, no fear, no gnawing doubts echoing around my poor, broken brain(!) Just nice and relaxed. What could possibly go wrong? I now have two hours to put together an incredibly fiddly bed for my son before kick-off. I don't rate my chances. Hope he's happy with a mattress on the floor tonight…"
Chelsea, along with Arsenal, have dominated this competition in modern times. Since Liverpool last won the FA Cup in 2005-06, Chelsea have lifted it f-i-v-e times. One of those was a 2-1 victory over Liverpool a decade ago, when Petr Cech made one of the great FA Cup final saves.
Jonathan Liew's preview
Hello and welcome to live coverage of the FA Cup final between Chelsea and Liverpool at Wembley. Broadly speaking, there are two types of FA Cup final: David v Goliath or Goliath v Goliath. This is emphatically the latter, a heavyweight clash between two of the elite. This is the 150th FA Cup final; none of the previous 149 have involved one recent world champion, never mind two.
Football moves pretty fast. So even though Chelsea are current world champions, Liverpool have a stronger case to be the best team on the planet, and indeed in the solar system. (That lot on Neptune are still playing the W-M formation FFS.) The recent form of both clubs makes them odds-on favourites today, though Chelsea looked a lot perkier when they dismantled Leeds in the week.
All three games between Chelsea and Liverpool this season have been hard-fought draws. The last of those, the Carabao Cup final, ended in glory for Liverpool after a never-ending penalty shootout. They are still sniffing an unprecedented cup treble, maybe even a quadruple. Chelsea are hoping for a less celebrated treble: European Super Cup, Fifa Club World Cup, English FA Cup. By completing one hat-trick, they would avoid another. No team, not even Newcastle in the late 1990s, has ever lost three FA Cup finals in a row.
We'll have a leisurely build-up to the game, with team news expected around an hour before the 4.45pm kick off. Both managers have difficult decisions to make. Thomas Tuchel needs to make a call on the fitness of N'Golo Kante and Mateo Kovacic, neither of whom are 100 per cent fit. "It's the moment to take risks," said Tuchel yesterday, repeating a phrase that suddenly seems to be coming out of every football manager's mouth. Tuchel also has to decide whether to start Romelu Lukaku, and which posiutions Reece James and Cesar Azpilicueta should assume.
Jurgen Klopp's main dilemma is in midfield, with the borderline irreplaceable Fabinho out through injury. The likeliest scenario is that Jordan Henderson drops into the bouncer role and Naby Keita comes into the side. Or rather stays in it, as he started at Aston Villa on Tuesday, but you know what I mean.
Possible teams
Chelsea (3-4-3) Mendy; James, Thiago, Rudiger; Azpilicueta, Kante/Kovacic, Jorginho, Alonso; Mount, Havertz, Werner.
Liverpool (4-3-3) Alisson; Alexander-Arnold, Konate, van Dijk, Robertson; Keita, Henderson, Thiago; Salah, Mane, Diaz.