90 min Four minutes of added time. This has been a belting game.
Greenwood pinged an angled ball towards Raso, who made a fine run infield from the right. She controlled it magnificently with her shoulder, taking Eriksson out of the game in the process, and then poked the bouncing ball unerringly past Berger. In the circumstances, that is sensational finishing.
GOAL! Chelsea 2-2 Man City (Raso 89)
The substitute Hayley Raso equalises with another outstanding goal!
88 min Lots of City pressure now, with Chelsea's defenders increasingly stretched. Raso plays a good ball to the underlapping Bronze… who is offside. That's really poor from Bronze.
87 min Weir loses Cuthbert in midfield, moves to the edge of the area but then drives too close to Berger.
85 min Greenwood's floated free-kick is helped on and wide of goal by Bronze. A half chance at best.
83 min City bring on Julia Blakstad to replace Demi Stokes at left-back.
82 min Chelsea could be eight minutes from their third Double in five years.
81 min The marauding Hemp is taken out unashamedly by Carter, who is booked.
81 min Another change for City: Laura Coombs is on for Georgia Stanway.
80 min A substitution apiece. Chelsea bring on Jessie Fleming for Pernille Harder; City introduce Ellen White in place of Bunny Shaw.
79 min Shaw nutmegs Carter on the right and moves into the area. Her cutback is blocked by Eriksson (I think) and Stanway thrashes the loose ball over from 20 yards.
78 min Harder gallops into space down the right, moves infield and squares the ball to Kerr just inside the area. She misses her kick, and then Reiten shapes a curling shot wide of the far post with her right foot.
76 min: City substitution There is a City change, but it's not Ellen White. Instead, Hayley Raso has come on for Chloe Kelly.
75 min City have some very good options on the bench, including Ellen White. She must come on soon, surely.
74 min Today's official attendance is 49,094, a new record for the women's FA Cup final. It's a record that won't last long, probably about 12 months.
72 min What a fortnight Erin Cuthbert has had. She changed the game when she came on as substitute at Birmingham, scored the first equaliser against Manchester United last weekend and may now have belted the winner in the FA Cup final. She has become an elemental force in midfield.
71 min Stokes has a cross-shot headed behind by Bright. Chelsea have indeed gone to a back four, with Carter at left-back and Charles on the right.
69 min: Double substitution for Chelsea Ji So-yun, who is leaving the club this summer, and Niamh Charles replace Beth England and Aniek Nouwen. That could mean a switch to a back four.
68 min Here's that marvellous goal from Erin Cuthbert.
67 min Weir's long-range drive is blocked by Bright. City have reacted well to going behind.
65 min City almost equalise straight away, but Shaw fresh-airs a shot on the turn from 10 yards!
Reiten squared the ball to England just inside the area. She laid it back to Cuthbert, who took a touch and dug out a rising drive that hit the underside of the bar and bounced into the net! Roebuck leapt to her right and was so close, but she couldn't quite get there.
That's a stunning goal – not just the power and precision but also the speed with which Cuthbert took the shot. One quick touch to control and then, almost in the same movement, bang.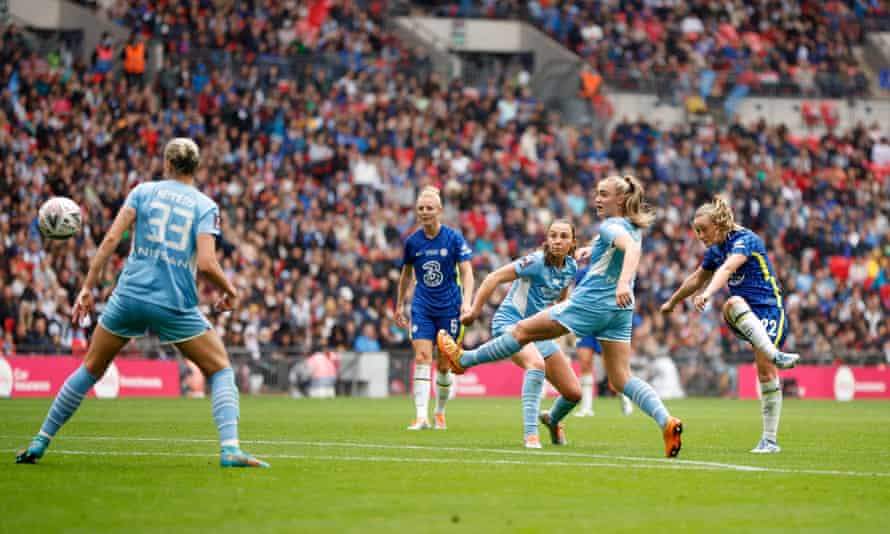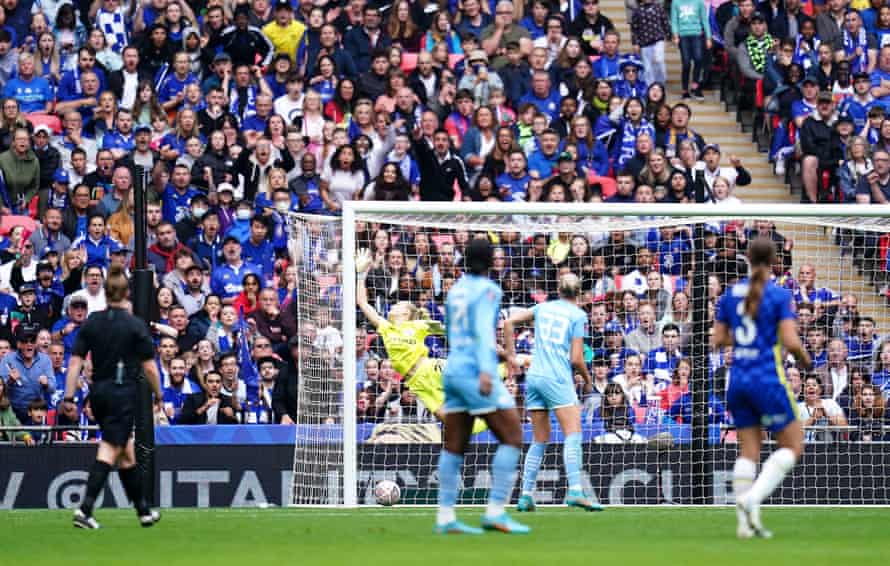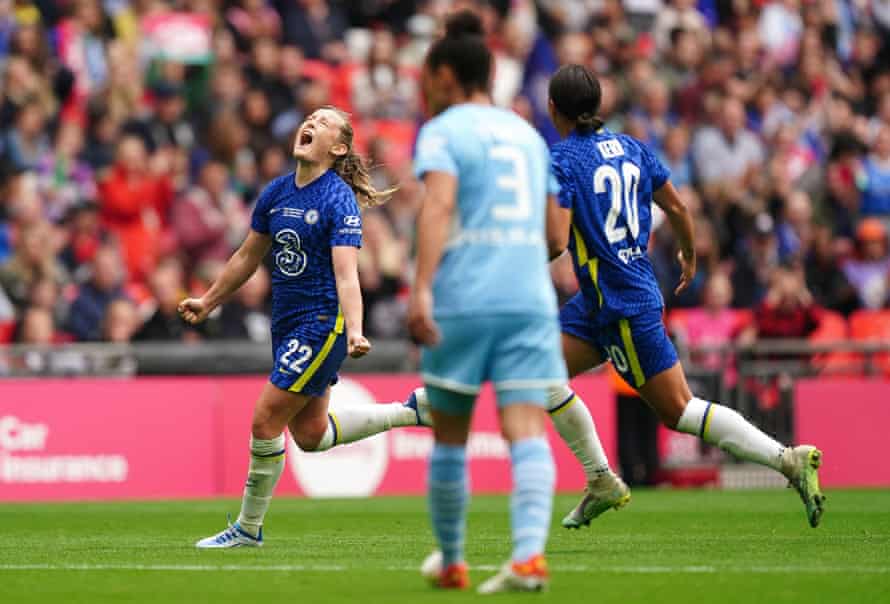 WHAT A GOAL! Chelsea 2-1 Manchester City (Cuthbert 63)
Erin Cuthbert, one of the stars of Chelsea's lead, had given them the lead with a screamer!
63 min Reiten's cross nicks off Bronze and flashes across the face of goal. And then…
61 min In the first half both teams looked desperate not to give away the first goal; now they look equally haunted by the prospect of conceding the third.
59 min Weir sprays an elegant pass down the left to Hemp, who beats Bright with ease but crosses too close to Ingle.
57 min Kerr's cross is cleared bravely by Bronze, with Cuthbert lining up for an overhead kick.
54 min Bronze is booked for a foul on Harder.
51 min: Fine save from Berger! City have made a flying start to the second half, as they did the first. Kelly's cross hits the head of Shaw, slightly ahead of the ball at the near post. City keep the ball alive, with Weir eventually teeing up Hemp for a first-time shot. Her fierce drive across goal is superbly saved by Berger and ricochets just wide of goal.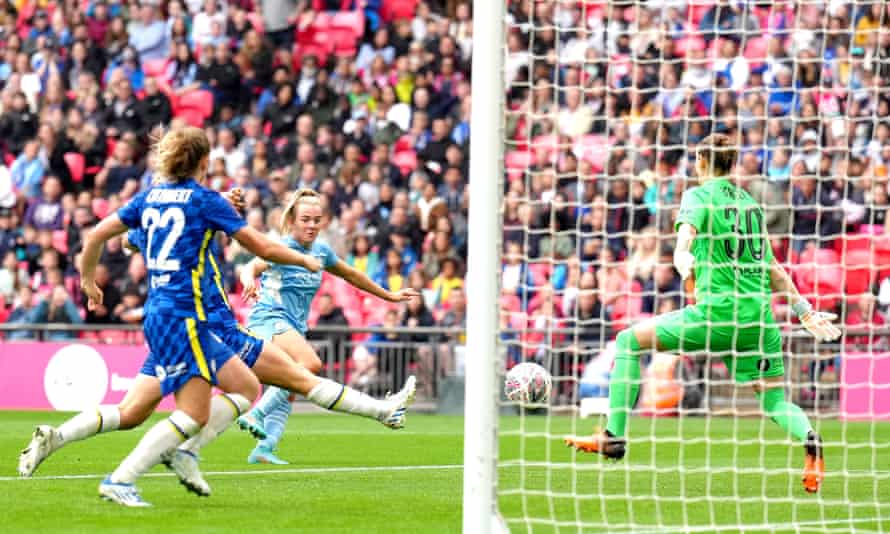 47 min Shaw finds Hemp, whose clips a dangerous ball that flashes across the six-yard box.
46 min Peep peep! Bunny Shaw gets the second half under way.
Sign up for Moving the Goalposts!
Informative, passionate, entertaining. Sign up to our weekly round-up of women's football now.

Half time: Chelsea 1-1 Manchester City
Peep peep! It took a while to get going, but the last 15 minutes of the half were terrific. Sam Kerr put Chelsea ahead with a poacher's goal; Lauren Hemp equalised with a bit of individual brilliance. More please!
45+2 min City again appeal unsuccessfully for a penalty, this time after Shaw goes over after a challenge from Nouwen. I'd like to see that again – it was a clumsy tackle from Nouwen, and at first glance I thought she tripped Shaw.
45+1 min Stanway has a couple of shots blocked in the space of five seconds. The second leads to a handball appeal against Carter that is turned down. It certainly hit Carter's right arm, though it was close to her body.
45 min Three minutes of added time. This game has really come to life since Sam Kerr gave Chelsea the lead.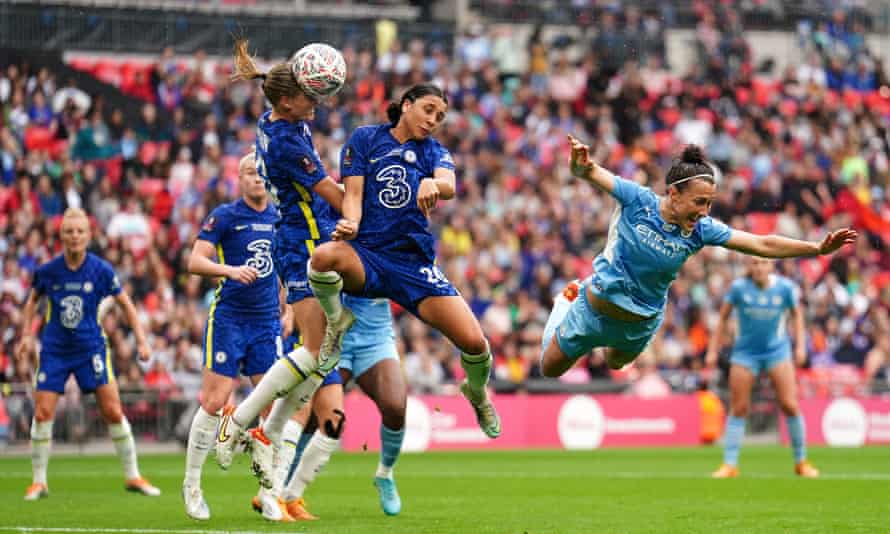 That's a brilliant equaliser. Shaw turned Nouwen smartly on the halfway line, moved forward and played the ball left to Hemp. Carter's challenge put Hemp off, forcing her to go a bit wide. But she retrieved the ball, cut back inside Bright and curled a superb right-footed shot into the far corner.
That is one of the reasons why Hemp is so lethal – she can now beat a defender on either side. I think she is, by a distance, the most exhilarating player in the WSL.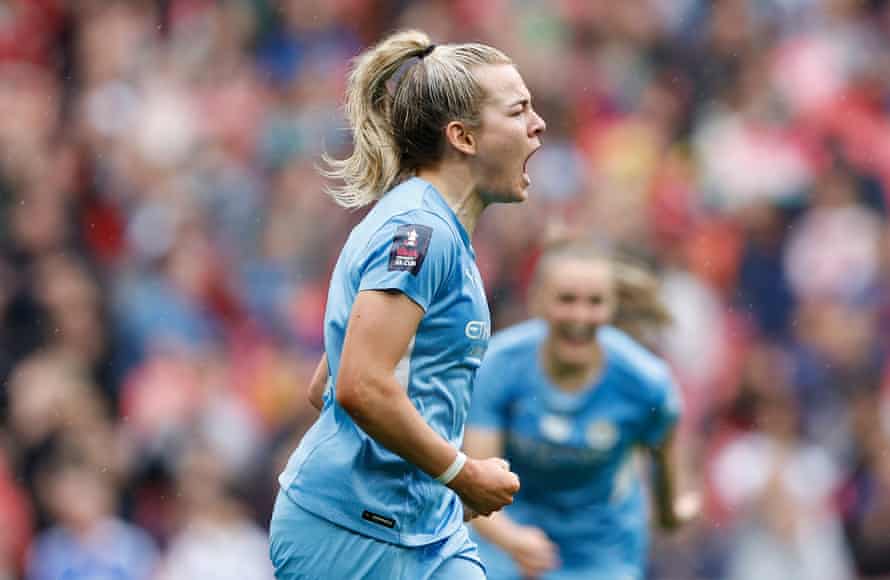 GOAL! Chelsea 1-1 Man City (Hemp 42)
City have got more from Lauren Hemp!
40 min City need more from Lauren Hemp, who has been kept very quiet. In her defence, I'm not sure how much service she has had. The rest of the forward line, Bunny Shaw and Chloe Kelly, have also struggled to have much influence.
38 min Harder shoots wide from distance. This is a nervy spell for City.
36 min That was such good anticipation from Kerr, who got the wrong side of Bronze to head Bright's cross into the net.
34 min Another chance for Chelsea! Roebuck is challenged by Kelly, with the ball ricocheting to Reiten 30 yards from goal. She lofts a first-time shot over the bar. That was a good chance with Roebuck out of her goal, though there was at least one City defender on the line.
A free-kick from the left was half cleared, with the ball recycled to Bright on the right. She seemed to overhit a booming cross that sailed over the leaping Roebuck and was headed in from a yard by Kerr. At first I thought it had gone straight in, hence the description of it as a freak goal, but the ruthless Kerr definitely got the last touch.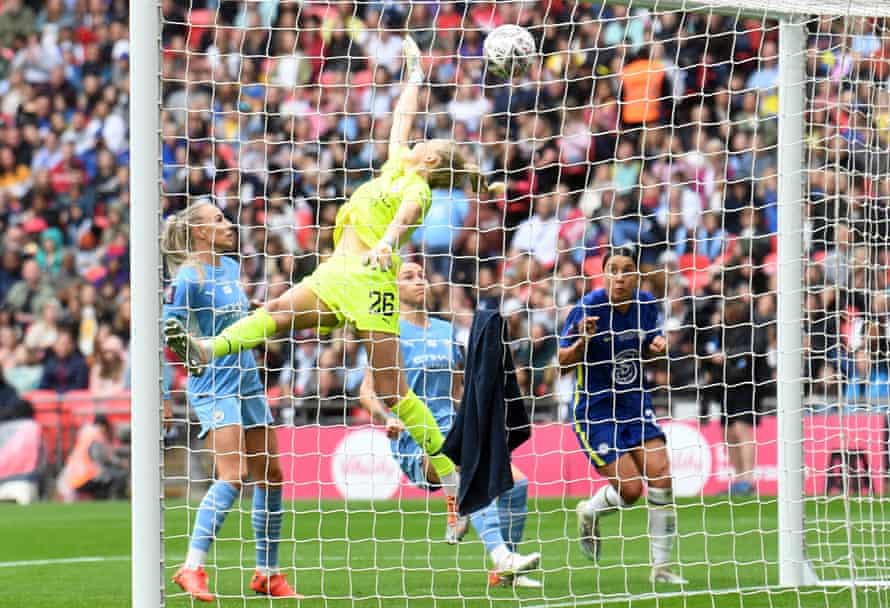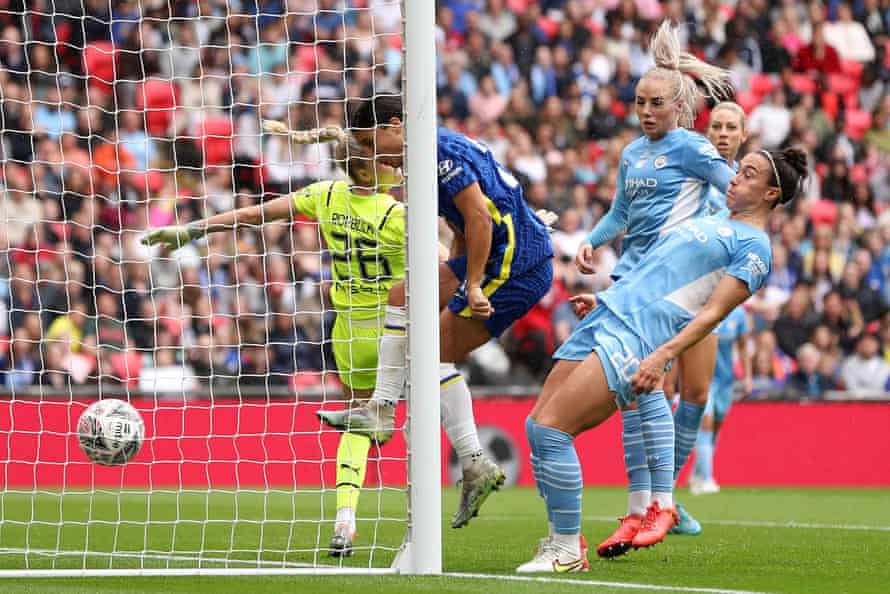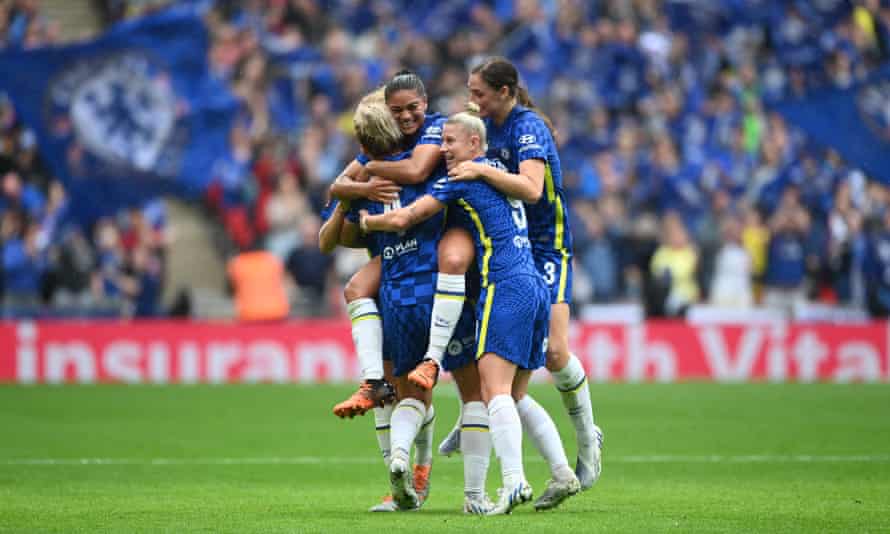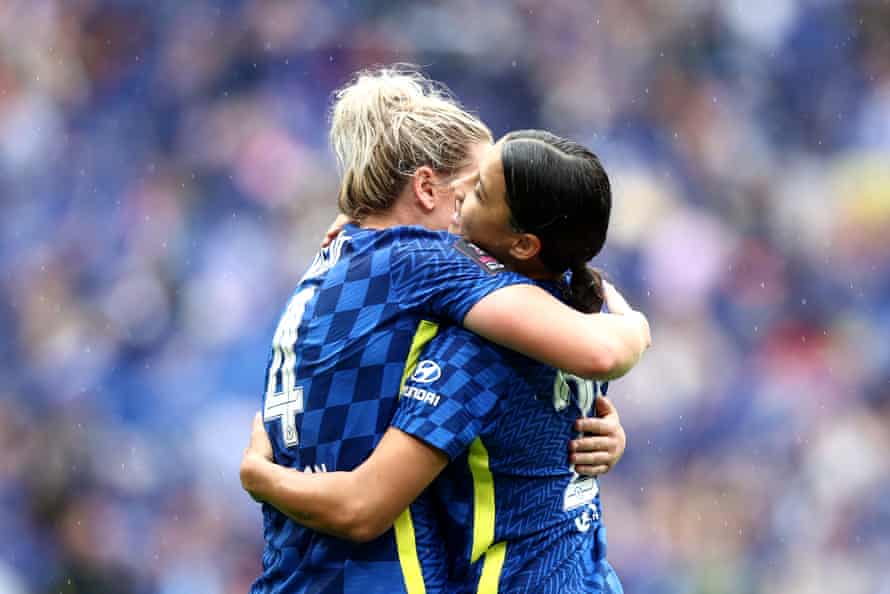 GOAL! Chelsea 1-0 Man City (Kerr 33)
Chelsea take the lead with a freak goal!
30 min Alanna Kennedy is booked for an agricultural tackle on Pernille Harder.