On the afternoon when Epsom Downs remembered its greatest jockey, Richard Kingscote produced a flawless, no-nonsense ride of which Lester Piggott himself would surely have been proud, steering Desert Crown, the 5-2 favourite, to an impressive success in the Derby which was never in doubt from the moment he hit the front, with nearly two furlongs still to run.
Up in the grandstand, there was no need for Sir Michael Stoute to roar his horse home. Instead, Desert Crown's 76-year-old trainer simply lifted his top hat to acknowledge his sixth success in the Classic, and mark the arrival of a new champion in the yard which sent Shergar to Epsom 41 summers ago.
There have, of course, been many more great horses and Classic winners through Stoute's hands since then, but a 12-year lull at Epsom since his Derby victory with Workforce had led some to wonder whether his star might be on the wane.
They need wonder no more. Desert Crown has not been an entirely straightforward horse to train, and suffered "a few niggles", according to his trainer, as he grew into his frame over the winter. A foot problem also caused some concern earlier in the year and he was "only just ready" for the last month's Dante Stakes at York, but Stoute, as so often in his 50-year training career, clearly had it all under control.
As did Kingscote, from start to finish. He was fast away from the stalls and soon settled in fifth or sixth, within striking distance of the lead. That left him perfectly positioned both for the run down towards Tattenham Corner and a finishing kick which put the race to bed a furlong down the home straight.
Shergar, Stoute's first Derby winner in 1981, romped home with a 10-length winning margin which remains a record to this day. Desert Crown had a more modest two-and-a-half lengths to spare at the line, as Hoo Ya Mal, a 150-1 outsider came through to take second ahead of Westover and Masekela, but it was an emphatic success all the same and he will be a short price to extend his unbeaten record wherever Stoute decides to send him next.
"We were very hopeful after [his win in the Dante Stakes at] York that he might win the Derby," Stoute said, "but the performance delighted me, because he had it won a long way out.
"He's got such a good mind to go with his ability. At an early stage [of his career] he was having little niggles and that's why he didn't run until the back end of last year. It was nothing serious, but he was maturing and developing.
"I was very happy with his position when he got to the top of the hill, he travelled, he's a good athlete and he floated down the hill."
While Stoute is the elder statesman who has seen and done it all before, Kingscote was taking only his second ride in the Derby after beating just one rival home in 2018. If his pulse was racing, however, there was no visible sign, understandably perhaps for a jockey who likes to spend his down-time riding high-powered motorbikes at 140mph.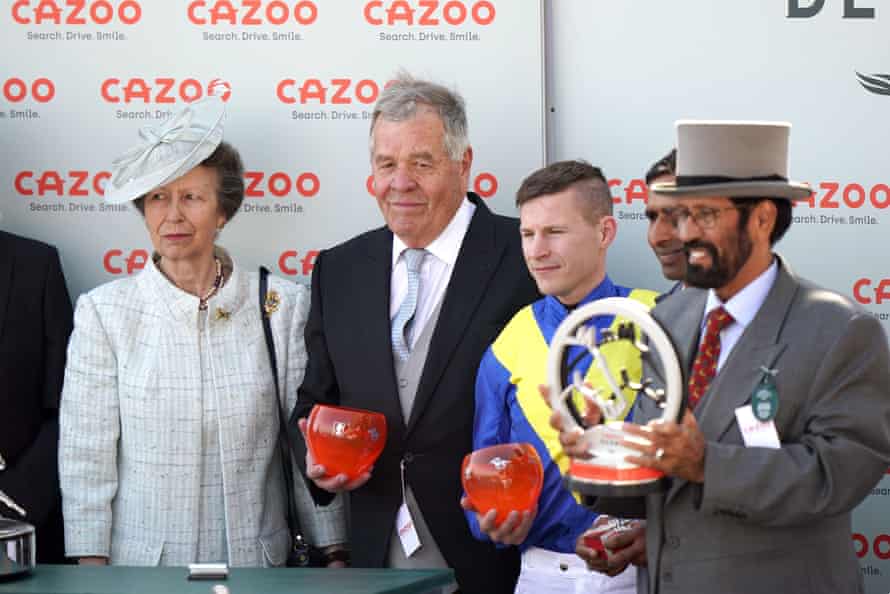 "Once I got to the top of hill and I was able to get one off the fence, I was happy," Kingscote said. "From there, he was very comfortable, came down the hill really well balanced, changed leads over the road and off he went to top gear.
"I probably got there a little soon but it meant I was able to pull him up. The others just weren't able to take him along, and it just shows that he's got a good deal about him.
"Turning in, he was still going so well, I probably just put him into top gear a little soon. Once I got upsides Ryan [Moore, on Stone Age] I was able to take a little breath at the two-pole and let him kick on, and he did everything beautifully.
"He was a bit more push-button today [than the Dante]. He was a lot more alert through the race. Everything I asked of him I got pretty much straight away."
That sense of a huge emerging talent, improving from one race to the next, will also generate huge interest in where Desert Crown might race next. Stoute offered the standard response when asked about his colt's options, and he will take a few days to plot his course through the remainder of the season. He does, however, feel that his talent could be as potent at 10 furlongs as it is as 12, so the possibilities are many and varied.
And with just three races behind him, the sky could be the limit. "Shergar was very special and he hasn't quite reached that stage yet," Stoute said, a few moments after picking up his trophy. "But he could be en route."