I'm going to grab a sandwich, but not before we admire Vic Marks' crystal ball, courtesy of Ewan Glenton:
"Apologies if I've mentioned this before (I might have when Pant went ballistic in Australia), or if anyone else has drawn attention to it… I was struck 4 years ago when Vic Marks, in his Guardian report when Pant made his Test debut (Trent Bridge, August 2018), wrote '…a cameo at the end from India's debutant, Rishabh Pant. He was only 22 not out at the close but I have a hunch this might have been an 'I was there' moment.'
"That was a very big statement based on very little evidence; Marks obviously saw something huge there and felt an urge to stick his neck out, and I remember thinking I'd note the name in case Marks was onto something. He certainly was. I've been watching/listening to/reading about cricket since the late 70s and that's one of the most impressively bold (and accurate) one-to-watch calls I can remember."
Lunch England 16-1 trail India by 400 runs
The teams take an early lunch in an attempt to manage the rain. Stuart Broad can bounce Ben Stokes with roast potatoes just for the lols.
Will, apologies, I may have got that wrong:
"Hello Tanya." Hello Matthew Doherty!
"Did Mcullum go into the wrong dressing room?"
Boom Boom! Curious to see how England play out their first-innings now – can they resist trying to out-do Pant-ball and Bum-ball -( let's ride this Bazball vernacular while we still can.).
"Combined with the time he got tonked for 6 6s, does Broad now hold the record for most runs conceded in an over in both Test and ODI cricket..?" asks Will Denton. I don't think so… unless I'm reading this cricinfo list wrong?
As the rain starts to fall, Umpire Aleem Dar tries to stop Shami bowling the first ball of his over, but the call is so late that Shami has to go through with the delivery. Kohli has something to say, and the covers are wheeled on.
3rd over: England 16-1 (Pope 0 Crawley 7) An eventful over, as Crawley creams a four, then edges Bumrah just short of the slip cordon, before Lees loses his woodwork.
"Your weather forecast of drizzle has happily turned out to be wrong, " muses Colum Fordham, "but your prediction of the last pair not detaining England for long has ultimately proved right, but not after carnage off the wayward bowling of Broad who, in my humble opinion, should not be allowed to bowl to aggressive tailenders."
Such a bizarre over. You could almost see Broad's brain processing the information in real time – like a man standing in front of a slot machine: this ball, I'm going to get him.
WICKET! Lees b Bumrah 6 (England 16-1)
A no ball means Bumrah steams in for one last delivery and Lees hangs his bat in wooly fashion. The ball slides thankfully between bat and pad, clipping the stump, thanks very much.

2nd over: England 7-0 (Lees 6; Crawley 0) England run a leg bye off Shami and Lees picks up four through that handy devise of the thick inside edge.
Can we say England were Bazboozled?
1st over: England 2-0 (Lees 2; Crawley 0) Bumrah swings seamlessly from batting genius to bowling machine. England survive unharmed.
Neil Parkes is quite cross. "Idiotic! Moronic! Predictably inane! Farcical! Brainless! Wrong headed! Stupid! Arse minded!"
My inbox suddenly overfloweth, but I must grab a quick coffee in the 2 minutes before the next innings.
84.5 overs: India 416 ( Bumrah 31 not out) Another five-fer for Anderson, but that isn't the story of the morning – which is encapsulated by the most expensive over in Test history, with Jasprit Bumrah now elbowing out Brian Lara as the man with the most runs in a Test over.
"You were right Tanya," types Jonathan Eastwood, "these 2 didn't last long, but holy heck that was a ridiculous couple of overs even by England's standards." Mea culpa.
WICKET! Siraj c Broad b Anderson 2 (India 416 all out: Bumrah 31 not out)
The chaos comes to an end as Siraj's swipe only makes it to mid-off where Broad redeems himself after an over of short-pitch madness.

A world record in Tests: 35 runs off the over!
83rd over: India 412-9 (Siraj 1, Bumrah 29) Utterly bonkers carnage off Broad as Bumrah makes hay: four (top edge that just misses Crawley); five wides; seven (no ball, wacky top edge), four (a full toss, spanked), four (inside edge), four (a falling over swipe), [in the Indian dressing room, the players rush to watch a replay on TV], six [an upper flick to fine leg]; and finally a single that ends in a scrambled mess but Siraj is just in. Bumrah and Siraj are bent double with the fun of it all. Stokes looks less impressed.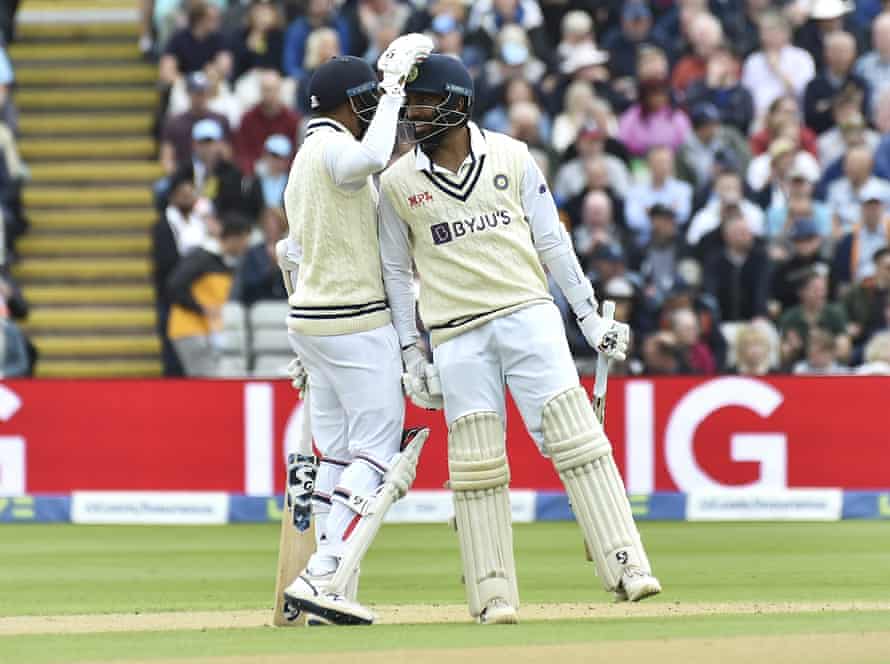 83rd over: India 376-9 (Siraj 1, Bumrah 0) I don't think these two will detain England too long today. Famous last words.
WICKET! Jadeja b Anderson 104 (India 375-9)
Jadeja has a mow, and Anderson's accuracy does the rest. Points mean prizes. He walks off to a standing ovation, as he should.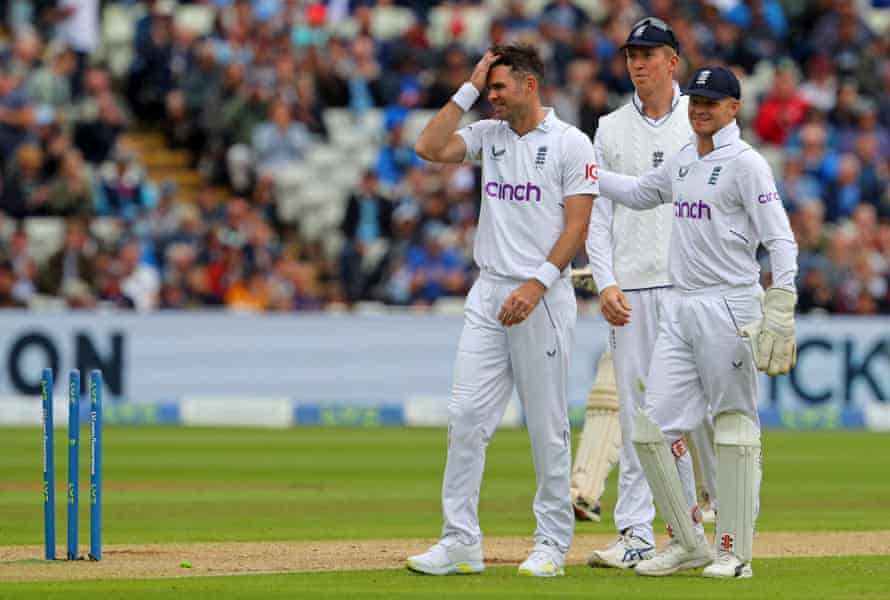 82nd over: India 375-8 (Jadeja 103, Bumrah 0) Broad and Anderson doing the trick here in stemming the runs. Just one off Broad.
Thank you Romeo: "The Sky graphic of top ten wicket takers is wrong. Nathan Lyon has just gone past Kapil Dev's 434 with 436 into 10th place."
81st over: India 374-8 (Jadeja 103, Bumrah 0) Jadeja picks up three and Bumrah survives his solitary ball from the on brand Anderson.
80th over: India 371-8 (Jadeja 100, Bumrah 0) Broad nearly picks up another, as Bumrah top edges to fine leg where Crawley leaps into the air, grabs the ball, but can't hold on as he plummets to earth, but remembers to jettison his prize onto the playing area before he collapses in a shambolic tangle of arms and legs.
WICKET! Shami c Leach b Broad 16 (India 371-8)
Broad does the trick in his first over of the morning as Shami's luck runs out, trying to ramp the ball, but only finding Jack Leach. And that's Broad's 550th Test wicket, at 28.01 in 156 matches.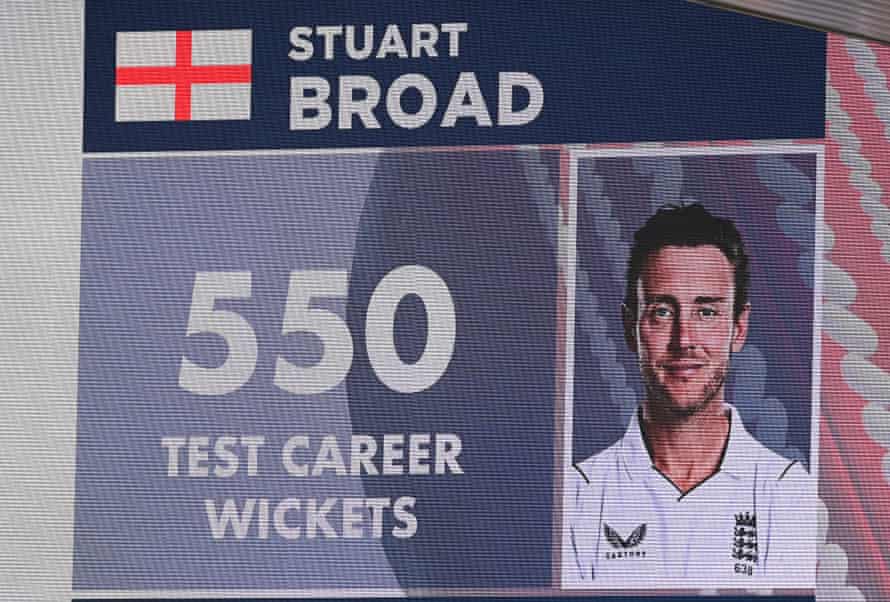 Jadeja reaches his hundred!
79th over: India 371-7 (Jadeja 100, Shami 16) The magnificently hirsute Jadeja pulls off his helmet and swings his signature sword-bat swing, reaching his hundred with a hammer through point off Potts. The ball before, he'd been lucky to escape an edge through the slips which eluded both Crawley, diving right, and Root, diving left. Virat Kohli leads the applause on. the balcony. Fabulous stuff.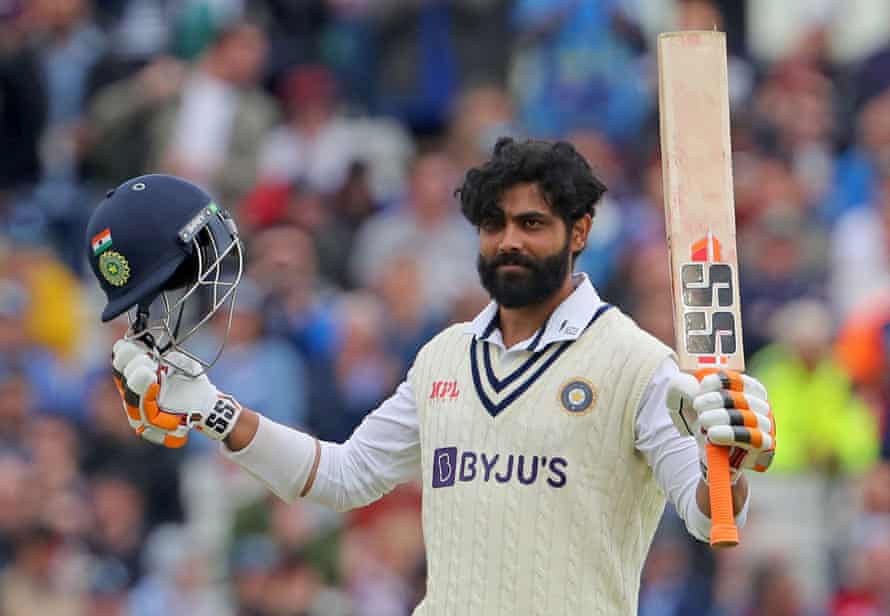 78th over: India 362-7 (Jadeja 92, Shami 15) India feeling a bit more frisky, 20 minutes in. Jadeja edges Stokes through the slips for four; and Shami has a carefree punt for four more.
Exactly so. I remember the awesome Sharda Ugra telling me about Pant when he was just a reckless kid in the IPL.
77th over: India 352-7 (Jadeja 87, Shami 9) This time they take an early single, and Shami shows everyone just what he's made of, swatting Potts for two successive fours: through backward point and midwicket.
76th over: India 341-7 (Jadeja 86, Shami 0) Stokes has been to the same barber as lots of the boys I saw scrubbing up just fine for the high school prom last week. Short at the back, long at the top, but he always wears it slicked back ever since those early long-haired Covid days. Jadeja isn't too worried by the over, but takes a single off the fifth ball to cream the strike. Bit of a tempo change here from last night.
75th over: India 339-7 (Jadeja 84, Shami 0) As eager as a young pup, something solid like a Labrador, Potts runs in. A huge lbw appeal first ball against Jadeja but no-one fancies it as much as Potts.
74th over: India 339-7 (Jadeja 84, Shami 0) Stokes leans gingerly into his first over of the day, just a single coming from it.
England and India are lining up, wearing matching Bob Willis fund caps, and everyone is clapping for 45 seconds in memory of the wide-eyed legend of Headingley '81. Statistically, two thousand men sitting at Edgbaston today will develop prostate cancer. If you catch it early enough, it is treatable. So get yourself checked, you hear me? Good.
And apologies if you sent me an email earlier today which bounced back, the correct address is tanya.aldred.freelance@theguardian.com.
We are going to have play, starting on time!
Sky are screening a touching segment dedicated to Bob Willis, and I've just realised that is why all the commentators are wearing matching blue jackets. Please wipe my previous comment from your brain.
A lot of sixes:
Matthew Potts is talking to Mark Butcher. "We put in a good shift yesterday, we're hoping to come out today and clear them out. Everyday has been tough, [but] that was the first time I've been put under pressure, Rishabh played an absolute blinder of an innings.
"This [playing for England] is something that wasn't on the radar at all at the start of the season, was just hoping to get fit and help to contribute to some wins for Durham. Is the same game, just wearing a different shirt and different cap."
KP is rueing his luck that he's not playing Test cricket under Baz-ball. He's got a point.
They're out practising at Edgbaston. I'm not sure, but it looks as if Pant might be wearing deck shoes. Certainly Ian Ward, KP and Sangakkara are in matching pale blue jackets.
And good morning to y'all on this bonny July Saturday. My weather app predicts drizzle in Birmingham, but let's forget about that dismal prospect for a while and reflect on Rishabh Pant doing Baz-ball. Actually, Rishabh Pant has always done Baz-ball, but in the glory of England's new red-ball clothes, we forgot.
Friday's cricket was fabulous, even if there wasn't quite a full house in to see it. England attacked, and attacked again, with slips falling out of Sam Billings' sleeves. At 98 for five, England were cruising, Matthew Potts continuing his fancy for the big wicket, popping Virat Kohli in his saddle bag alongside Kane Williamson. But then came Pant and Jadeja in a 222-run sixth-wicket whack-a-mole partnership, only ended by Joe Root. As assistant coach Paul Collingwood said last night:
"It was a brave ball, with his two men up still after being hit back over his head."
England will continue to go for it today – India too. Collingwood said anything less that 370 would be a result. Play (might) start at 10.30am, don't miss a ball.