42nd over: South Africa 89-4 (Sekhukhune 9, Lee 13) Issy Wong is back and she should have had a wicket first up! It would have been a decent grab from Jones with the gloves but that has to be taken. Lee's flashing blade away from her body takes a big edge and the diving keeper can't hold on. Two leg-byes and a swivel pull for one from Lee is a sign that Wong hasn't found her line just yet, but that isn't the main talking point from that over.
41st over: South Africa 86-4 (Sekhukhune 9, Lee 12) Good work from Ecclestone. She almost gets Lee's wicket. Only an umpire's call saves South Africa's No. 5 (batting at 6 because of the night-watcher). Ecclestone keeps it tidy until the last delivery when she loses her length and Lee is able cut it for two.
Ecclestone floats it up – is she reading this OBO blog between overs? – and it beats Lee in the air, grips, turns and thuds into the pad. A huge appeal. England are convinced but umpire Sue Redfern has her doubts. England go upstairs, and, oh my, that's a LOT closer than it looked. It's the umpire's call as it's clipping the top of leg. Not out, but very close.
40th over: South Africa 84-2 (Sekhukhune 9, Lee 10) Something has made Kate cross. Not sure what's eating her but that is as angry as she's been all game. She digs in a bumper that's called a wide by the umpire and when Lee bunts the ball back to her she picsk it up and shapes to throw at the stumps/batter. She also stares at Lee with snarling menace. I 100% endorse that sort of behaviour. A single off the inside half of Lee's bat towards midwicket keeps her on strike for the next over.
39th over: South Africa 82-4 (Sekhukhune 9, Lee 9) That's a booming drive from Sekhukhune. Thankfully for her she misses it by a mile but that's a strange stroke given the context of the game. Ecclestone will no doubt take note of that. Would like to see her flight it a little more and invite another drive. She's a little flat and quick through the air. It's as if she's bowling with a white ball. It's a maiden. But it's wickets England are after.
38th over: South Africa 81-4 (Sekhukhune 9, Lee 9) That's a lovely shot from Lee, the pick of the bunch this morning. Cross strays towards the pads and Lee is on it in a flash. She leans forward and turn of her wrists she clips it for four. A similar stroke gives her two more as Cross loses her bearings momentarily. Lee takes another one with a nice punch past the bowler for one and Sekhukhune keeps the strike after a scampered leg-bye.
The sun's out now. Honestly Taunton, you OK?
37th over: South Africa 74-4 (Sekhukhune 9, Lee 2) A few streaky runs for Lee and Sekhukhune as Ecclestone asks some questions from either side of the wicket. Lee's top edge on the sweep sails to the right of the fielder at short fine leg and Sekhukhune squeezes a couple off her inside edge towards a vacant midwicket.
Nothing streaky about that back cut to deep third that skips across the surface for four. That's a heck of a shot from someone who normally bats at No 10.
Ecclestone responds with a little more flight and takes the outside edge of Sekhukhune's bat. But it's along the ground and thick enough that it runs towards backward point.
Fun over that, that one. And it looks like the rain has eased up as well.
36th over: South Africa 65-4 (Sekhukhune 3, Lee 1) The rain continues to fall across that Cross over that begins with a single to Lee towards point. I'd love to see a pitch map of Cross's bowling throughout the Test. My guess is you could cover 90% of her deliveries with a napkin. Miserly. Stingy. Consistent. Call it what you want. It's pretty darn good whatever it is.
Here comes the rain. And it's getting a worse. They're staying put for now but the umpires have a word with each other. A few more minutes of this and they'll be off.
35th over: South Africa 64-4 (Sekhukhune 3, Lee 0) I'm not surprised to see Bell taken out of the attack but I am surprised that it's the spin of Ecclestone that's been introduced rather than Wong's whizzers. Shows what I know, though, as the first ball of the over thuds into Sekhukhune's pad. I must say I thought that was out from my vantage point but I'm on the angle. It's moving down leg on the angle. Lovely bowling and it's a maiden to start for England's twirler.
34th over: South Africa 64-4 (Sekhukhune 3, Lee 0) Cross has opened the game up just as South Africa were dropping anchor. Luus doesn't play it well – all across her front pad – but let's give credit to the bowler. Cross has been metronomic all Test and that's her sixth wicket of the contest. Lee is the new batter and she'll have to show another side to her game. A renowned power hitter against the white ball, her job here will be to bunt the red one for as long as she can.
Wicket! Luus lbw Cross 10 (South Africa 64-4)
There's the breakthrough! Kate Cross is a magician. She brings Luus forward and late swing moves the ball into the front pad with a thud. The finger goes up and Luus consults her partner but declines the referral. That looked dead. Big wicket. Luus was largely untroubled but Cross and ripped out the first wicket and there's no just six to go. South Africa still 69 runs behind. One more quick wicket and England will chase an innings victory.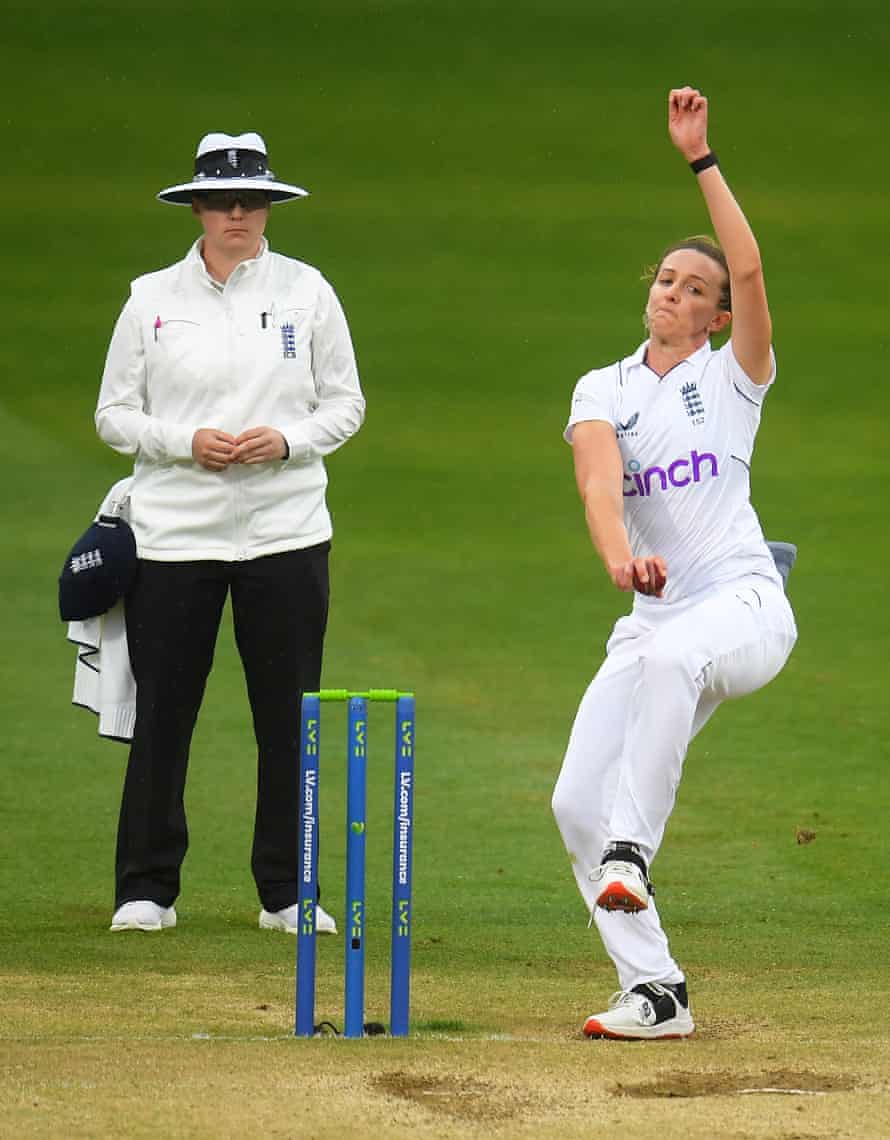 33rd over: South Africa 64-3 (Luus 10, Sekhukhune 3) Bell continues. There's something joyous about a tall seamer. I think it's the long strides. Not sure. Whatever it I could watch Bell run in with those high arms and strong wrist all day. Not sure I'll get the pleasure though as I think that may be her last set. It goes for just one run as Luus is on the back foot and punching into the covers. She doesn't time it but that's not really an issue right now. Crease occupation is the name of the game here.
32nd over: South Africa 63-3 (Luus 9, Sekhukhune 3) Kate Cross enters the scene from the end where she's caused so much trouble. As you'd expect she's bang on from the word go. No looseners necessary for England's alpha. A maiden to start. I should say that it's not exactly a nightmare for Sekhukhune who is impressing with her night-watcher duties. Should SA get another Test she may be batting a little higher up.
31st over: South Africa 63-3 (Luus 9, Sekhukhune 3) Just the one bye off that Bell over. Good channels but the Saffas handle this with care. A pretty uneventful over. England have lacked the bite they had last night. Time for a change I'd wager. Get Issy back in!
What's next? Broad charging in to bowl on a Segway? Foakes keeping with oven mitts? Baz-ball is a wild thing.
30th over: South Africa 62-3 (Luus 9, Sekhukhune 3) Sekhukhune is doing a fine job out there after her overnight watch. Sciver digs one in and looks but Sekhukhune rides the bounce and gets over her hook down to fine leg for a single. Luus plays out the rest of the over with comfort, swaying out of the way of another short ball from Sciver. Not a bad tactic I reckon. There is a short leg but I wonder if a leg slip may be a something to consider.
29th over: South Africa 61-3 (Luus 9, Sekhukhune 1) Ooooo, there's a big appeal for lbw as Bell pins Luus's front pad. She's confident but it's sliding down and England wisely keep with the on field decision. Luus would be better playing that straight but it's easy to say that from up here. Nice and tidy for the rest of the set from Bell and it's a maiden.
28th over: South Africa 61-3 (Luus 9, Sekhukhune 2) The left-hand, right-hand combination is proving a challenge for Sciver. Sekhukhune steals a single with an inside edge down the fine leg, then Luus drives through a gap in the covers for one of her own. It's only a few overs but the South Africans are looking settled. Long way to go, mind.
27th over: South Africa 59-3 (Luus 8, Sekhukhune 1) The first runs of the morning are clipped through midwicket for two by Luus. Bell, tall, high action, natural in-swing, is looking to target the stumps with a few full deliveries. There's another two taken through midwicket so a fielder is put there. Something for Luus to think about moving forward.
26th over: South Africa 55-3 (Luus 4, Sekhukhune 1) Sciver gets things under way and she's right at the night-watcher Sekhukhune. Right arm over to the left hander, Sciver is consistent around a fourth stump line. Sekhukhune is compact and nicely behind as she sees out a maiden.
A few tweaks to today's sessions:
11:00 – 13:30
14:10 – 16:10
16:30 until a minimum 92 overs have been completed. The last hour will then start with 17 overs left.
So, a total of 109 overs in the day. Nine overs have been added from yesterday.
The weather outside is weather…. Apparently there are weather warnings for later this afternoon. But the druid in the press box says not to worry. Taunton, as I've learned, has a weather system that doesn't play by anyone's rules.
Pretty, isn't it?
Issy Wong was brilliant last night and ripped South Africa's top order to shreds. She was equally brilliant in the post-play presser.
"It's been wild," is how she described the experience of charging in with a new Dukes ball on Test debut. "That's the dream, isn't it? It's probably something I've dreamed of since I started playing cricket when I was five."
Read Raf's report here.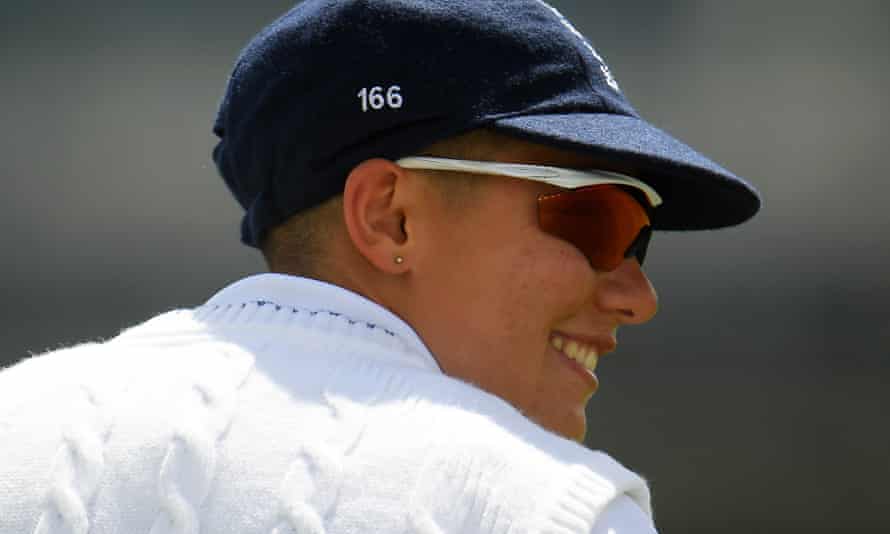 Good morning everyone. And what a morning it is! The ground is bathed in glorious sunshine, the Quantock Hills in the distance are looking lush, and the players are getting through their work as England go chasing the seven wickets they need to bundle South Africa out.
The tourists are 78 runs behind at 55-3 with captain Sune Luus at the crease on 4 alongside night-watcher Tumi Sekhukhune on 1. Some big batters are still to come including Lizelle Lee and Marizanne Kapp – whose 150 in the first dig dragged her team to a competitive score. But with the top three back in the shed, it's a big ol' mountain to climb.
That England are in the ascendancy is down to Issy Wong's double strike late in the gloom last night. She nabbed Lara Goodall and the big fish of Laura Wolvaardt in consecutive overs in a fiery spell. Throw in Kate Cross's wicket of Andrie Steyn and the magnificent 169 not-out from Nat Sciver and it's clear which side is on top.
But this is Test cricket, and this is a match that has undulated across a gripping three days. What will we see next?