109th over: England 351-6 (Sciver 131, Ecclestone 11) That's the 350 up for England. Sciver is looking as assured as she did yesterday and ventures out her crease for one delivery, looking to put pressure on de Klerk. A single for each batter keeps the scoreboard ticking along. I get the sense though that something needs to give.
108th over: England 348-6 (Sciver 130, Ecclestone 10) England will be delighted with this. Kapp is out of the attack and Sekhukhune is back. It's not that the new bowler isn't handy. She was really good yesterday in keeping things tidy. But she's not the wicket taker that Kapp is and Sciver and Ecclestone will be far more comfortable dealing with metronomic medium pacers than bouncy back of a lenght risers. Two taken off the first ball as Ecclestone works it off her pads and another quickly taken single to mid-ff means she keeps the strike.
107th over: England 346-6 (Sciver 130, Ecclestone 7) That's a quality cricket shot. De Klerk isn't too short but short enough for Sciver to get her weight back to cross-bunt it through midwicket for four. Balance. That's the key word there. Balance, and Sciver had it in abundance. No runs from the rest of the over but it's hard not to feel that Luus has handed the ball to the wrong bowler. Bosch was the pick of the bunch yesterday. What is she being saved for?
106th over: England 342-6 (Sciver 126, Ecclestone 7) Kappie is not happy. She's got her hands on her hips and is scowling at Lee and de Klerk. The former, standing at a fly-slip – half saving one, half stationed there for an opportunistic catch – has to run round and collect the ball as England scamper a single following an Ecclestone edge. But she throws a wild return above the 'keeper's Jafta's head. De Klerk then needs to mop up the mess but she's sloppy and concedes two additional overthrows. No wonder Kapp is cross!
The rest of the over keeps Sciver honest and ends with a single tucked towards the on-side. Lead of 62 now.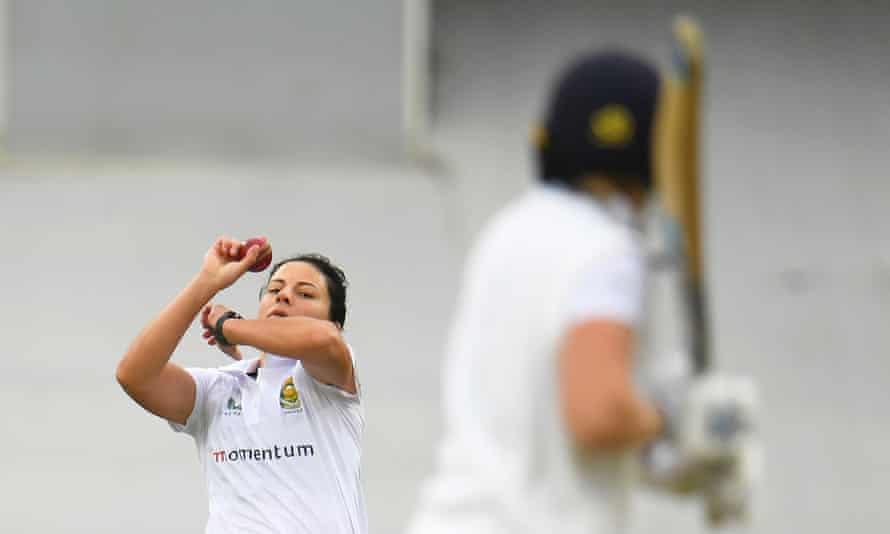 105th over: England 338-6 (Sciver 125, Ecclestone 4) It's a maiden from de Klerk. She's very much found her range. Good lengths, that's the trick. Fulle enough to bring the batter forward but not too full that it's easy to drive. England watchful but might need to crack on at some point. It's blue skies over the hills in front of me but rain is scheduled at some point.
South African men's squad announced for England series. Speaking of South Africa, the men's Test, ODI and T20 squads have been announced.
104th over: England 338 (Sciver 125, Ecclestone 4) Kapp is getting some lift off the deck. It's her whiplash action from her strong shoulders that gets the ball biting into the surface. She finds Sciver's edge but it doesn't carry to the diving second slip and they scamper a single.
The Saffas can sense something brewing and Luus has stuck an extra slipper in – three plus the gully now.
Ecclestone pokes at another one and flashes at one more, but doesn't connect. Hard to tell as I'm on the angle but it seems as if it's moving away off the seam. Good lengths doing the business here for Kapp.
103rd over England 337-6 (Sciver 124, Ecclestone 4) Better from de Klerk. She brings her length back and that brings doubt in the batter's mind. The one full floater is chased by Ecclestone and it flies away for four past slip. I reckon Sophie is going to have a go here. England will want a big enough lead to give them a shot at batting just once.
102nd over: England 333-6 (Sciver 124, Ecclestone 0) Kapp replaces Sekhukhune and she starts off with some pedestrian loosners outside the off stump. She looks a little stiff. She wasn't very mobile towards the back end last night and she was doing a lot of stretching and grimacing this morning. My guess is she's carrying a niggle (along her team's batting on her back) but realises her importance to the cause here. Still, it's a maiden to Sciver who is watchful but rock solid, meeting every block with the middle of her bat.
101st over: England 333-6 (Sciver 124, Ecclestone 0) Right where she left off. That is just pure class from Sciver. Her first ball of the morning, delivered by de Klerk, is driven back past the bowler for four. Just delicious batting.
She's also clipping a neat glance to midwicekt for a single. De Klerk too full – as she often was yesterday – and it's easy for the England batters to plant their front leg and hit through the line. Also, triple Nelson! Have you got your foot up?
100th over: England 384-6 (Sciver 119, Ecclestone 0) Because Alice Davidson-Richards fell on the fifth ball of Thume Sekhukhune's over, we begin this morning with just one ball from the Marcus Trescothick End. It's on a good length and is squirmed to gully by Sophie Ecclestone along the ground.
Good morning everyone! Can't wait for this. It's the third day of a Test that has gone one way, then another, then taken a left turn followed by a short right.
England will be the happier of the two thanks to a 207 run partnership between Nat Scvier – unbeaten on 119 – and Alice Davidson-Richards – out on the final ball of the day for 107.
Anneke Bosch was the pick of the South African bowlers, picking up 3-59 as she nabbed a trio of quick-fire scalps to leave England teetering at 121-5.
It was a mighty collapse after Emma Lamb and Tammy Beaumont were untroubled in their opening stand of 65, but Bosch sent both packing before Heather Knight was inexplicably run-out on the first ball after lunch. Bosch then nicked off Sophia Dunkley and Nonkululeko Mlaba bowled Amy Jones for a duck.
Davidson-Richards joined her high school mate Sciver and they were just sublime, driving on the up, pulling with authority and crunching anything that had the temerity to drift on their pads.
Rain is scheduled but a local in the know has informed me we should be OK. Fingers crossed. Catch you in a few.