85 min: Now Everton have another bash in this end-to-end finale. They cannot find a way through. There are shots of Everton fans looking extremely dejected, which is only to be expected given they thought, 25 minutes ago, that they would be celebrating survival this evening. The tension, it seems, is going to extend into next week.
84 min: Gray makes a fine darting run down the Everton left and cuts the ball back. Brentford manage to intercept it.
83 min: Now Brentford come again. Eriksen has plenty of space to line up a shot from 20-odd yards, in a central position. He hits it well enough but drags it wide. Salomon Rondon is on for Everton.
82 min: Everton get themselves up the field. Richarlison, who has been his usual industrious self, belts a cross to the far post. Raya leaps to gather.
81 min: Norgaard slides a good-looking pass intended for Toney, who is on the move, trying to get behind the Everton defence. An Everton boot manages to intercept.
76 min: Mads Roerslev comes on for Brentford, Wissa off. A defender for a striker. Everton are rarely getting the ball, and as a result, struggling to cause any kind of issues for Brentford in defence. Having said that, Roerslev fouls Richarlison out near the touch line, and the set-piece is pumped to the far post, to Doucoure, who tries a downwards header. It's out for a corner … Brentford clear the corner but Mykolenko launches a long throw in seconds later. Brentford hold firm.
75 min: Brentford have had more than 70% possession. They roar down the field again. Mbeumo tries a left-footed shot which balloons over the crossbar.
71 min: Lampard turns to his substitutes' bench. Gordon and Gomes go off for Everton, with Demarai Gray and Jonjoe Kenny coming on.
69 min: The home fans, understandably, are noiser and more on edge than they were 10 minutes ago. Brentford nearly get themselves in a muddle at the back, but then stream forward once more, forcing Everton on to the back foot yet again and requiring more draining defensive duties to be carried out by Lampard's men. Henry has a half-chance and hits a volley from an angle, inside the area, which he scuffs badly and Pickford can claim it easily.
64 min: Goal! Everton 2-3 Brentford (Henry)
Nørgaard bends a fine cross to the far post. Henry leaps high and handsome, above Gordon, and plants a brilliant header into the back of the net. Another cracking goal from Thomas Frank's impressive side. Five minutes ago Everton were in position to secure their safety … now they are heading back into the teeth of a relegation fight.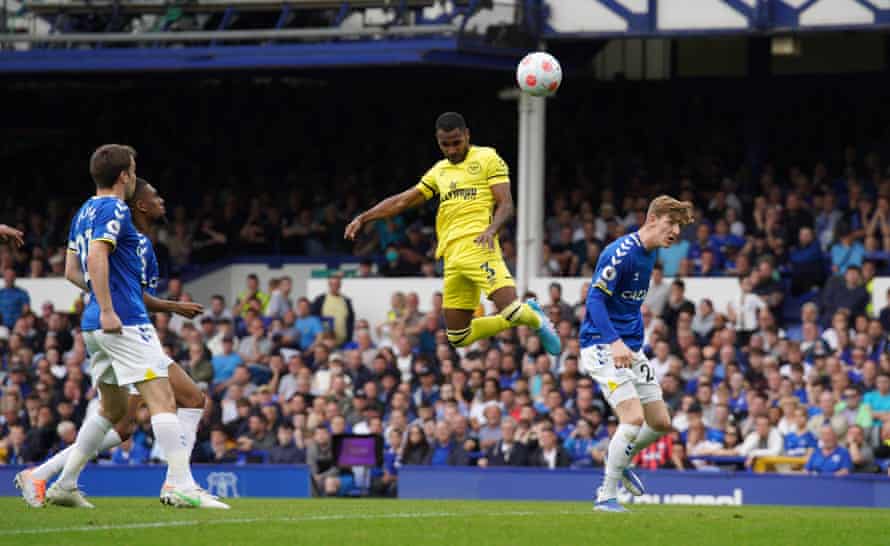 62 min: Goal! Everton 2-2 Brentford (Wissa)
Brentford have a corner. Eriksen fires it in with pace and swerve. Wissa, at the near post, gets in front of his marker, Richarlison, and flicks a header which flies unerringly into the far corner of the net. Great delivery, great header, but the last thing that Everton fans wanted to see.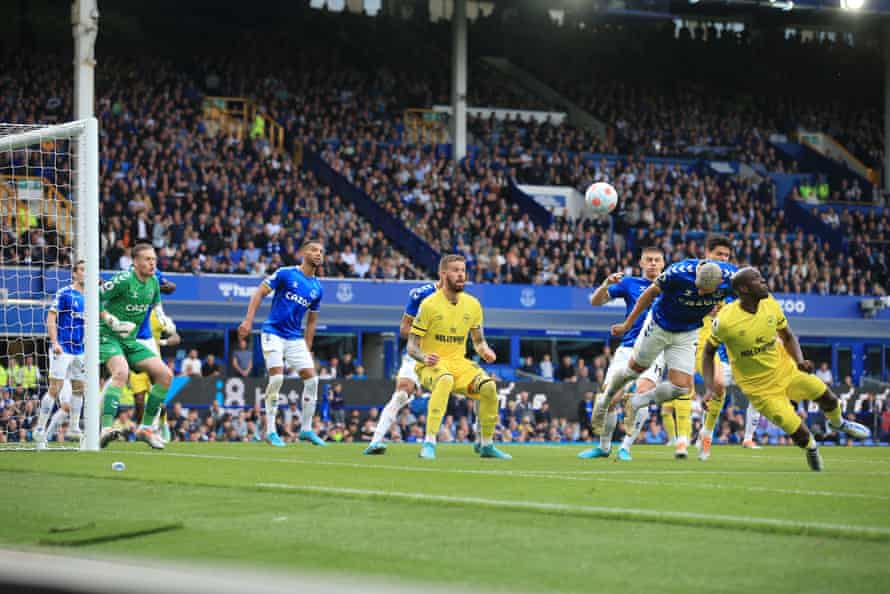 60 min: The good news for Everton is that, as it stands, they are staying up. The bad news is they have half an hour plus stoppages to resist …
58 min: The VAR is now checking a flare-up between Mykolenko and Toney … they were pushing and shoving at the far post when that free-kick came in. Toney went down like he'd been headbutted, but it would be stretching it, watching the replay, to suggest he was. It was a risky move by Mykolenko though who did appear to jut his head forward into Toney's. Josh Dasilva is on for Brentford in place of Ajer.
56 min: Brentford continue to dominate possession. Eriksen whips a free-kick over from the Bees' left. It comes through a sea of bodies, and Pickford makes a very good low save after being unsighted. It was a cross-shot by Eriksen, and it could easily have flicked off a forward or a defender and levelled it up … but the England goalkeeper does well.
54 min: Ajer and Jansson link up near the Everton box. Brentford continue to press forward … Toney has a sniff of goal at the far post after Eriksen swings a ball across, but he is penalised for a foul on his marker.
51 min: Brentford on the front foot again. Everton's two banks of defenders – five at the back, then four further ahead – are working overtime. Eriksen bends a dangerous ball into the area. Pickford does well to punch it clear, but there is a flag up for offside anyway.
48 min: After good work by Iwobi, Richarlison drives towards the byline on the Everton left, and cracks a good cross over looking for Calvert-Lewin. The England forward dives for it, looking to get something on it, even his chest (with which he's already scored one goal today) but the ball evades him.
46 min: "I've been wondering what Frank Lampard's touchline demeanour reminds me of, and I now think I know what it is," emails Allan. "When the film "Staying Up: Frank Lampard's Everton Journey" is made, now he's finished Ozark, Jason Bateman is the obvious choice for the lead."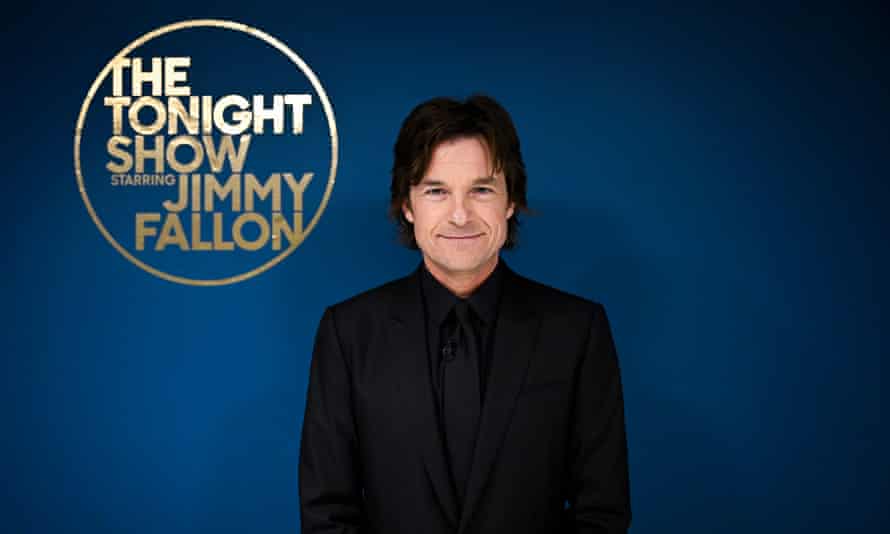 Vitaly Janelt has come on for Brentford, in place of Mads Sørensen. Here we go.
Half-time reading:
Half-time! Everton 2-1 Brentford
Well well well. That was, almost literally, a rollercoaster ride of a first half. Everton started like a house on fire, went in front, had a man sent off, Brentford pegged them back to 1-1, and now Everton lead again thanks to a coolly converted spot-kick by Richarlison in stoppage time. As it stands, Everton are staying up, but Eriksen is showing some lovely touches in midfield, and the hosts will have a massive amount of defending to do after the break. Phew. I can't take much more of this, and I'm not even an Everton fan.
45 min + 2: Goal! Everton 2-1 Brentford (Richarlison pen)
Richarlison pauses before hitting his penalty … and strokes it high and into the centre of the net after the goalie dives to his own right. He 'gave him the eyes' there. A very, very good penalty under pressure. Everton back in front!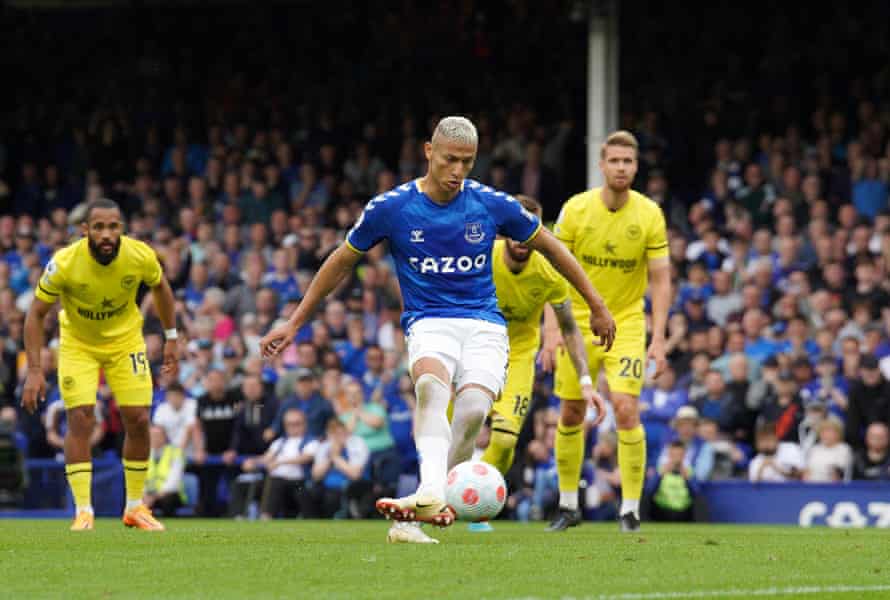 45 min: Penalty to Everton!
Richarlison is brought down as a bouncing ball comes into the area. Michael Oliver points to the spot! It was Sorensen who caught the Brazilian after a totally speculative ball was hoicked into the Brentford area.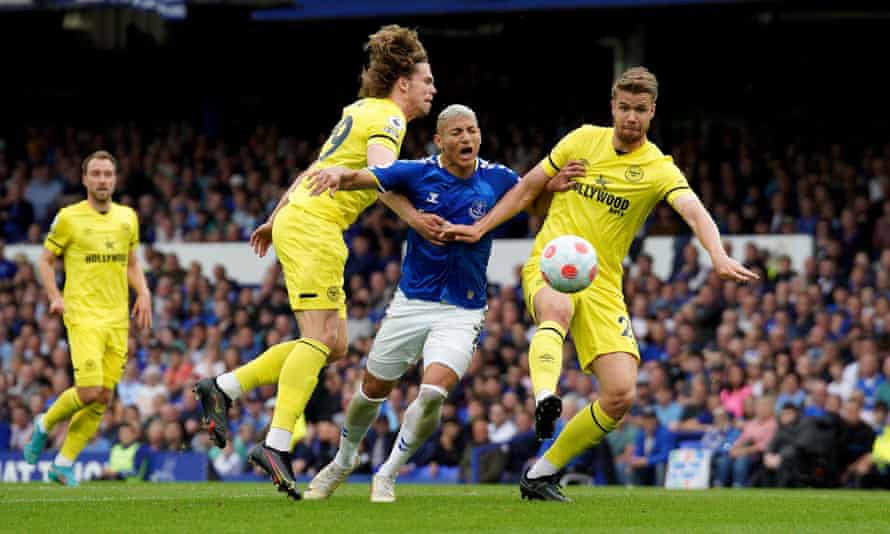 41 min: Brentford stroke the ball around, using their one-man advantage to the full. Everton's defenders and midfielders are looking overworked, and you have to suspect that more space will open up for the visitors as the match goes on. Eriksen pings a lovely pass over the top to Toney, who sweeps it goalwards first-time, but Pickford saves. Just before that, Mykolenko had embarked on a spirited run out of defence, but Brentford arrested his progress as he neared the penalty area.
37 min: Goal! Everton 1-1 Brentford (Coleman OG)
Jensen plays an excellent angled ball to Toney in behind the Everton defence. Toney sends a similarly good low cross across the six-yard box. No one is there to meet it initially, but it comes to Wissa on the other side. He hits a shot from an angle which flicks off Coleman's head and into the net! Brentford are level!
Pickford punches the turf in frustration. It had been coming, in fairness, with Brentford dominating possession since the sending off.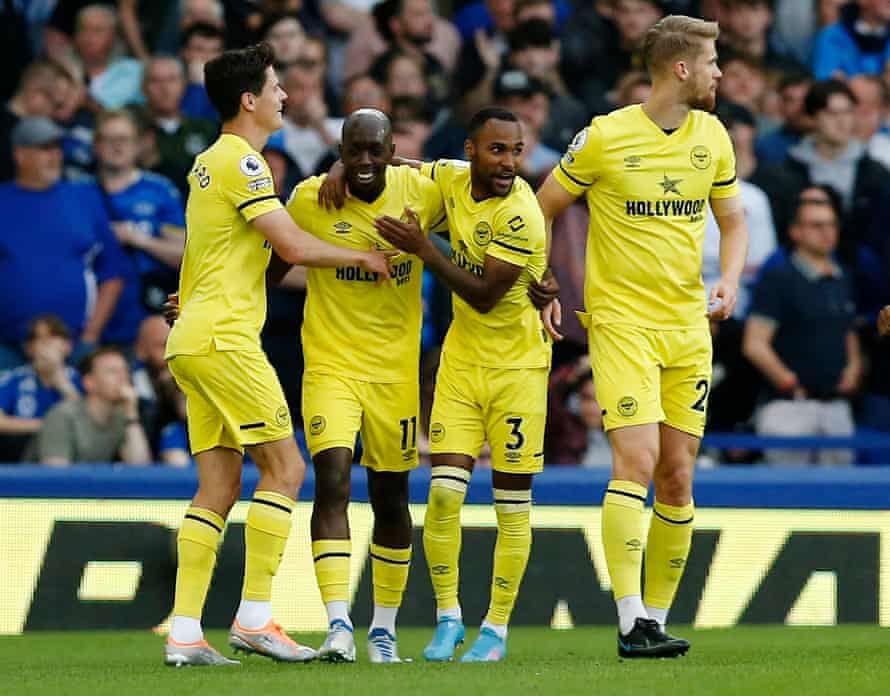 35 min: Everton put a foot on it in midfield … Gomes spanks a brilliant left-footed shot from 30 yards out, which is destined for the top corner, but Raya plucks it out of the air comfortably enough.
"Over the years I would often complain about Everton being a mediocre mid-table team," emails Mary Waltz. "If we survive the pure hell of this season I will never utter that phrase again."
33 min: "Toney had a five yard head start on Branthwaite which is why he was able to get the wrong side of him," emails Andy. "It's criminal that the Everton back line had all positioned themselves 10 yards inside Brentford's half so Toney could be behind them all without being offside."
No arguments from me, it was definitely poor positioning from Branthwaite in particular to get himself exposed that way. Brentford switched defence to attack instantly with a hopeful punt downfield, and it paid off. Lampard said before the match he had faith in Branthwaite but it's hard to imagine Michael Keane getting himself in a similar mess.
30 min: Henry makes a lightning-fast run down the Brentford left and clips a low ball into the danger zone. Everton seem to be able to deal with it, with Andre Gomes in position to intercept, although he only manages to divert the ball to Jensen, who cracks a shot wide from close range. Danger for Everton. But they remain 1-0 ahead after half an hour.
28 min: Alex Iwobi runs back and pulls off an important block with Brentford dangerously moving into the Everton penalty area. The ball flicks up and over the near post and to safety.
26 min: Brentford stroke the ball around in midfield before working it forwards to Wissa, up front. Doucoure does well to dispossess him and brings it into midfield, and is then fouled by Norgaard, who goes in the book, after a huge howl of derision from the home fans.
23 min: After a mad, frenetic start the game settles again, just slightly … Everton have established a slender advantage but are down to 10 men. Do they simply shut up shop and try and defend the 1-0 lead? It will be a long afternoon if so, against a Brentford side who look up for this.
20 min: Eriksen cracks the resulting free-kick fractionally wide of the post! So nearly 1-1.
18 min: Red card for Everton! Jarrad Branthwaite
Everton demand a penalty for a shirt tug on Richarlison by Ajer. The ball is hoofed hopefully down to the other end, immediately, and Branthwaite gets the wrong side of Toney as the ball bounces towards goal. The young Everton defender bundles the forward over just outside the box, and he's off. It all started so well for Everton but now they are up against it.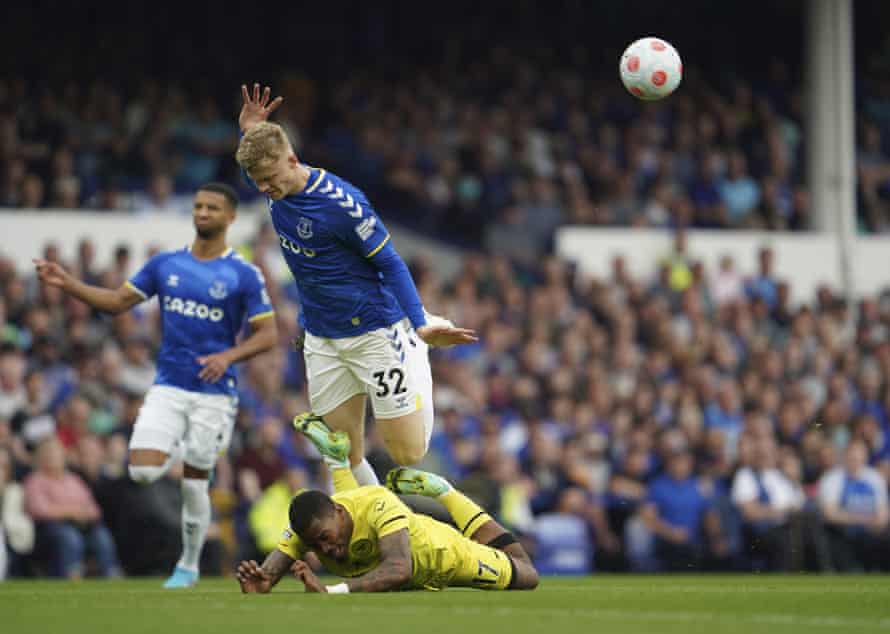 15 min: The game has settled down a little bit, and Calvert-Lewin has indeed been credited with the opening Everton goal. The ball took a faint touch off his chest as it meandered into the net. You take them, whichever way they come, at this stage of the season and when you're in Everton's position in the league.
Goal! Everton 1-0 Brentford (Calvert-Lewin 10)
What a scrappy goal. But of course, Everton won't care. A low free-kick travels to the comes into the near post from the right wing from Anthony Gordon. It's not what you'd call a good delivery. But no matter: Richarlison is there to get a glancing contact on the ball … which squeaks in at the far post, possibly via a touch by Calvert-Lewin. Scruffy, but potentially so, so important for Everton. Poor defensively from Brentford, who perhaps are struggling to withstand this electric atmosphere, not to mention the way Everton are attacking with purpose.
7 min: Everton attack, yet again, this time down their right wing. Brentford deal with a low cut-back from the byline and then embark on another foray into the hosts' half. This is end-to-end, it's all happening, both teams having a go – and Brentford are most certainly not on the beach just yet.
5 min: Now it's Brentford's turn. Eriksen whips a set-piece over from the Bees' right. Ivan Toney flicks a header just over the crossbar. Everton storm down to the other end, and Richarlison pounces on some hesitation in the Brentford defence to clip an effort just wide …
3 min: So close for Everton! Calvert-Lewin flicks on a ball from deep. Anthony Gordon ghosts across the edge of the box with an excellent diagonal run, and pokes an attempted finish goalwards which Raya saves. On the follow-up, Richarlison is there with a header from close range, and he should arguably score, but sends the ball wide! Huge chance.
1 min: Everton start the match on the front foot. Andre Gomes, with a neat bit of work centrally just outside the area, plays in Vitalii Mykolenko on the left. He wins a corner with at attempted low cross. The corner doesn't come to anything. But Everton have roared out of the traps, as expected.
We are under way.
The teams are on the pitch. The noise is deafening. The Everton fans are baying for the scalp of Brentford – and the knowledge that they will be in the Premier League next season. This is happening!
The teams are in their respective tunnels. The Everton goalkeeper Jordan Pickford stands behind Séamus Coleman, deep in thought, listening to the roars emanating from out in the stadium.
Feeling nervous, Everton fans? You can email me or tweet @lukemclaughlin with your thoughts.
Under 10 minutes until kick-off.
You've got time to read our match preview, here:
The Brentford manager Thomas Frank tells Sky Sports he is determined to keep producing good results and carry momentum into next season. He says he wants a strong, brave performance from Brentford in what they expect will be a difficult atmosphere.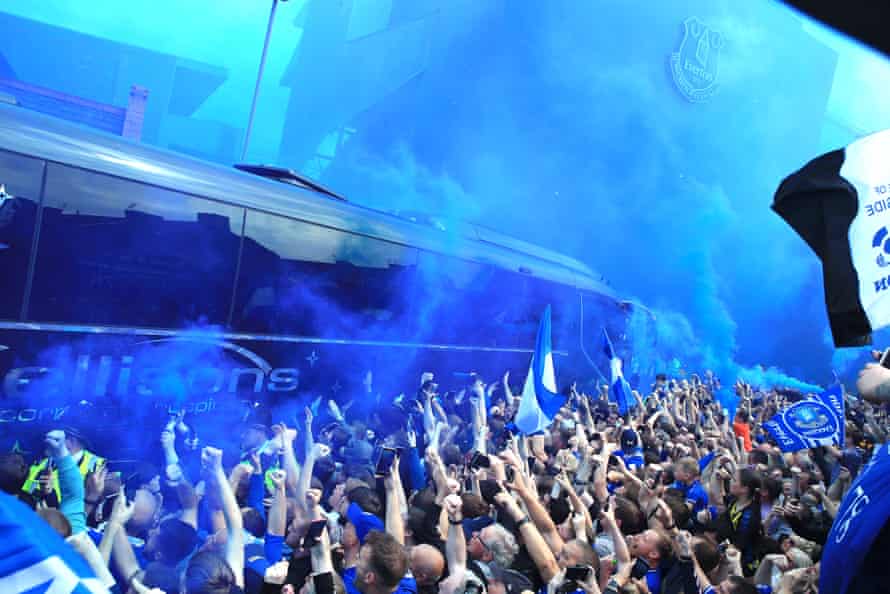 Michael Keane misses out for Everton with illness. Frank Lampard tells Sky Sports the centre-back's illness emerged overnight, but that he has faith in Jarrad Branthwaite, who makes his third Premier League start of the season. Yerry Mina is still out injured, while Dominic Calvert-Lewin comes into the starting lineup up front for the hosts. Brentford, meanwhile, are unchanged.
Everton: Pickford, Coleman, Holgate, Branthwaite, Mykolenko, Andre Gomes, Doucoure, Iwobi, Gordon, Calvert-Lewin, Richarlison. Substitutes: Kenny, Allan, Gray, Begovic, Davies, Rondon, Alli, Price, Welch.
Brentford: Raya, Ajer, Jansson, Sorensen, Henry, Jensen, Norgaard, Eriksen, Mbeumo, Toney, Wissa. Substitutes: Canos, Dasilva, Jeanvier, Peart-Harris, Baptiste, Janelt, Roerslev, Stevens, Lossl.
Referee: Michael Oliver
Safety is in sight for Everton. Seven points from matches against Chelsea, Leicester and Watford have considerably eased the nerves of the fans, not to mention the manager Frank Lampard and his players. The feeling, judging by the number of fans crowding around Goodison Park before the visit of Thomas Frank's Brentford, is that today is the day they secure their Premier League survival, following Leed's 1-1 draw against Brighton at Elland Road.
Brentford may be thinking of next season already, safe as they are in mid-table, but they are sure to pose plenty of attacking threat with Christian Eriksen pulling the strings in midfield. Can the famous Goodison Park roar propel Everton and Lampard to safety? We'll know in a couple of hours. Team news and more coming up.
Kick-off: 4.30pm