17:45
"Question," writes Kurt Perleberg. "What is porpoising?" Well indeed. I can report that it's an aerodynamic phenomenon, a bouncing induced by a break in downforce on straights. It has affected all teams going into the new season, with the all-new regulations, but Mercedes seem to have struggled by far the most (though Carlos Sainz has also been heard complaining about it on the radio). The smoother surface on this track should make it less of an issue than last week … but time will tell.
17:40
A bit of detail on Tsunoda's exit, from AlphaTauri team principal Franz Tost: "It looks like something in the drivetrain and he cannot race. With Pierre we hope everything works well and he can score some points."
17:38
Cat on the track klaxon! Get your puns in now, while we still have time for that sort of fluff.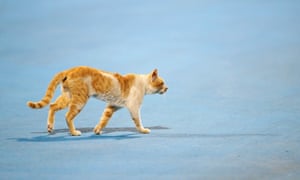 17:34
Charles Leclerc is sounding chipper: "Whenever you go into race day you have to be confident. The pace is good, we are in the mix. Hopefully we make a good start and then we will see."
Fighting talk too from Christian Horner: "[Verstappen] is absolutely still in it. We've tried to focus our setup to be good in the race, maybe that compromised a little qualifying speed. Max struggled a little bit yesterday but I think his race runs have been very impressive so hopefully we can fight the Ferraris hard today."
17:32
Yuki Tsunoda pulls out of the race
"Lost engine, lost engine," wails the AlphaTauri driver as he makes his way to the grid. He had troubles in qualifying yesterday, and that's his GP over – his team have called him back into the garage. And then there were 18…
17:27
As a counterpoint, here's our F1 correspondent, Giles Richards, on that very issue:



There is no evidence any change ever occurs. Since the mass protests in Bahrain in 2011, F1 has raced on in the country and human rights groups insist the situation has worsened for everyone who speaks out against the regime and that imprisonment and torture has, in fact, increased.

The real danger with sportwashing is that it normalises regimes over time. The fuss dies down as people come to accept the event but business as usual continues in the background. This is the deal F1 has done.
Read his article in full here:
17:23
Here's Stefano Domenicali, chief executive of Formula One, speaking to Sky Sports about the event in Saudi Arabia: "We are not blind but this country is making massive steps forward that you cannot change in the blink of an eye. I believe we are playing a very important role in the modernisation of this country.
"No one can judge our morality, it is a matter of putting in place all the things that have to be considered. We believe what we are doing will have a very positive impact on the political situation."
17:20
A flurry of activity in the Ferrari garage, where it looks like Carlos Sainz's car has undergone a last-minute alteration – an electric component by the looks of it.
17:17
Also in qualifying yesterday, Mick Schumacher was involved in a huge crash – serious enough to mean he will sit out today's race as a precaution, leaving Kevin Magnussen as the sole Haas driver. "I just wanted to say that I'm OK," he tweeted earlier. "Thank you for the kind messages."
Meanwhile, Max Verstappen is blaming his substandard qualifying display on his tyres. "Q1 and Q2, everything felt normal, felt good but then I don't know, my first set in Q3 was terrible," he said. "I had no grip and honestly, I don't understand because there was not really anything weird going on."
17:04
Preamble
Precision-engineered carbon fibre bodywork with aluminium honeycomb. Pull-rod front suspension with unique geometry for clean airflow. Centreline cooling ducts covered by full double-decker beam wing. Ventilated carbon ceramic-disc brake system. And a longitudinally mounted direct-injection Powertrain engine filled with ethanol E10 fuel.
Red Bull's all-new RB18 car certainly sounds impressive. Last week, though, we got a faintly hilarious reminder of an F1 car's most fundamental requirement: to cross the finish line. It was a test failed in slapstick style by a $140m team whose high-spec cars both chuntered to a stop as the race was reaching its business end – proof that the best sporting drama comes with a healthy dose of schadenfreude.
If the boffins in Red Bull's garage have come up with a fix in the intervening week, then we can expect a rip-roaring battle between them and Ferrari today, after Sergio Perez claimed the first pole of his 215-race career with an impeccable display in Q3. He was two-hundredths up on Charles Leclerc – who proved his title credentials with victory last week after a thrilling scrap with Max Verstappen – while Carlos Sainz scooted into third. Ferrari's supremely impressive one-two in Bahrain gives every impression that their decision to write off last season in order to develop this year's car is a gamble that could pay off lavishly.
Ahead of the curtain-raiser in Bahrain, the big questions concerned Mercedes, whose new car was beset by engineering problems and whose drivers were getting grouchy. And despite the surprise late podium for Lewis Hamilton, those issues haven't gone away: Hamilton suffered a rare exit in qualifying yesterday, his car still beset by the porpoising problems that plagued pre-season. "It's a long, long way back," he grumbled afterwards. "I am looking forward to going home."
This week, though, the truly big question is whether this should be happening at all. This Grand Prix is hosted in a state accused by Human Rights Watch of a "brutal crackdown on peaceful dissidents", where same-sex relations are illegal, and at a circuit 10 miles from a site that was attacked by missiles on Friday afternoon. "This weekend's Grand Prix in Saudi Arabia is sportswashing – plain and simple," said Felix Jakens of Amnesty International this week. Something to bear in mind this evening.
Thoughts, theories, wild conjecture? Feel free to email in.
Race begins at 18:00 BST.
Updated