There were five minutes to go when Luuk De Jong was introduced at the Camp Nou and maybe it should have been more. Barcelona were drawing 1-1 with Napoli in their first game in this competition in 18 years, seeking the goal that would give them a deserved first-leg lead, and in a frantic finale the man who was greeted as a saviour, an unlikely hero, almost got it too. In the end, though, De Jong's comic-book moment wasn't enough, a spectacular overhead kick flashing past the post, and Barcelona ran out of time.
Ferran Torres equalised on the hour after Piotr Zielinski gave Napoli a first-half lead, but the former Manchester City forward above all reflected on the ones that got away. At the end of a night in which Barcelona and Napoli were playing for a place in a competition that they aspire to avoid, he pulled his shirt over his face, apparently crying. The last opportunity, like many of those that had come before, fell to him but the ball sailed into the stands.
"He's worried, he's annoyed with himself, but we're delighted with him. When Luis Suárez first came here it seemed he couldn't score and he became one of the best in history," Xavi said afterwards. "We had six or seven very, very clear chances, but the result is insufficient: it's a pity." Gerard Piqué said they could have scored four or five. Despite an impressive second half and 21 shots, they only scored one – and that was a penalty.
"It annoys me to hear the Champions League anthem and not be part of it," Xavi had said, but if this was an unusual day with an unusual anthem, his team taking the knee, which was unusual too, the opponents were familiar from the last 16 of the Champions League two years ago – and there were 73,500 in Camp Nou, 5,000 of those from Italy.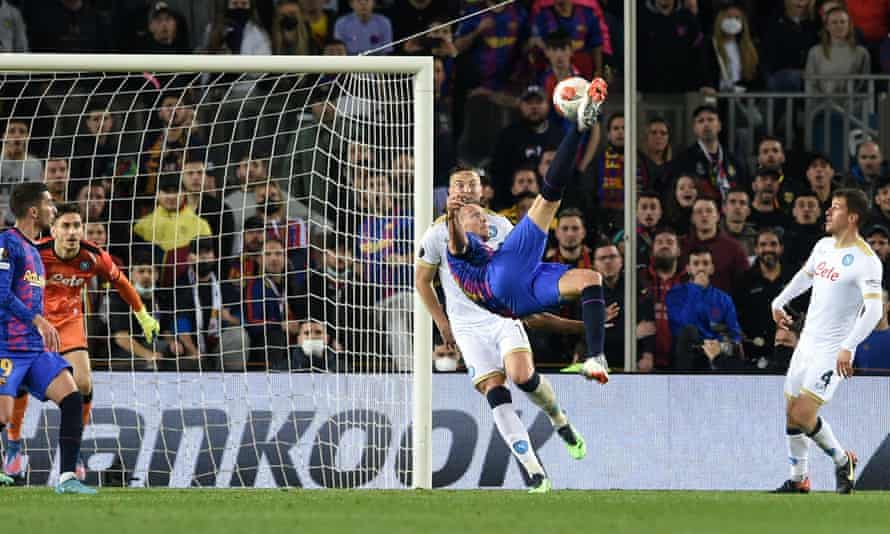 That brought a sense that this did matter and a sound to match, a game worthy of that stage too. Xavi had called it an opportunity and Luciano Spalletti felt the same, no concessions made in his line-up and an intensity about Napoli early on: while Barcelona had most of the ball, the Italians were incisive, shown when Victor Osimhen was released up the left, dashing onto a beautifully bent ball but denied by Marc André ter Stegen. It was shown again when Napoli made Barcelona pay immediately for the first of Torres's untaken opportunities.
Played in by Pedri and Pierre-Emerick Aubameyang, Torres was still lamenting a wayward shot when a lovely exchange between Zielinski and Eljif Elmas opened up Barcelona. Zielinski's initial effort was saved but he smashed the rebound into the net. Torres then curled another effort wide and headed over, while Kalidou Koulibaly recovered astonishingly quickly to cut down Traoré before the break. After it, the volume rose and so did the velocity, Nico leading the charge.
The equaliser was coming even if no one saw the moment the opportunity actually came. Traoré's cross had brushed the hand of Juan Jesus, spotted only in the VAR room. Belatedly, Istvan Kovacs was called to the screen. This time, Ferran finished coolly.
Barcelona were on top, Xavi increasing the pressure with a treble change that included Ousmane Dembélé who was whistled with every touch until there was a realisation that it might be better to support him. They needed him after all. Dembélé escaped but couldn't find Aubameyang. Next, his shot was blocked. With no way through, De Jong was introduced to a huge roar, as productive in those last wild minutes as anyone else had been in 85.
First, it was Dembélé, then Sergiño Dest and Pedri, who flicked it to Torres, only to see him sky it. A moment later, Dembélé's pullback crossed the six-yard box without finding a finisher. Then De Jong's sensational overhead kick flew just past the post. The chants of his name were suddenly silenced when Dries Mertens should have won it at the other end, shooting straight at Ter Stegen. Torres should have won it too, but another shot sailed into the stands leaving time for one last header from De Jong, a draw having to do on their first Thursday night for two decades.