Boris Johnson has caused fury among political leaders across Europe – and outrage among opponents of Brexit at home – after he compared the resistance of the Ukrainian people to Russia's invasion to the UK's decision to leave the EU.
In a clear attempt to rally the Tory faithful behind a Brexit theme, the prime minister said in a speech to the Conservative spring conference in Blackpool that the world faced a moment of choice "between freedom and oppression".
He went on: "There are some around the world, even in some western governments, who invoke what they call realpolitik. And you say that we're better off making accommodations with tyranny."
He then added: "And I know that it's the instinct of the people of this country, like the people of Ukraine, to choose freedom, every time. I can give you a couple of famous recent examples. When the British people voted for Brexit, in such large, large numbers, I don't believe it was because they were remotely hostile to foreigners. It's because they wanted to be free to do things differently and for this country to be able to run itself."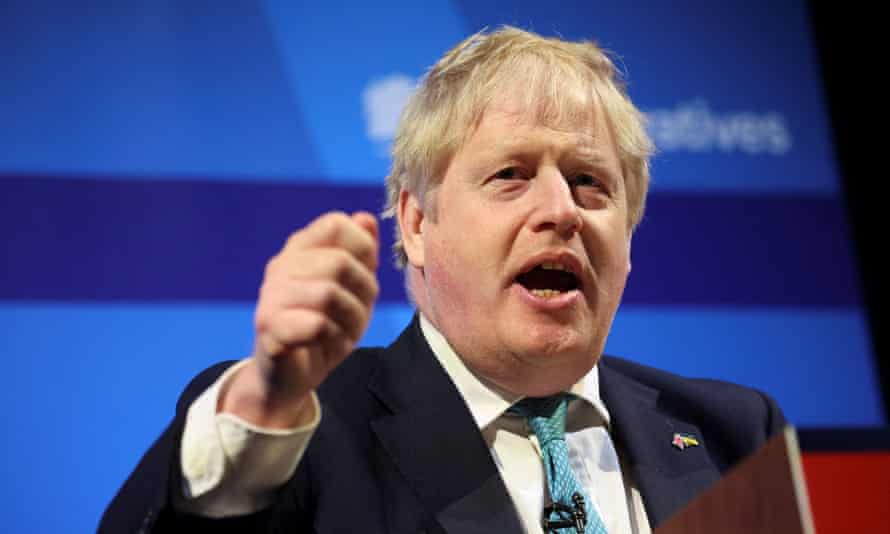 The remarks caused astonishment not only because Ukraine applied last month, after the Russian invasion began, to become a member of the EU, but because the comments suggested that the EU was itself a form of tyranny to escaped from.
Only three weeks ago Ukraine's president, Volodymyr Zelenskiy, called on the EU to grant Ukraine membership, which it sees a key goal as it seeks to bind itself deeper into the west, under a special procedure. "Our goal is to be with all Europeans and, most importantly, to be equal," he said. "I'm sure that's fair. I am sure we deserve it."
Before a meeting in Brussels of Nato leaders to address the Ukraine crisis on Thursday, and a separate EU summit which Johnson is said to be keen to attend, EU leaders expressed their disgust at the comments.
Donald Tusk, former president of the European Council and an ex-prime minister of Poland, said Johnson's words would upset the Ukrainian people: "Boris Johnson likens Ukrainians' fight to British people voting for Brexit. I can still remember the enthusiasm of Putin and Trump after the referendum. Boris, your words offend Ukrainians, the British and common sense."
Guy Verhofstadt, the former Belgian prime minister who lead the European parliament in Brexit negotiations, described the comments as "insane". "Brexit was about undoing freedoms and leaving the EU," he said. "Ukrainians want more freedom and to join the EU!"
Amid the outrage, Downing Street said that Johnson had not yet been invited to join EU leaders at their summit this week, despite reports of his enthusiasm to be involved.
Senior Conservatives also joined in the condemnation. The former Tory cabinet minister and ex deputy prime minister Lord Heseltine told the Observer: "Boris Johnson cannot escape his responsibility for the disasters of Brexit by a cynical exploitation of the incredible bravery of the Ukrainian people. Millions of Conservatives will be ashamed at so flagrant an attempt to exploit the horrors we see every day for party advantage."
Lord Gavin Barwell, a former Tory MP who served as Theresa May's chief of staff in No 10, said on Twitter: "Apart from the bit where voting in a free and fair referendum isn't in any way comparable with risking your life to defend your country against invasion and the awkward fact the Ukrainians are fighting for the freedom to join the EU, this comparison is bang on."
Even hardline supporters of Brexit condemned Johnson's remarks. The broadcaster Julia Hartley-Brewer said: "Comparing the vote to leave the EU with the Ukrainian people fighting for their lives against a foreign invader is an insult to their bravery and sacrifice."
Other Tory MPs and grandees said they believed that Johnson had been "clumsy" and "stupid". Many Conservatives who backed Brexit are concerned that the Johnson government has failed to explain why leaving the EU matters, and failed to seize what they see as opportunities of going it alone.
Last week David Canzini, the prime minister's new deputy chief of staff, addressed advisers, saying that delivering on Brexit and explaining it had to be top of a list of five priorities. "If you don't think that's a priority you shouldn't be here," Canzini was reported as saying. The cost-of-living crisis was second, while the NHS, crime and immigration followed.
While the Labour leadership did not comment on the prime minister's remarks, Labour MP Stella Creasy, the new chair of the Labour Movement for Europe, said: "No decent Conservative can look the people of Ukraine in the eye if they support Boris Johnson in suggesting Brexit is any way comparable to the horrors happening to their nation. It's a reflection of what a liability he is as prime minister and why we need Labour to speak up clearly for our place in Europe and the role international cooperation plays in protecting human rights, not destroying them."
The Liberal Democrat leader, Ed Davey, said Johnson's "buffoonery" was in stark contrast with the statesmanship of the Ukrainian president, and risked dividing European leaders at a crucial moment. "At a time when Britain should be standing with our allies, Johnson is needlessly creating division. To compare a referendum to women and children fleeing Putin's bombs is an insult to every Ukrainian. He is no Churchill: he is Basil Fawlty."
The SNP's leader at Westminster, Ian Blackford, described the comparison between people voting to leave the EU and the resistance of Ukrainian's to the Russian invasion as "morally repugnant".
Nathalie Loiseau MEP, a former French EU affairs minister and close political ally of Emmanuel Macron, said: "Does the British prime minister really compare Ukrainians fleeing war and death to the UK exiting the EU?
"Respectfully, prime minister, words have a meaning. A majority of British people voted peacefully to exit the EU. Their democratic choice was respected. Brexiteers went at length against free movement. Ukrainians are forced to flee."
"Today Ukrainians desperately want to join the EU. There were EU flags in 2014 in Maidan square; there are still in Kyiv bomb shelters."
Naomi Smith, CEO of internationalist campaign Best for Britain, said: "Equating the Brexit vote to Ukrainian's plight is not only a disgraceful insult to those in the grip of war, it dismisses the fact Ukraine has applied to join the EU, the greatest peace project in human history"