A police officer concerned within the arrest of Sheku Bayoh has denied wanting to affix a far-right organisation as an adolescent.
The pre-recorded testimony of Alan Paton, who has since retired from Police Scotland, was performed to the inquiry into the loss of life of Bayoh, which occurred in Kirkcaldy, Fife, in 2015 whereas he was being detained by police.
In the course of the 20-minute recording, Paton denied claims he needed to affix the British Nationwide celebration as an adolescent, and in addition denied making racist remarks to an Asian household who lived close to him and utilizing different racist language.
Paton described the claims, made by his sister Karen Swan, as "not true in its entirety" and "a whole lot of made-up nonsense".
Bayoh, 31, died after he was restrained on the bottom by a number of officers. The inquiry into his loss of life is inspecting whether or not race was an element.
Paton and fellow officer Craig Walker have been first on the scene after reviews Bayoh had been carrying a knife and attacking automobiles.
The inquiry has beforehand heard that once they arrived, they quickly deployed their incapacitant sprays on unarmed Bayoh, and Walker stated the fuel engineer was "clearly in some type of rage or zombie stare".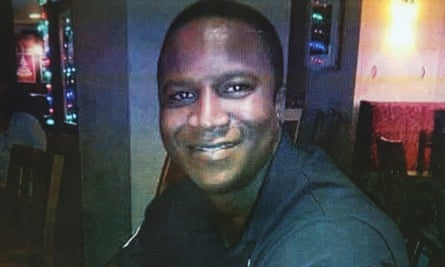 Within the recording performed to the inquiry, Angela Grahame KC learn out a press release from Swan which stated: "I wish to return to when Alan was an adolescent. My mum instructed me on the time that Alan has stated he needed to affix the BNP and she or he had instructed him she would disown him if he did.
"Alan used to make racist remarks to the Asian household that lived not far away. He was by no means violent in the direction of them however he was fairly vocal.
"In the event that they handed by him he would make racist feedback in the direction of them. I don't know the rest about him becoming a member of the BNP."
Paton denied the claims, and stated: "The complete paragraph's not true. I've acquired nothing additional so as to add than what I've in my assertion that was submitted a number of days in the past."
Requested by the inquiry chair, Lord Bracadale, if he had joined the far-right BNP, Paton instructed him: "No".
A press release from Paton's brother-in-law Barry Swan was additionally learn to the inquiry. He stated his spouse had instructed him Paton had needed to affix the BNP when he was 16.
The inquiry was instructed Swan stated: "There was a number of feedback, or off-the-cuff remarks, made by Alan over the early years which I took to be jovial and humorous."
He stated there was "no malice or vindictiveness surrounding these feedback".
Paton denied making such remarks.
The previous police officer instructed the inquiry that Bayoh, a father of two, "uttered not one phrase" whereas he was being restrained in Hayfield Street.
Paton stated: "From my preliminary engagement with him to the conclusion of my involvement, he remained silent. The one screams I heard was that of [police officer] Nicole Brief."
He was learn the witness assertion of Ashley Clever, who noticed the arrest, which stated she noticed "a person happening to the bottom with about six law enforcement officials round him" and that "the person stored making roaring noises and shouting one thing much like 'Get off me'".
Paton stated she was mistaken and that Bayoh didn't make the noise.
The inquiry continues.