In a thrilling and tumultuous fight Katie Taylor fought her way out of desperate trouble in the middle rounds, when Amanda Serrano looked on course to force a stoppage, to retain her undisputed world lightweight titles on a historic night for women's boxing at Madison Square Garden on Saturday night. Amid a fevered atmosphere, which proved that the best female fighters can grip the attention of a sold-out crowd with riveting impact, Taylor received the verdict from two of the three judges to win a split decision.
Serrano, who fought with fire and ferocity, won the fight 96-94 on the first judge's scorecard. The narrow margin seemed much more accurate than the assessment of the two officials who ruled in favour of Taylor by scores of 96-93 and an unacceptably wide 97-93. A draw seemed the right result to many at ringside because this was a fight that transcended the sustained hype and serious expectation which had defined the build-up. It was an exhilarating but brutal battle which left both women cut and bleeding and forced to call upon incredible reserves of courage and desire.
An electrifying atmosphere inside the Garden, with the Irish and the Puerto Rican fans swept away by a contest which deserved comparison with some of the most exalted fights held in this famous old arena, never flagged. Taylor and Serrano outstripped even that intensity in a bout of fluctuating fortunes and staggering intensity.
The first three rounds were close but Taylor's corner had reiterated the need for a disciplined and measured performance and the champion, for the most part, stuck to the blueprint at the outset. Serrano hits harder and moves faster and she stalked Taylor resolutely without quite managing to close the distance. Taylor was concentrated and seemingly aware of the danger that she might get drawn into a toe-to-toe brawl. The 35-year-old from Bray is a better technical boxer than Serrano but, for all her intelligence and ringcraft, she is also a sucker for a good old tear-up.
But Taylor is smart, too, and she knew that this was a fight freighted with risk and so she curbed her natural instincts to fire back. Instead she boxed crisply and frustrated Serrano who would have benefitted from the rounds being three minutes long. Women's boxing, however, still uses two-minute rounds which is simply not long enough when featuring fighters as skilled as Serrano and Taylor.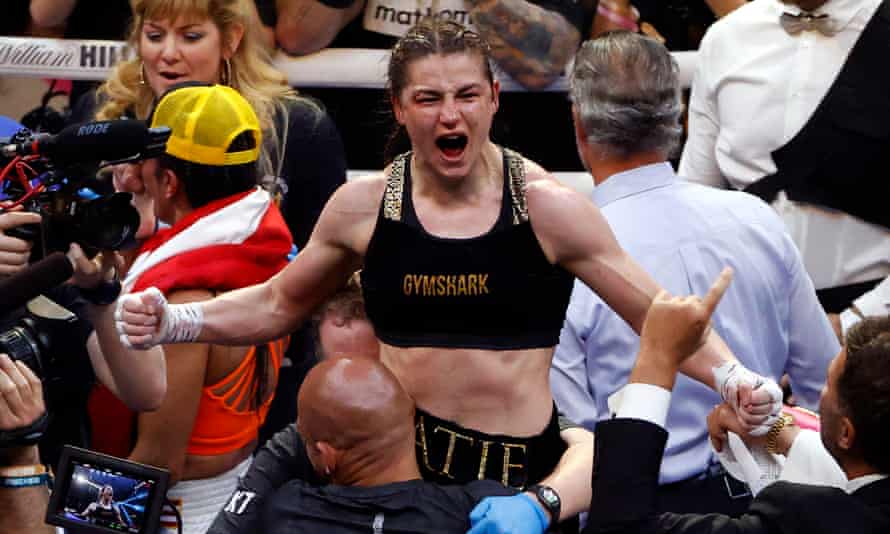 The fourth round marked a shift in the pattern as Serrano began to land punches more clinically. And then, suddenly, in round five, Taylor was badly hurt. Serrano punished her to the body and the head and blood ran down Taylor's glazed face. She was backed against the ropes and seemed helpless to stem the onslaught. As she came out for the sixth it seemed barely feasible that she could survive as Serrano began throwing yet more baleful and heavy punches. A blankness spread across Taylor's features as, rocked again, she clung on.
Serrano could sense imminent victory and her concentration wavered. It was as if she became too caught up in the imagined rapture of a sensational knockout that she went looking for a single concussive blow that would end the contest. Taylor had time to recover some equilibrium and she shaded the seventh round. She drew breath and fresh hope and, while Serrano landed hurtful blows in the next four minutes, Taylor fired back. The champion showed great heart and, as they came out for the 10th and last round, she fought with intent and grit. Serrano was forced to retreat and Taylor let her fists fly in blurring and spiteful flurries. As the fight came to its shuddering conclusion if looked as the 33-year-old Puerto Rican could be stopped as Taylor showed the ferocious will of a truly great fighter.
At the bell the two women embraced with relief and mutual admiration for they had both crossed dark terrain in an unremitting contest. Only Taylor and Serrano will know how much this bout has taken from both of them under the most intense and savage pressure. Even the most sceptical critics of women's boxing would have been rendered mute in open-mouthed admiration for the bravery and brilliance of the two female fighters. A rematch is, surely, inevitable as the clamour for another contest of this magnitude could be heard soon after the final bell.
The opportunity to become the first women to headline a show at the Garden, and the first to earn over $1m each on the night, had clearly galvanised both women. They also showed moving humility and respect for each other after the fight.
Taylor's vast army of fans, with over 4,000 having flown from Dublin to New York for the fight, were almost delirious with delight. Serrano's Puerto Rican supporters were just as noisy and any doubts about the validity and huge potential of women's boxing were shredded. The decision was given to Taylor, a great champion who recovered when it mattered most, but the raucous and landmark night belonged just as much to the valiant Serrano. This unforgettable fight will go down in history as the night that two women elevated the battered old soul of boxing.