47 min "At what minute exactly, if the score is still 0-0, am I allowed to genuinely hope that Liverpool will drop points in this game?" asks Jazi Zilber. "My psychiatrist advised me to be careful with those kinds of hopes, so would love to use professional advice."
46 min Peep peep!
I didn't realise that Mane also put his hand in Holgate's face, poking him just below the eye. He should probably have received a yellow card for both, but it's complicated by the fact that VAR can only intervene for incidents that merit a straight red card. Mane is lucky to still be on the pitch though.
"On U.S. TV, Lee Dixon is pondering if Jordan Pickford is going to ask Stuart Atwell if he can check the ball pressure," says Nick Blank. "Everton are truly Athletico-ing this fixture and why wouldn't they?"
Half-time reading
Half time: Liverpool 0-0 Everton
Peep peep! No goals and no shots on target for either team. Liverpool have been frustrated by an Everton side who have defended with admirable discipline and some unashamed cynicism. Liverpool had around 86 per cent of the possession, yet Jordan Pickford has had little to do except waste time before every goalkick.
45+2 min Mane is also booked. It was actually Allan whose face he shoved. It wasn't particularly violent, but you always risk a red card when you put hands on someone above the neck. Stuart Attwell has called the captains over in an attempt to restore order.
45 min: It's kicking off! Richarlison goes down holding his head again. Stuart Attwell has had enough and allows play to continue. This is counter-productive from Everton because it has really got the crowd going.
Doucoure hacks Fabinho so that play will have to stop, and then it all kicks off. Robertson has pushed Pickford, Mane (I think) has just put hands on Holgate's face. It's all a bit pathetic. Doucoure was rightly booked for the tackle.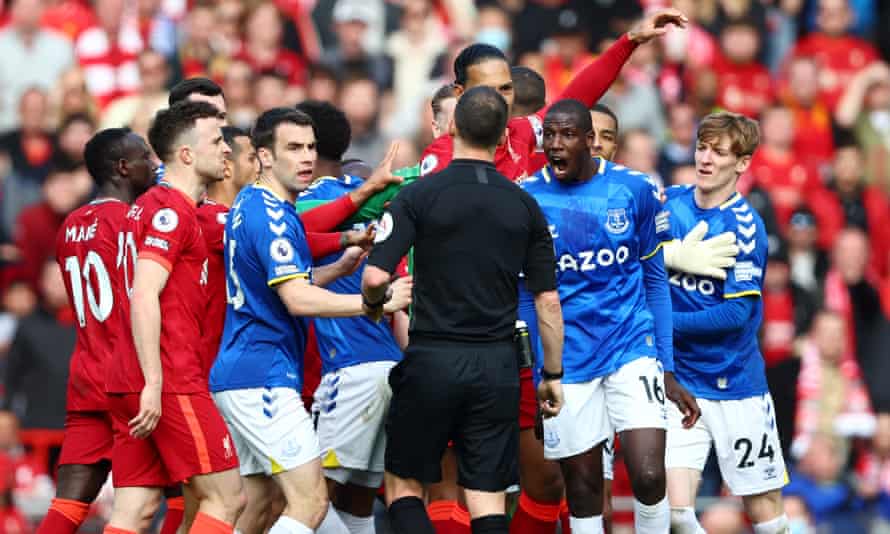 45 min "Hello from Pittsburgh!" says Eric Peterson. "This is a massive stretch, but yeah, this Toffee fan is desperate. There's another club that no one seems to be yet considering a candidate for the drop but that I think warrants some consideration. Aston Villa are sitting on 37 points, have collected only one point in their last five games, and for the most part have looked like that's a most deserved return. If Burnley keep their momentum going and Villa don't turn it around, there's that wafer-slim chance that the storyline becomes, 'Well, they couldn't figure out how to put Gerrard and Lampard in the same England side. Is there room for only one of them in the Premier League too?'"
It's not impossible, but it would be quite a turn of events. They have Norwich at home this weekend as well. I think Leeds could become embroiled again though.
44 min Salah plays a one-two with Keita and shoots over from the edge of the area. It's not happening for Liverpool. YET.
42 min "This isn't a Frank Lampard team," says Jamie Carragher on Sky Sports, "it's a Jose Mourinho team."
41 min Richarlison is down holding his head, and the home crowd aren't happy when Stuart Attwell stops play. There was nobody near Richarlison when he went down, which is a bit worrying. Or he might just be trying it on. He had just headed a corner away, if that counts for anything.
38 min Liverpool have moved Diogo Jota up front, with Mane coming out to the left.
38 min Everton's attitude and work-rate have been beyond reproach. It might still end 4-0, because Liverpool are that good, but this is completely different to the game against Manchester United in the week.
37 min The Liverpool supporters need no incentive to boo or whistle Jordan Pickford, but he is giving them one by taking an age over goalkicks.
34 min: Just wide from Doucoure! Thiago is robbed by Richarlison in the Everton half. He runs forward and plays the ball around van Dijk towards Doucoure, who charges through the inside-right channel. Matip comes across and, with the angle getting tight, Doucoure shoots a few yards wide of the far post. It was a tame effort in the end but a really good break from Everton.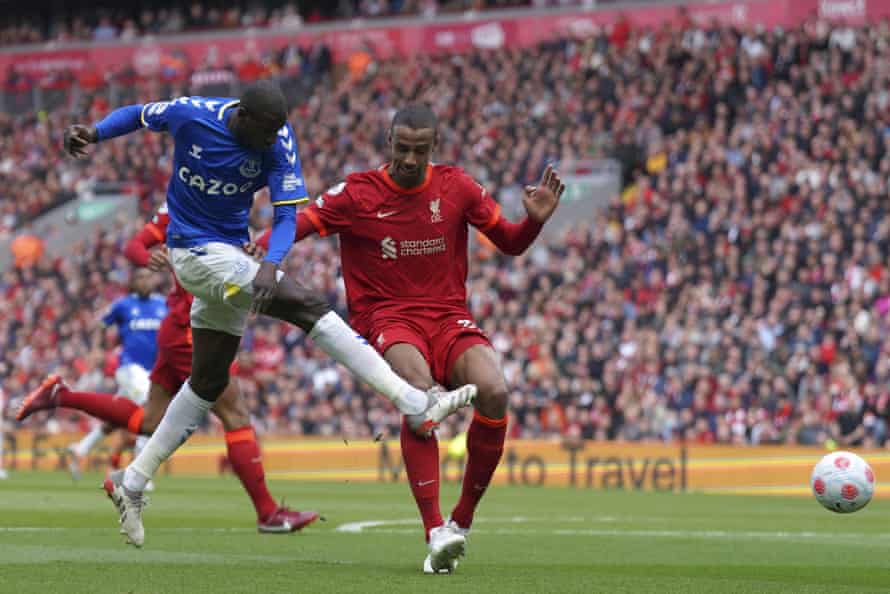 31 min Everton have frustrated Liverpool, and there's a bit of needle in the game. Robertson drills a sharp cross to Jota, who steers a first-time wide of the near post from 12 yards. It was a tricky chance.
29 min "Everton currently enjoy a 95 per cent player wage to turnover ratio," says Norrie Hernon. "Probably in the worst shape financially since Leeds. They really, really need to stay up."
That's an interesting point. And an interesting use of 'enjoy'. I'll be honest, I'm no spreadsheet junkie so I might be completely wrong, but I'll be surprised if they don't go up straight away (if they do go down).
27 min A frustrated Jota throws an elbow at Coleman, and the referee has words with both players. I think it ended up more as a forearm to the neck from Jota, though it wasn't violent enough to interest VAR.
26 min According to the official Premier League site, Everton have had 14.7 per cent of the possession. But it's still 0-0, both in goals and shots on target.
25 min Gordon is booked for diving in the Liverpool area, and now both sets of players are getting involved. He collected a brilliant long pass from Pickford, cut inside Keita and went over. There was a slight bit of contact, though it was probably instigated by Gordon. I think that's a good decision from Stuart Attwell.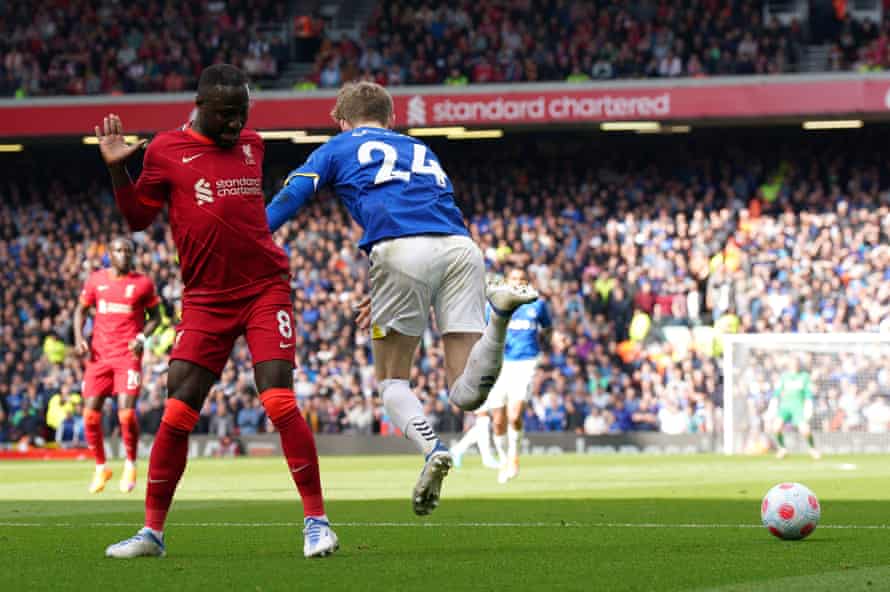 24 min Richarlison wins a corner on the left for Everton. Gordon's inswinger is headed away.
21 min Keita plays a nothing pass into Mane, on the edge of the D. He loses Allan with a masterful first touch and then whips a first-time shot just over the bar. That was a lovely effort which reflects Mane's stratospheric confidence.
20 min "Re: Everton walking the Championship next season," begins Matt Winter. "Remember Leeds saying that. And Derby. And Forest…"
And Spurs and Man Utd in the 1970s, which I think is more analogous. (Spurs didn't walk it but they were promoted at the first attempt.)
19 min Frank Lampard will be thrilled with Everton's start. Liverpool were well on top, of course they are, but Pickford still hasn't had a save to make. Yet.
17 min "By my count there are 14 national teams represented on the pitch at Anfield at the moment," says Peter Oh. "Who needs the stinkin' HRWC 2022?!"
What's the Huron River Watershed Council got to do with anything?
16 min Doucoure plays a dangerous pass inside Alexander-Arnold towards Gordon, who gets to the ball first and then falls over just inside the area. He thought he was shoved by Alexander-Arnold; Stuart Attwell disagreed. I think it was a foul, and might even have been a red card (though probably not as Matip was coming across). Gordon has been ever so impressive.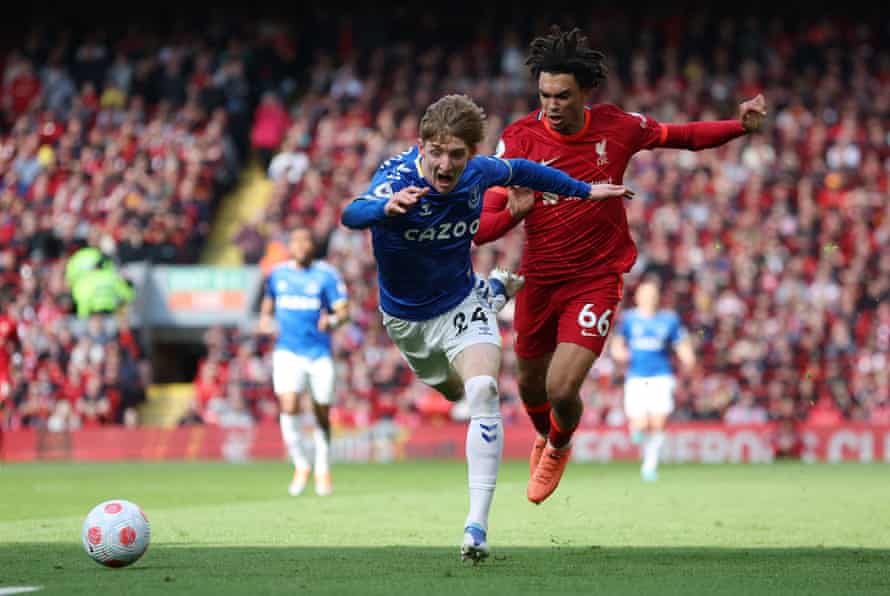 15 min A good break from Everton. Gray runs across the line of the Liverpool area, beating two players before his shot is blocked by Matip.
12 min Doucoure is getting tight to Thiago, who was able to run the game against Manchester United. It's not quite a man-marking job but it's noticeable how close Doucoure has been.
11 min Everton are defending deep and working extremely hard when they don't have the ball, which is about 80 per cent of the time.
10 min "Not that I want Everton to win (I really, really don't)," says Sarah Rothwell, "but the slowly dawning realisation that this might well be the last Merseyside derby for a while is somewhat mind-blowing."
If Everton go down (and I think they will), they'll surely walk the Championship next season.
9 min Fabinho plays a smart one-two with Keita on the edge of the area, forcing Holgate to come across and make a good interception
8 min Loads of Liverpool possession, as you'd expect, but Jordan Pickford hasn't yet had anything to do. Eight down, 82 to go.
6 min "Hi Rob," says Julian Borrill. "With all the discussion of whether Ten Hag can turn things around at United, could Klopp have taken Liverpool to these heights if Gillett and Hicks were still the owners?"
No chance, I'd say. Klopp is clearly the most important man at the club, an utter genius, but there are so many other reasons for Liverpool's success. It's a cliché but their recruitment has been quite phenomenal, probably the best by an English club since the early days of Arsene Wenger.
5 min Gray's free-kick hits the wall.
5 min Gordon runs at the Liverpool derfence and is fouled by Fabinho 25 yards from goal. This is a chance for Everton…
4 min Liverpool ahve made a swaggering start, every touch full of confidence.
2 min Salah scoots past Mykolenko, but Gordon gets back well to cover. That might be why he's on the left.
2 min And Everton have started with Demarai Gray on the right wing and Anthony Gordon on the left.
1 min Peep peep! Allan gets the game under way. Liverpool have started with Sadio Mane up front, where he has been in blistering form, and Diogo Jota to the left.
Keane replaces Godfrey in Everton team
Ben Godfrey has pulled a quad muscle in the warm-up, so Michael Keane comes into the side. These are the revised teams.
Liverpool (4-3-3) Alisson; Alexander-Arnold, Matip, van Dijk, Robertson; Keita, Fabinho, Thiago; Salah, Jota, Mane.
Substitutes: Kelleher, Konate, Milner, Gomez, Henderson, Jones, Tsimikas, Diaz, Origi.
Everton (4-3-3) Pickford; Coleman, Holgate, Keane, Mykolenko; Doucoure, Allan, Iwobi; Gordon, Richarlison, Gray.
Substitutes: Begovic, Kenny, Delph, Branthwaite, Rondon, El Ghazi, Dele, Price.
Referee Stuart Attwell.
"Everton's midfielders/attacking players must be in red-hot form if Dele Alli can't even get a sniff," says Yash Gupta. "Perhaps he doesn't suit the Lampardian system."
Apparently he played well when he came on the other night against Leicester.
Liverpool (4-3-3) Alisson; Alexander-Arnold, Matip, van Dijk, Robertson; Keita, Fabinho, Thiago; Salah, Jota, Mane.
Substitutes: Kelleher, Konate, Milner, Gomez, Henderson, Jones, Tsimikas, Diaz, Origi.
Everton (4-3-3) Pickford; Coleman, Holgate, Keane, Mykolenko; Doucoure, Allan, Iwobi; Gordon, Richarlison, Gray.
Substitutes: Begovic, Kenny, Delph, Branthwaite, Rondon, El Ghazi, Dele, Price.
Referee Stuart Attwell.
"When people (and all the 'experts') talk about the unpredictable nature of Merseyside derbies, can they actually remember one?" says Joe Shelton. "It's a lazy cliche that has no basis in fact. Liverpool win – that's the cliche."
You say that, but Liverpool have won only one of the last four derbies. But yes, it has been very one-sided since the turn of the century.
The pre-match thoughts of Jurgen Klopp
"We have to treat it like a normal game [rather than a derby] against an opponent who are fighting to stay in the league. They will go for it and we have to do the same. It will be intense; it has to be."
"Hi Rob," says Matt Burtz. "You've don't have to tell Everton fans that things are getting serious. This game is a write-off; it's the three successive games in May against Brentford, Watford, and Crystal Palace, two of them at Goodison, that may very well decide survival. (And the hope that Leeds get sucked into it.) Frankly I'm not even sure why I'm watching today, aside from masochism. That, and it's supposed to rain where I am."
It might well rain goals at Anfield, boom boom.
"I've spent all week feeling completely confident about this game," weeps Matt Dony. "And yet, here we are, counting down the minutes, expecting Everton to defend obstinately and sneak a scruffy winner in the 83rd minute. Football turns us all into idiots. (Admittedly, many of us don't leave it much work to do…)"
Frank Lampard's pre-match thoughts
"They're a great team in great form. We just have to focus on ourselves and believe we can get a result. We have to be absolutely spot-on today to get something. We need to be brave, disciplined, stick together and put in a huge amount of effort."
"Rob, it goes beyond squeaky-bum time," writes Everton fan Mary Waltz. "Dark, bleak, gut-wrenching despair, Black Sunday would be more accurate. Well, how much worse could this day get? 'Stunning election results from France…'"
It's fascinating (and slightly alarming) how often we remember our team's result on the day of a seismic global event. To most rounded human beings, 28 November 1990 is the day Margaret Thatcher resigned as prime minister; to me it's the night Danny Wallace played like Romario and Lee Sharpe banged in a hat-trick.
"Hello Rob," says Kári Tulinius. "Though I'm not a fan of Liverpool, I prefer them ever so slightly as league winners, if only because I enjoy watching them play more than their title rivals. So I'm worried that they might slip up today, given that local derbies are famously unpredictable, and that stepping on even a single banana peel might doom their chances. I'm currently watching Napoli's faint hope of winning the scudetto go up in smoke, down 3-2 against Empoli after leading 2-0, and I hope it isn't an omen for Liverpool. Enjoy the match!"
Full time: Burnley 1-0 Wolverhampton
Matej Vydra's goal has given Burnley another precious victory, which moves them above Everton into 17th place. It pains me to say it, but so far the unpleasant decision to sack Sean Dyche has been justified.
As for Everton, this is getting serious. Seriously serious.
Keita v Henderson
"I would hazard the view that Naby has in fact gone ahead of our very captain in the team," says Ian Copestake. "When disciplined manic pressing is required then Naby does not end up playing up front like our Hendo has tended to do. A changing of the guard is afoot."
I agree it's afoot – Henderson is 32 in June and has a gazillion miles on the clock – but I still think he would start, say, the Champions League final against Manchester City ahead of Keita.
More pre-match reading
It looks like Everton will drop into the relegation zone before this game kicks off. Burnley lead Wolves 1-0 at Turf Moor with just over five minutes remaining. If it stays like that Everton would be two points with two games in hand. Squeaky-bum time doesn't come close to describing it.
Keita and Thiago both start for Liverpool today, which makes Will Unwin's excellent piece even more clickable.
Jurgen Klopp decides to give Jordan Henderson a rest ahead of the Champions League semi-final first leg against Villarreal on Wednesday. He's replaced by Naby Keita, and Diogo Jota comes in for Luis Diaz.
Frank Lampard also makes two changes: Mason Holgate and Abdoulaye Doucoure replace Fabian Delph and the (presumably) injured Yerry Mina.
Hello and welcome to live coverage of Liverpool v Everton at Anfield. This is the 291st Merseyside derby, and in that time there have been a fair few thrashings: two 6-0s, five 5-0s, eight 4-0s and even a 7-4. But I'd be surprised if any of the previous 290 derbies felt like such a foregone conclusion.
Liverpool are sniffing a quadruple; Everton are in serious danger of relegation for the first time in 68 years. Liverpool have won their last 11 league games at Anfield; Everton have taken one point from their last 11 away games. I could go on, but we all know about the disparity between the teams.
It should be a mismatch, but then so should Tyson v Douglas, David v Goliath and Greece v everyone. You just never know, which is why all keep watching. That and because The Man applies an electric current to the cullions every time I try to leave the liveblog dungeon.
The worry for Everton is not that they will lose, but that they will be hammered in a manner that impacts their remaining six games. While it won't sit comfortably with Frank Lampard, a dignified 2-0 defeat might be a decent result.
Kick off 4.30pm.