In the end, it had to be him standing there before them. Four minutes remained when Luis Díaz was sent dashing way, stepped past Odisseas Vlachodimos and rolled the ball into the empty net to finally secure a victory that had looked like it might slip through Liverpool's hands during a second half in which they had been made to suffer.
Released at last, Díaz ran to the corner, leapt and screamed. In the stands, Benfica's supporters did too, a flag pole sent flying his way. They had whistled him all game and indeed before it. Díaz stood for a moment, then pulled at his shirt and kissed the badge. The former Porto forward had beaten them again, this time in a Liverpool shirt. He has faced Benfica eight times now and not lost a single game, this surely the most significant of all.
Sent off against Benfica in the Portuguese cup final in 2020, a goalscorer against them in the Super Cup later the same year, he took another team to victory here. Not just in this match but perhaps in the tie, leading Liverpool towards the Champions League semi-final.
At last, that big familiar smile returned to Jürgen Klopp's face. "It was the moment I was waiting for; to come back here and produce a good game," Díaz grinned afterwards, as Sadio Mané planted a kiss on his cheek.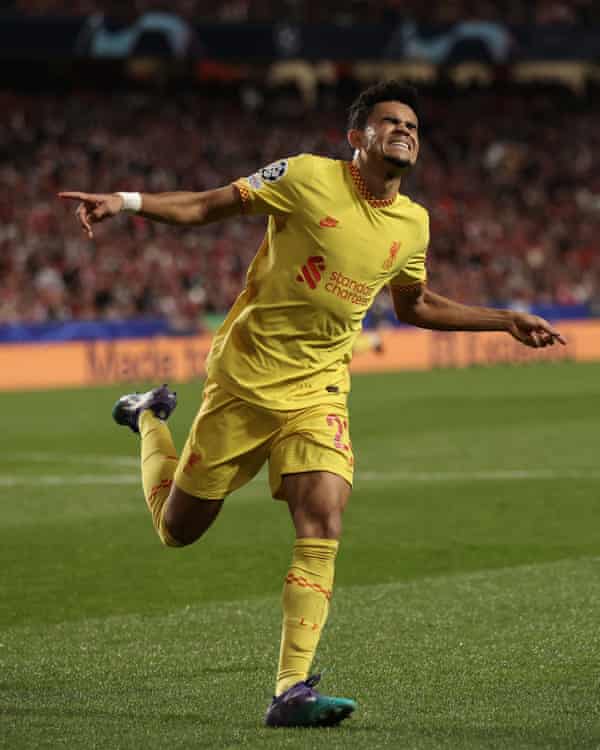 Named man of the match, he might not have been the outstanding player here – Trent Alexander Arnold's sumptuous diagonal passing gave him a strong claim to that – but Díaz had certainly been decisive. The only member of the front three to play all 90 minutes, a hint perhaps that he may not start at the weekend against Manchester City, he scored one, made one, and won the corner for the other in a 3-1 win.
You needn't even watch to know that; you could hear it. Rivalry played a part, so too did respect. Benfica's fans have long known how good the Colombian is. More, perhaps, than Liverpool's supporters, who are delighted by how swiftly he has taken to his new club, the style seemingly coming as standard: all energy and edge.
If the visiting fans sang, the home supporters didn't exactly serenade Díaz. His name was whistled pre-game and once it began every touch was greeted with a rise in pitch that foreshadowed Benfica's fall.
The game wasn't even two minutes old when Díaz was first dumped on the floor, a roar greeting the tackle, but he was still standing at the end. Ultimately the noise was just the soundtrack to a successful night, with whistles accompanying the pass from which Mo Salah probably should have opened the scoring and a cheer greeting the moment Gilberto took the ball off Díaz's foot as he threatened to get free. From the corner, though, Ibrahima Konaté rose to head Liverpool in front.
Díaz should have scored the second midway through the half but his attempt to lift the ball over Vlachodimos hit the keeper's arm. But then, when Trent Alexander Arnold's gorgeous long diagonal found him, Díaz carefully guided the header beyond Vlachodimos and into the path of Mané to score.
The tie was done early, it seemed: never mind resolving the tie in the first leg, it looked like Liverpool might resolve it in the first half: a happy return for Klopp, back to where it had all begun.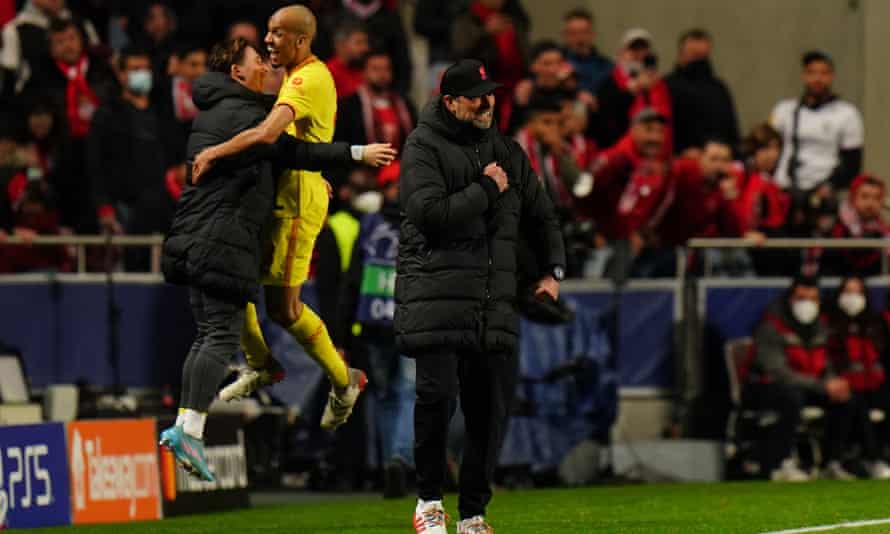 This is the city where the manager was on a break with his family when he got the call telling him that Liverpool wanted him. "Completely in the holiday mood," he had been ignoring the phone, avoiding football, and paying little attention to the rumours. That day, though, he took the call from Marca Kosicke, his agent. This week he told how he listened and waited for a thumbs up from his wife, Ulla. "It felt right from the first minute," Klopp said. "It changed my life."
It changed Liverpool's too. That was 2015 and a lot has happened since, a club changed beyond recognition. A Europa League final, a Champions League final, and club-record points total that didn't yield a trophy. But silverware did arrive; a sixth European Cup, a first league title in 30 years, a League Cup. And now this; an extraordinary title race perhaps coming to a head this Sunday, with an FA Cup semi-final to follow, and a European semi-final now likely too.
Klopp was determined to dismiss growing suggestions that Liverpool could win a quadruple as "impossible" – suggestions that risk making an extraordinary season ultimately feel disappointing even if they are successful. Virgil Van Dijk had insisted that what this team is doing should "not be taken for granted", and that was revealed as a useful reminder when Benfica rebelled in the second half. Liverpool's captain was right: every win must be earned.
At times, Liverpool hung on. Benfica were suddenly right at them: there was
a goal too, a penalty shout, and tension, an unusual uncertainty. Until,
with three minutes to go, Diaz appeared, whistled all the way to the end.