Turnout at 5pm stands at 63.2%, accoring to the interior ministry – that's 1.8% lower than during the first round, and 2.1% down on the second round five years ago.
For the time being, this doesn't look like the surge in abstentions that some had feared.
Although as Mathieu Gallard of pollsters Ipsos points out, their projected abstention rate of 28% would be the lowest turnout for a presidential run-off since 1969.
A quick reminder of how Macron and Le Pen reached this final round, what their respective platforms are, and how we can expect the evening to unfold.
The current president and his far-right rival finished first and second – from a field of 12 – in the first round of voting two weeks ago, on 10 April.
Macron polled just under 9.8m votes – 27.85% of those cast – and Le Pen 8.13m votes – 23.15%. The radical left candidate, Jean-Luc Mélenchon, came a close third with 7.7m votes, just 420,000 short of Le Pen. The candidates for the mainstream right and left imploded, with Valérie Pécresse of the right-wing Les Républicains scoring 4.7% and Anne Hidalgo, the Paris mayor who ran for the Socialist party, managing just 1.7%.
Macron's manifesto includes a cap on fuel prices, index-linked pensions and a progressive rise in the retirement age to 65 years. He also campaigned for a stronger Europe.
Le Pen has promised to lower the retirement age from 62 to 60 for those who began work before the age of 20, cut VAT on fuel, and pass a new "national preference" law that would give French nationals priority for housing, jobs and benefits.
Most polling stations close at 7pm local time and those in big cities and hour later. Initial estimations of the result are expected from several pollsters at 8pm.
These are not exit polls but projections based on actual votes cast in a representative sample of polling stations around the country, weighted by the pollster's magic. They are usually very accurate.
The abstention rate could be critical in this election, as could the number of voters who spoil their ballots.
Turnout at midday was 26.41%, according to the interior ministry – higher than the 25.48% turnout for the first round, but lower than at midday in 2017 when it was 28.23%.
But national turnout figures can disguise strong regional variations, which could prove vital. For the moment, no significant pattern seems to have emerged that might favour either candidate.
It's le crunch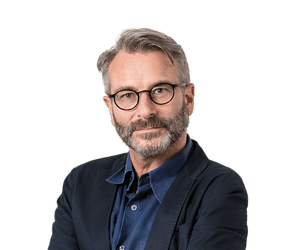 Jon Henley
Hello and welcome to our live coverage of the crucial second round in France's presidential elections to decide who occupies the Elysée palace in Paris for the next five years.
The high-stakes race pits the centrist incumbent, Emmanuel Macron, against his challenger Marine Le Pen of the far-right Rassemblement National – and its outcome could prove far-reaching not just for the future direction of France but for Europe as a whole.
Polls since the two candidate's testy TV debate on Wednesday have shown Macron's score stable or rising at between 55.5% and 57.5%, a lead of between 10 and 14 points. But they also predicted the lowest turnout for a presidential runoff since 1969, which means a shock Le Pen win cannot be ruled out.
The race is in any case way closer than when the two contenders met in 2017, partly reflecting Le Pen's long, successful drive to sanitise her party and normalise its policies, and partly the perception of Macron among many voters, notably on the left, as a "president of the rich".
We'll be bringing you news, comment and analysis from me, the Guardian's Paris bureau chief Angelique Chrisafis and correspondent Kim Willsher, with usually accurate projections of the results due when polling stations close at 8pm local time.