Half-time reading:
I'm excited to see Juan Mata playing regularly next season, wherever it might be.
Half-time: Manchester United 1-0 Brentford
Both teams will be happy, in their own ways, at the scoreline.
45 min: Needless to say, Ronaldo is not best pleased at the (correct) decision. "First half ruined", quips Neville.
44 min: Mata is released down the left (!!!) and the veteran scurries down the wing before laying a low cross square to Ronaldo, who is all alone in the middle. Ronaldo makes no mistake, sidefooting a powerful effort past Raya, to make it 2-0! But no, VAR shows that Ronaldo was marginally in front of the ball when Mata crossed. It remains 1-0!
41 min: Brentford are slowly working their way back into this game. Eriksen drops a couple of set-pieces right on the money before ballooning a third cross into the stands.
38 min: Mbeumo cuts inside from the right and flashes a fierce shot towards De Gea's near post. It crashes into the outside of the netting, just a few inches wide.
35 min: Gary Neville, on Sky co-commentary, has made the point that Brentford's formation tonight – 5-3-2 – has traditionally struggled at Old Trafford, owing to the pitch's width and large dimensions. Brentford are struggling to contain United's full-backs in their shape. That said, they are still carrying a threat here.
32 min: Chance for Mata! The Spaniard combines with Ronaldo, who flicks cleverly into Mata's path but the 34-year-old can only shoot wide when swinging his weaker right foot.
30 min: Mata has, quietly, been a very tidy presence in central midfield.
28 min: In scenes that will presumably leave Ten Haag enraptured, Ronaldo loses the ball but then chases back and tackles it out for a Brentford throw in. The man really can do it all.
25 min: Mata, Elanga and Ronaldo exchange scintillating one-touch passes on the edge of Brentford's box, before Ronaldo takes a tumble inside it, looking for a penalty under the attention of Roerslev. Not given, and replays show it to be quite a majestic dive from the Portuguese. Charlie Adam-esque.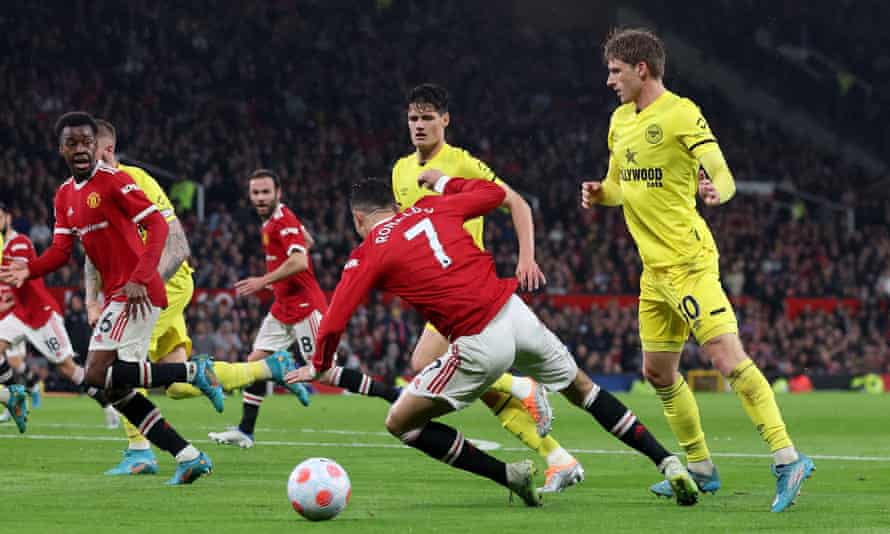 23 min: United counter-attack swiftly, with Ronaldo releasing Elanga. An excellent tackle from Sorensen on Elanga is wrongly penalised by Chris Kavanagh, with Ronaldo sending the subsequent free kick straight at Raya in Brentford's goal.
21 min: Brentford are getting closer. Eriksen pings another wondrous cross into the mixer and Toney glances just over the bar. Lindelof looks a little unsure what to do with the English striker.
17 min: Brentford are lucky not to concede a dangerous free-kick right on the edge of their own box, as Elanga steals in to pounce on a muddle up between Sorensen and Henry.
15 min: Henry sends a glorious cross into the box, but he's hit it too well, and even Toney is caught flat-footed.
Incorrect. Wands can only be attached to left feet (or, of course, carried in hand).
12 min: Eriksen spanks one from 25 yards straight at De Gea, who has to palm it down to take the sting out of the shot. He's got that in the locker.
11 min: This is a Manchester United team woefully short of pace. Elanga is the only player in the XI that could have reached that ball before going out for a goal kick, and it was an instinctive cross.
GOAL! Manchester United 1-0 Brentford (Fernandes 10)
Dalot plays another great ball over the top, Elanga races onto the ball, clipping the ball back towards the six-yard box from the byline, and Bruno Fernandes is there to sidefoot volley the ball home! A lovely little goal. That's 10 for the season for Bruno.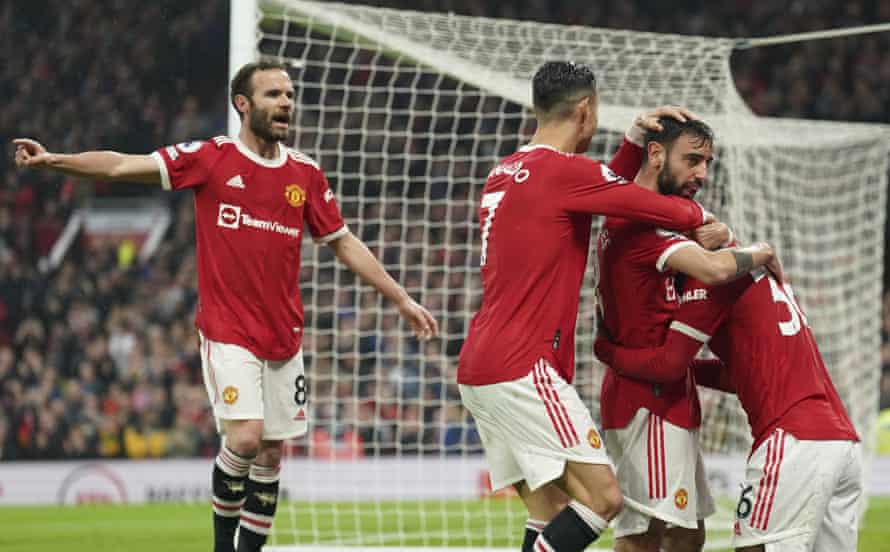 8 min: Shouts for a penalty! A cross comes in from the left from Telles towards Elanga and Sorensen shoves the Swede out the way off the ball. Not given.
5 min: Eriksen looks bang up for this. He's floating around the pitch like he's got a wand in his hand.
3 min: Next, it is Dalot that sends an outrageously good pass over the top, to his compatriot Ronaldo. Ronnie takes it beautifully on his chest but just as he shapes to shoot, loses his footing on the slick Old Trafford pitch! Ronaldo can't quite make contact for the shot as he tumbles – a bit let off for Brentford. There's been a lot of rain in Manchester over the last hour and that saved them there.
1 min: Peeeeeeeep! Brentford kick-off and it takes all of five seconds for Eriksen to drop a delicious lofted pass through to Mbeumo, who looks clean through on goal! However, the bounce deceives him and Telles gets back in to clear the danger. Wakey wakey!
The teams are out. Manchester United in their red shirts, white shorts and black socks. Brentford are in their all yellow away shirt.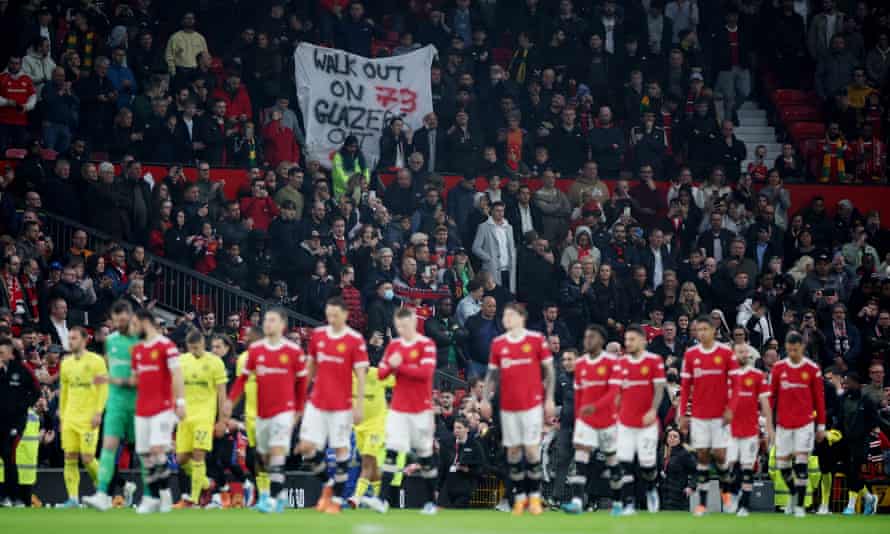 "Is it just me that finds astonishing the comparative reactions of club supporters to their team's current travails?" asks Eric Peterson. "On the one hand, the protests of a deeply disgruntled Manchester United fan base. On the other, the Everton fans who yesterday couldn't have made more clear to their team how they have their back, both on the trip to the stadium and throughout the match. Proud to be a Toffee today in so many ways."
It's true that the atmosphere at Goodison, outside and inside, was absolutely electric. Fans chanted Frank Lampard's name as he left the team bus. Despite their poor form and a derby defeat, Everton fans seemed to sense exactly what their team needed and made it very difficult for Chelsea in the process during the game – as well as setting fireworks off outside Chelsea's hotel the night before, too.
However, not sure how comparable it is to the situation is against Manchester United. The protests tonight at Old Trafford tonight are against the ownership of the club, not the team's poor form. Although that's not helping, of course.
Obviously the history of Manchester United and Old Trafford is massive. It is an iconic place. We are in great form, not just in results but in performance. We want to be aggressive, be brave, be cool.
Because this tweet has 'Manchester United' in, I am shoehorning this sensational image of Eusebio buying an Otis Redding vinyl into your feed tonight.
"For a club with a relatively unknown continental coach and a team of many journeymen, today's plucky underdogs must be delighted with their mid-table finish," emails Justin Kavanagh. "They've even taken the odd scalp against top five opponents, and kept their suburban London fanbase clicking through the turnstiles. Congrats on another successful season under the Glazers for Manchester United."
This might not be the best idea on the club's part, particularly as it will bring to light plenty of supporters that aren't in the ground. A further protest against the Glazers is expected to take place, this time with fans being asked to leave their seats in the 73rd‑minute of the contest – 17 minutes from the end to mark 17 years since the Americans took charge of the club.
Mata makes his first league start of the season. You have to feel for Rashford and Lingard. Fred also makes the bench, he's missed the last four games.
Looks like Brentford will start in a 5-3-2, with Christian Eriksen in the engine room. The Bees are unbeaten in all six of the games he has started.
Man Utd: De Gea, Dalot, Lindelof, Varane, Alex Telles, McTominay, Matic, Elanga, Bruno Fernandes, Mata, Ronaldo.
Subs: Bailly, Jones, Rashford, Lingard, Fred, Cavani, Henderson, Fernandez, Garnacho.
Brentford: Raya, Ajer, Roerslev, Jansson, Sorensen, Henry, Janelt, Norgaard, Eriksen, Mbeumo, Toney.
Subs: Jensen, Dasilva, Wissa, Jeanvier, Fosu, Baptiste, Stevens, Fernandez, Young-Coombes.
Referee: Chris Kavanagh (Lancashire)
I went for lunch today with a Manchester United supporting friend. I told him I was doing this MBM and assumed he would be watching the game, too. He's not going out: it's a Monday, for goodness sakes, at the end of a bank holiday weekend. I knew his girlfriend is out of the country, so he has the house and TV to himself tonight. This is a textbook opportunity for a night of good old-fashioned Manchester United-based fun at home. So will he be watching? "Probably not."
Of course, one fan's enthusiasm for watching one particular game of football should not spark mass protest or panic. After all, he's a bit of a fair-weather fan from south London that's got to get up early in the morning. And fear not, there will be a sell-out at Old Trafford and millions

reading this MBM
watching the game around the globe, all decked out in their official merchandise. The coffers will be OK, for now. But apathy, rather than crushing disappointment or even online anger, is possibly the worst emotion in football, or at least the one that strikes the most fear to the money men. After years of underachievement, are people getting a little bored of Manchester United?
This game is not completely irrelevant. For United, there is still Europa League qualification to think about, important only because avoiding slipping into seventh and the Europa Conference League should be avoided at all costs. There are plenty among United's squad playing for their futures. Be assured that ETH will be watching from a sofa in Amsterdam.
Manchester United remains a marquee away day for sides promoted into the Premier League and most Brentford fans will fancy their chances tonight on their first visit to Old Trafford for 46 years and their first league visit since 1946. Thomas Frank and co have reached the magical 40-point mark, although survival is not yet mathematically secure. Another point or three wouldn't hurt.
Brentford gave United a scare in the reverse fixture and should really have gone into half-time a couple of goals to the good, before United showed a rare ruthless streak in the second half to take the game 3-1. A similarly competitive game would do very nicely tonight.
Kick-off: 8pm BST.