Jarrod Bowen of last season might not still have been on the pitch. It is not that his 68th-minute strike – the difference between West Ham and Watford on an otherwise nondescript night – was particularly late. But if there was a criticism that could be levelled at the forward it was his lack of endurance; Bowen completed 90 minutes eight times in 2020-21.
A summer spent running in potato fields and mixing cement with his father has worked wonders. And here it allowed him to follow up a 120th-minute winner at Kidderminster, with another game-defining contribution. It was his 14th consecutive full stint here.
After successive Premier League defeats and a fruitless transfer window David Moyes urged his side to find an inner spark. Bowen – touted for an England debut – and Declan Rice are the likely candidates. "The performance wasn't great," said Moyes. "We'll need to improve if we're going to stay where we are."
West Ham's desire to qualify for Europe again was evident when Kurt Zouma's widely anticipated exclusion on animal cruelty grounds failed to materialise. On Monday a video emerged showing Zouma kicking and slapping his cat, with Surrey police and the RSPCA launching a joint investigation. "I'm a big animal lover," said Moyes.
"I'm someone who cares a lot about my dogs and my horses. I was really disappointed with what I saw. But overall my job tonight was trying to find a way of getting a win for West Ham. There's a lot of people disappointed with that and I understand that totally." A West Ham sponsor, Experience Kissimmee, is now evaluating its relationship with the club due to Zouma's appearance.
There was, though, a much-needed reminder of football's heart with West Ham paying tribute to seven-year-old Isla Caton who tragically passed away recently following a five-year battle with neuroblastoma. A moving message from her mother, Nikki, lit up the big screens pre-match and a pair of warmly observed minutes' applause followed.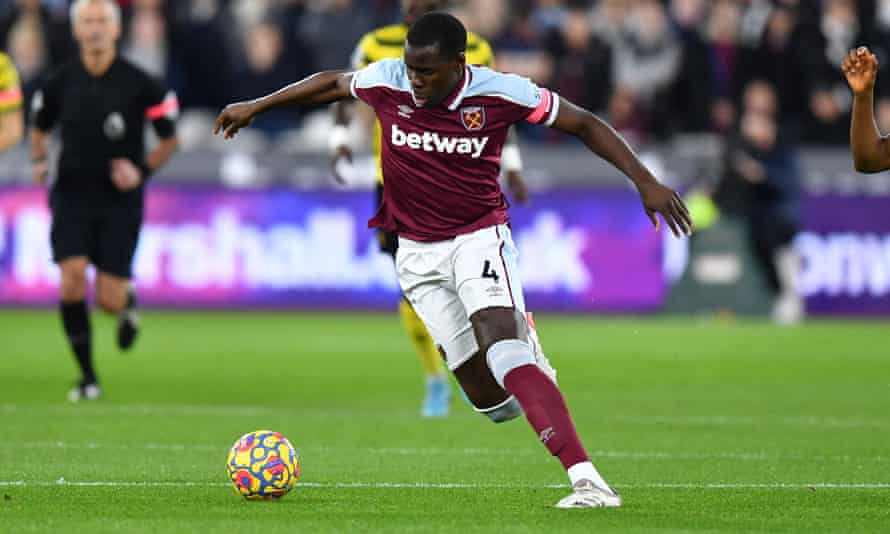 That thought was, for the large part, where the good feeling ended. Three in attack has been dispensed in favour of two banks of four.
Watford had the better of the first half and might have taken the lead when Tom Cleverley – one of two changes from the weekend's draw and much-needed clean sheet at Burnley – nipped the ball off a driving Rice. The topscorer, Emmanuel Dennis – returning from suspension – set Hassane Kamara away overlapping on the left but Juraj Kucka planted his header from the resulting cross wide.
At times it felt as if West Ham were playing at half-speed. And that lethargy spilled into the stands. The bowl was silent for long periods, save for the visiting fans who jeered every time Zouma was near the ball while West Ham fans met Zouma with awkward ripples of applause.
Their only moment of note before the break came when Bowen shrugged off Samir and played an exquisite reverse pass to Saïd Benrahma. A combination of Ben Foster and Craig Cathcart blocked the first effort with Benrahma's follow-up striking the outside of the post. Martin Atkinson had earlier been uninterested in howls for a back pass when Samir stretched to beat the largely anonymous Michael Antonio to the ball.
The second period started without additional urgency. There was a sense a breakthrough would need to be forced and Bowen always looking the most likely to force it. When it finally came it was served with a large slice of fortune, his shot from distance seemingly covered by Foster only for Samir's deflection to wrong-foot the goalkeeper.
"The difference is the confidence Bowen has at the moment to take that shot on – albeit its quite fortunate," said Hodgson. "When you're at the bottom confidence is not at its highest and that's what we have to work towards. I feel sorry for the players tonight because I think their effort might have deserved a bit more."
Bowen almost sealed the points late on but a cut inside from the left ended with the ball cannoning into a post after the feintest of touches from Foster. Not that it was a nervy end. Watford were toothless, coming closest when Joshua King flashed a ball across the six-yard box. Watford's top-flight winless run extends to 10 and goalless in three. Their troubles deepen. Football the West Ham way it was not last night but it was enough.