Detroit Pistons are on the clock for the fifth pick, gonna guess they let Ivey fall to them.
I feel like that was the most predictable choice ever (erases the "No 6" I had placed next to Murray's name). I feel like I should have been able to guess that.
The Sacramento Kings select Keegan Murray at No 4
Keegan Murray's strengths are also his weaknesses: he's an experienced player and teams can pretty much know what they are getting with him. On the other hand, that's also because he will be 22 years old in his first year in the NBA, making him closer to fully-formed than most of his peers in this year's draft. Upside should be a factor when you're trying to plot for your franchise's future, however.
Kangz gonna Kangz.
Sacramento's Draft Unsuccess: The 2022 draft is set to be another pivotal episode in the ownership of Vivek Ranadivé's. Since Ranadivé took over the team in 2013, the Kings haven't been the model of draft success, earmarked with the recent trades of Marvin Bagley and Tyrese Haliburton. In fact, De'Aaron Fox is the only player, who the Kings have taken inside the lottery, to receive the rookie extension under Ranadivé.
Kings draft picks
Okay with the Sacramento Kings go with a talented player who seems not to be the perfect organizational fit or will they once again reach for a clearly inferior player?
Houston Rockets select Jabari Smith Jr at No 3
A versatile power forward who, at 6-foot-10, could probably also play center in a pinch. Smith is a much safer choice than Holmgren, that's for sure, and maybe the safest pick in the Top 5. He's a two-way player, the rare player with a killer jump shot who is willing to play tenacious defense on the other side of the court Maybe the safest pick in the Likely Top Five.
The Houston Rockets are up next and this is a no-brainer if there ever was one. They might have gone with Jabari Smith Jr. at number one if they had their pick.
Oklahoma City Thunder select Chet Holmgren at No 2
The Thunder go with Holmgren, who is the most talented player in the draft—the kind of prospect that they created the term "unicorn" to describe—so why wasn't he the consensus number one? Well, there's a reason why you don't see many unicorns in the wild. If the razor-thin Holmgren doesn't work on building up muscle, he won't survive long enough in the NBA for his transcendent three-and-D skills to play out. Maybe, but that 7'6 wingspan certainly looks tantalizing, I can't blame OKC for the selection.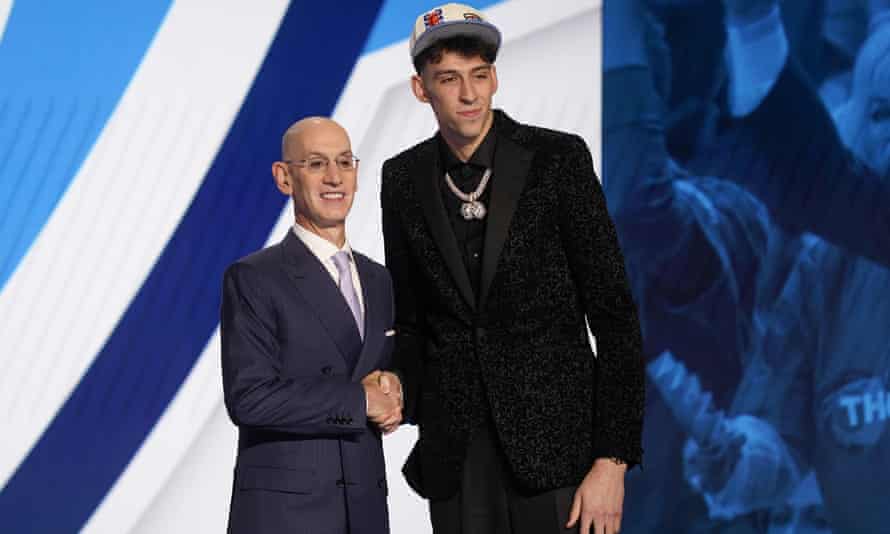 Chet Holmgren's Ceiling: With his ability at both ends of the floor, Chet Holmgren is arguably the most prized talent in this year's draft. In fact, compared with some of the NBA's best big men – Joel Embiid, Anthony Davis, Karl Anthony Towns and Jaren Jackson Jr – Holmgren's freshman stats suggest he may already be ahead of his peers on the path to being the game's best.
Chet Holmgren's career so far
Oklahoma City Thunder is on the clock now for the second pick. It seems that the question is Jabari Smith Jr. v Chet Holmgren.
"I can't believe that this happened," Banchero says. Neither can most of us, so many ruined mock drafts.
Oh look there's a Coach K cameo. He cannot stay out of the limelight, can he?
Orlando Magic select Paolo Banchero at No 1
When you help lead the Blue Devils to a Final Four, during Coach K's final year no less, your stock is going to go up on Draft Day. At six-foot-ten, Banchero can double as a center and he scores like a wing player: averaging 17.1 points per game in his one-and-only season at Duke. Might need to work on his three-point shot.
Does top-three equal top talent? Getting a top-three pick doesn't guarantee you a star – and there have been more than a few busts down the years. But there are also plenty of All-Star nominations and NBA titles among the top guys in the draft in the last 20 years. Interestingly, the stats below suggest the No 3 pick often has more success than the No 2 pick, at least in these limited categories.
Top three talent
And Woj says that Orlando is going for Duke power forward Paolo Banchero. That would certainly be a curveball given this morning's consensus.
The Orlando Magic is on the clock. The team has five minutes, but it feels like they should have already made their decision but I guess they needed the added drama.
Oh wow, we're already begun. Adam Silver isn't just lollygagging around like Roger Goodell. He talks up Title IX and the WNBA, as he should.
Email from Michael C:
I am an Australian currently in the USA on holiday and my son works on the Pacers medical support team. He has tried patiently to explain to me how the draft system works. My head hurts trying to follow this, but I will enjoy watching how things pan out over the next few hours!
Here's the short answer: assuming that a team has their first-round draft pick (i.e. they haven't included it in a trade to another team), their position in the draft is determined by a combination of their record the previous year and a lottery system that adds a bit of randomness into the equation that (theoretically) prevents outright tanking as we see in the NFL.
I feel like I understand it less after reading my own explanation. The main thing is that the worse off a team is, the more likely they are to get a higher pick of the premiere young basketball players (mostly out of college, but not always as we'll see).
Email from Pedro Maia:
Hi and thanks for showing live this Pre-Lakers Meltdown formality 😉

A player that's really enticing to watch is Scottie Pippen Jr. Amazing in offense, hard-forged by 3 years of college, pretty stable background and motivation, yet some lists place him outside the draft entirely.

How strange.

Keep up with the good work,
I didn't stumble upon Pippen Jr's name in any of the mock drafts that I followed. If he goes, he'll be in the second round and that might not even be guaranteed. Apparently the Vanderbilt product is too small at 6-foot-1. I'm sure his college track record and famous name will mean that someone will give him a shot, he might have to go through the G League.
As we've mentioned before, there's a problem between the Kings and likely No. 4 pick, Purdue shooting guard Jaden Ivey. This is familiar territory as the Kings have a slight problem with nailing their high draft picks, as this photographic evidence reveals:
In the interest of fairness, others have also pointed out, fairly, that it's partly bad drafting and partly bad development on the Kings' part.
My favorite thing about NBA draft day is seeing which players dress conservatively and which players take a fashion cue from Batman villains. I prefer the second kind.
Prediction
The Orlando Magic has the top overall pick and while most other places have them being rather more conservative, why shouldn't the Magic take the big gamble of seeing where Chet Holmgren could take the team?
They almost certainly won't, it sure looks like Smith Jr is the guy for them. Oh well, here is my list of who should be in the Top 5, solely based on how much I like them. The teams hired to make decisions, all of whom know more than me, might think differently.
1. Chet Holmgren, C, Gonzaga
2. Jabari Smith Jr, PF, Auburn
3. Paolo Banchero, PF, Duke
4. Jaden Ivey, SG, Purdue
5. Shaedon Sharpe, SG, Kentucky
Do you have thoughts? Once again, feel free to email them (to [email protected]) or tweet them (to @HunterFelt) our way.
Listen, maybe he won't thrive in the NBA, but Chet Holmgren is certainly the most fun player available in the lottery.
So, the 2022 draft is taking place at Barclays, home of the Brooklyn Nets. I wonder if there has been any news coming out of the Nets camp in recent days?
Oh. That could be a thing: there are conflicting reports, but it's not impossible that the Brooklyn Nets could be breaking apart. It's almost as if Kyrie Irving isn't the kind of player you want to entrust your franchise's future with.
It's okay, if Irving leaves, it sure does sound like a vocal segment of Lakers fans are interested. For those of us who enjoyed the Dwight Howard-Steve Nash experiment, there's a certain car crash appeal of shipping him off to an LA team desperate for a quick fix.
Our own Daniel Levitt has created some infographics for today's draft, so in theory, I'll be posting them throughout the day's events. If I've figured out how to do this correctly.
A Giants Game The role of the NBA big man has ebbed and flowed over the decades, perhaps no more so recently. But with the likes of Giannis Antetokounmpo and Joel Embiid showing that big men can protect the rim while also being a force on offense, the big man is far from dead. With Jabari Smith, Chet Holmgren and Paolo Banchero set to be taken with the top three picks in this year's draft, it will be just the fifth time that the top three picks measure 6ft 10in and above — 2007, 2001, 1992, 1988 being the other years.

While we'll only be covering the first round of the NBA draft here, it's probably worthwhile to note that the total event will only last 58 picks rather than the usual 60. The Milwaukee Bucks and the Miami Heat both lost second-round draft selections for violating the league's oblique and occasionally downright absurd tampering rules last offseason.
Preamble
Every year, I forget how soon the NBA Draft comes after the NBA finals. If they had lasted until a Game 7, it would have been played on Sunday. As Draymond Green would eagerly remind you, that did not happen as the Golden State Warriors defeated the Boston Celtics in six games. Now, after giving us just a brief pause to catch our breath, the NBA is flinging itself face-first into the future as teams select the young players they hope will eventually help catapult them into a future finals.
The Orlando Magic has the top overall pick in the 2022 NBA Draft while the Oklahoma City Thunder owns the second, their highest of three picks. Experts have suggested that it's not impossible we see a lot of NBA teams trading up over the next few hours. It seems, however, doubtful, that there will be as much movement as we saw during NFL Draft Day: NBA Commissioner Adam Silver and company won't be coming to us live from Las Vegas, so maybe their draft won't be quite as manic as the football one.
The conflict in this year's draft seems to be potential upside vs. NBA readiness. The most talented player just might be Gonzaga's Chet Holmgren but there are concerns that the rail-thin center simply doesn't have the right body type to survive at the NBA level. Still, expect him to go in the Top 3 alongside Duke's Paolo Banchero and Auburn's Jabari Smith Jr, both of whom seem to be safer bets. Jaden Ivey looks like the clear No. 4 pick, but that happens to be owned by the Sacramento Kings and, well, that could end up being an issue. After that, well it's a bit of a free-for-all, but that's always the fun of these yearly events.
We'll be covering the next few hours of the NBA draft chaos here at the Guardian. If you want to join in, feel free to email us your thoughts at [email protected] or tweet them to @HunterFelt and we'll use them throughout the liveblog. The 2022 NBA Draft is set to begin at 8:00 pm EST at Brooklyn's Barclays Center but we'll be back well before then to catch you up on all the league happenings.
Hunter will be here shortly. In the meantime, here's a brief rundown of tonight's proceedings.
Venue: Barclays Center, Brooklyn.
Start time: The draft is due to begin at 8pm ET/1am UK/10am AEST.
Television: In the US, the first-round will be on ABC and ESPN. The second round will be shown only on ESPN. In Canada, it will be shown on SportsNet and TSN; on Sky Sports in the UK; and Kayo Sports in Australia.
First round order:
1) Orlando
2) Oklahoma City
3) Houston
4) Sacramento
5) Detroit
6) Indiana
7) Portland
8) New Orleans (from Los Angeles Lakers)
9) San Antonio
10) Washington
11) New York
12) Oklahoma City (from Los Angeles Clippers)
13) Charlotte
14) Cleveland
15) Charlotte (from New Orleans)
16) Atlanta
17) Houston (from Brooklyn)
18) Chicago
19) Minnesota
20) San Antonio (from Toronto)
21) Denver
22) Memphis (from Utah)
23) Philadelphia
24) Milwaukee
25) San Antonio (from Boston)
26) Dallas
27) Miami
28) Golden State
29) Memphis
30) Denver (from Oklahoma City via Phoenix )