In recent years as he has edged ever closer towards the twilight of his career, Rafael Nadal has continually discussed his advancing age with total disdain. While many see its silver linings in its maturity, he sees none.
It has gradually taken away one of the greatest assets, his athleticism. It has made his body, which has had far too many injuries, even more prone to them. Regardless, for 20 years he has approached his career with the same positive attitude, the same calmness, the same acceptance and fight, and in the process has continued to perform wonders so long into it.
After a fortnight in which he has been able to summon his best tennis only when he desperately needed it, Nadal picked apart Casper Ruud even in the absence of his top level for much of the match, winning the final 11 games to clinch a remarkable, record-extending 14th French Open title: 6-3, 6-3, 6-0.
Nadal has also extended his men's all-time grand slam title record to 22, creating a notable gap between himself and his two greatest rivals, Novak Djokovic and Roger Federer, who both have 20 major titles.
Two days after his 36th birthday, and 17 years after first winning here as a precocious 19-year-old, Nadal has now won for long enough to also stand as the oldest French Open men's champion in history, surpassing the 50-year record set by his countryman, Andrés Gimeno, who was 34 years old. He is now halfway to the grand slam for the first time in his career after also winning the Australian Open in January.
The buildup to the tournament had been dominated by speculation about Nadal's future after his chronic foot injury relapsed at the Italian Open. He was utterly miserable that night in Rome and has spent the past two weeks speaking doubtfully about the long‑term prospects for his foot without a permanent medical solution.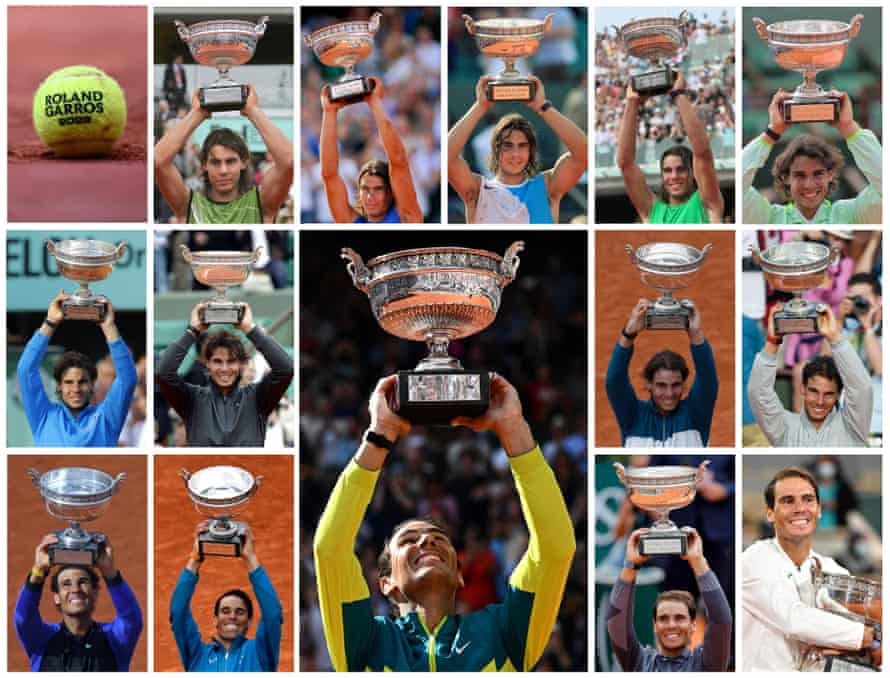 After stating throughout the week that he would give an explanation of his current physical circumstances only after the tournament, Nadal spoke expansively about it in his press conference. He said that, physically, his worst moment was after his second‑round match against Corentin Moutet when he could barely walk afterwards.
From that point, he played the rest of the tournament with the nerves in his foot under anaesthetic. "I have been playing with injections on the nerves to sleep the foot, and that's why I was able to play during these two weeks because I have no feelings on my foot, because my doctor was able to put anaesthetic injections on the nerves. That takes out the feeling on my foot," he said.
Nadal described the process of playing with a numb foot as "extreme conditions", explaining that he took a couple of injections before each match and the process carries elevated chances of turning an ankle or becoming another injury.
Nadal says he will undergo a radiofrequency ablation on the affected nerves, which "burn a little bit the nerve" in an attempt to find a long‑term solution. The procedure marks a significant fork in the road for him because if it does not work he will be forced to think seriously about his future and consider significant surgery. He says he will be at Wimbledon later this month if his body complies.
"That's what we are gonna try. If that works, I'm gonna keep going," he said. "If that does not work, then it's gonna be another story. And then I'm gonna answer to myself, I'm gonna ask myself about if I am ready to do a major thing without being sure that the things are going the proper way, for example. A major surgery that don't guarantee me to be able to be competitive again and it's gonna take a long time to be back."
The outcome of his efforts have only reinforced what has been clear for well over a decade: Nadal at Roland Garros is the closest thing in tennis to untouchable. In a sport filled with such a deep field of other disciplined and professional rivals, the level of dominance he has unlocked, the gap between himself and the rest even after so long, remains astonishing.
In the final, the difference in quality between the two players was too great for Ruud, who was unable to consistently hurt Nadal with any part of his game. Under minimal pressure, Nadal established his predictable pattern.
Throughout the match, he laid waste to the Ruud backhand with his heavy topspin forehand. Ruud became locked deeper and deeper in his backhand corner, and most of the time he was unable to escape.
As Nadal slammed his final backhand down-the-line winner, he clutched his head in his hands and was overcome by emotion. During his victory speech, Nadal said: "I don't know what is going on in the future. I will keep fighting to keep going."
In all of uncertainty, it is worth savouring a sight that has limited time remaining regardless of how his next essential weeks pan out: Nadal navigating a route to success again.