Good morning, and welcome to our rolling coverage of the world economy, the financial markets, the eurozone and business.
Retail sales have bounced back as shoppers returned to high streets after the Omicron variant hit the UK economy…. despite the squeeze from inflation.
Retail sales volumes across Great Britain rose by 1.9% in January, faster than expected, and the biggest monthly increase since the lockdown was lifted last spring.
That recovers about half of the 4.0% drop in December when the surge in Covid-19 cases and pandemic restrictions hit spending, and lifts retail spending to 3.6% above its pre-pandemic levels.
The recovery was driven by an increase in spending at non-food stores such as household goods and garden centres.
The ONS explains:



Household goods stores sales volumes rose by 7.5% in January 2022 because of strong growth in furniture and lighting stores (16.6%) and electrical goods stores (16.0%). Sales volumes were 3.8% above their February 2020 levels.

Department stores reported a monthly increase of 7.1% in sales volumes but remained 8.0% below their February 2020 levels.
But, clothing stores reported a fall of 5.0% over the month — possibly because the January sales were less generous (which also pushed up inflation to a 30-year high).
On an annual basis, people bought 9.1% more items than a year ago, when non-essential shops were closed in the 2021 lockdown.
However, spending at food stores such as supermarkets fell below pre-coronavirus levels for the first time. Retail volumes at food stores were 0.8% below where they were in February 2020, having surged once the first lockdown began.
In another sign that the economy was returning to more normal, online shopping's share of spending fell to 25.3% in January 2022, its lowest proportion since March 2020.
The retail sales report also shows the impact of inflation over the last year, with the amount spent at retailers up 16.5% — although volumes were only 9.1% higher….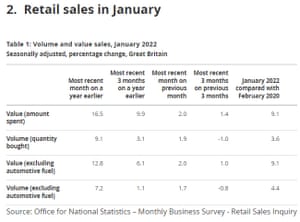 Elsewhere, European stock markets are on track to open slightly higher, after US secretary of state Antony Blinken agreed to a meeting with Russian foreign minister, Sergei Lavrov, next week.
Wall Street and European stocks fell on Thursday as the US said Russia was on the brink of invading Ukraine within several days.
The agenda
7am GMT: UK retail sales to January
7.45am GNT:France's inflation report for January
10am GMT: Eurozone construction PMI for December
3pm GMT: Eurozone consumer confidence report for February
3pm GMT: US existing home sales for January