When Ronnie O'Sullivan is in the mood and the stakes are so high, being close to perfect on the baize is the minimum you can muster if you wish to stand a chance. How Judd Trump found that out here to devastating effect as his self-confessed dream final slowly turned into somewhat of a nightmare.
It was a peculiar opening day in the final of this year's World Snooker Championship, to say the least. At the midway point, O'Sullivan held a 5-3 lead over Trump but the Bristolian had won the final two frames of an absorbing afternoon session and O'Sullivan had become embroiled in a fascinating moment of controversy.
O'Sullivan was involved in an angry exchange with the referee, Olivier Marteel, as he returned to his seat after fouling on the yellow. Marteel said O'Sullivan had made a gesture which ultimately led to him receiving a formal warning, but not before O'Sullivan had angrily responded, waving his finger at Marteel and subsequently not fist-bumping the referee after the session had concluded.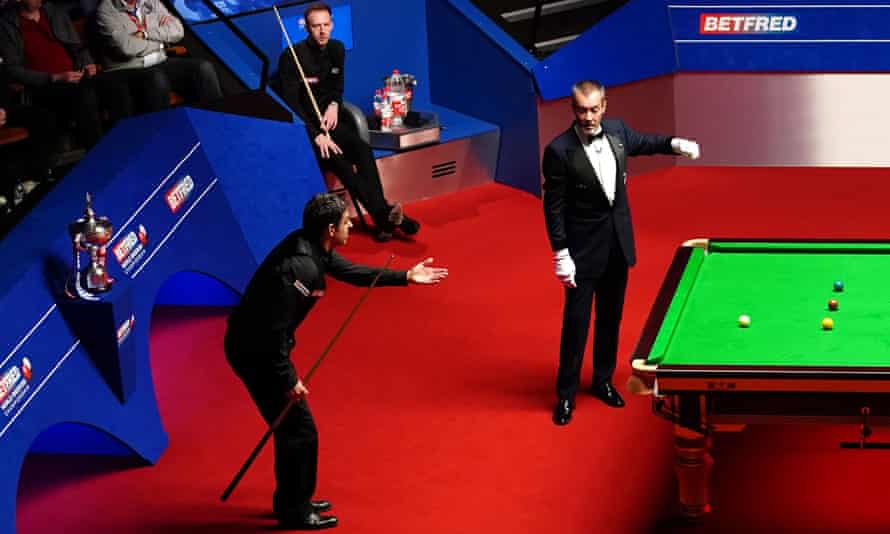 At that stage, you wondered where O'Sullivan's mind was at. Could he regroup for a crucial evening session? The answer, perhaps unsurprisingly, was emphatic. Trump won the first frame of the evening but O'Sullivan won seven of the next eight and as such, what many neutrals hoped would be a thrilling final day of this year's Crucible extravaganza now threatens to be somewhat of a damp squib, at least in terms of drama.
The ultimate accolade of a seventh world title, equalling Stephen Hendry's modern-era record, is now within six frames for O'Sullivan. He was at his majestic best in patches here, gliding around the table making a series of imperious breaks to leave Trump resigned to the best seat in the house, watching a maestro at work.
But O'Sullivan was only afforded some of those opportunities after a series of misses Trump would do well to avoid watching back. Trump had pulled it back to 5-4 at one stage but in frame 10, a limp safety attempt left O'Sullivan in the balls. That error, and the subsequent break of 66, set the tone for a chastening evening for Trump and his supporters.
Another half-century followed. Then Trump missed a black off its spot and O'Sullivan put his opponent to the sword with a break of 97 to go 8-4 ahead. A missed pink in the next frame then left O'Sullivan at the table again and, once more, he capitalised to devastating effect. A break of 87 then made it 10-4 and you began to wonder what Trump could salvage.
He stopped the rot with a gritty break of 80 but normal service resumed soon after, with O'Sullivan now in ominous mood as he swept aside the final two frames with ease. Monday's evening session could, if O'Sullivan returns in the same mindset, not even take place.
It was all a far cry from the drama of the afternoon, when Marteel and O'Sullivan clashed. O'Sullivan then conducted a rare post-session interview with Eurosport when he continued to aim his frustration at the Belgian referee, who ultimately gave him a formal warning for his behaviour.
"I just think he [Marteel] seems to be looking for trouble," he said. "I just get a vibe from the guy. They've got hundreds of cameras out there, they can go check them all." It will certainly make for good viewing in O'Sullivan's upcoming Netflix documentary, for which he has worn a microphone for all tournament.
But in true O'Sullivan style, he shrugged off that controversy and let his snooker do the talking. It's almost universally accepted The Rocket is the greatest player ever to pick up a cue. We are now just six frames from all doubt being removed from that argument.