08:54
EU leaders to say Russia's aggression marks 'tectonic shift' in European history
EU leaders gathering for a summit in Versailles on Thursday and Friday will say that Russia's aggression "constitutes a tectonic shift in European history", according to a draft communique seen by The Guardian.
They will decide, the draft statement says, to "take more responsibility for security and take further decisive steps towards building our European sovereignty".
On defence, the leaders are expected to agree to "resolutely bolster… investment in defence capabilities and innovative technologies" and "increase substantially defence expenditures". They will collaborate more and take steps to "strengthen and develop our defence industry". There will be a commitment to continue to help Ukraine by purchasing lethal weapons for use in the war with Russia.
On energy, they will agree to phase out dependency on Russian gas, oil and coal imports" by accelerating transition from fossil fuels, diversifying energy supply through liquified natural gas shipments, biogas and hydrogen and improving energy efficiencies and storage supplies.
Not contained within the communique is any mention of the EU membership applications made in recent days by Ukraine, Moldova and Georgia. A separate intervention on this issue is expected with the EU member states divided on how best to answer the calls.
Updated

08:52
Attack on Ukrainians as they queued for bread may constitute war crime – Amnesty International
08:34
Refugees fleeing Ukraine reaches 2.1-2.2m, says UN
08:27
UK announces new aviation sanctions on Russia
08:06
Ukraine says Russia has agreed to ceasefire on humanitarian corridors from 9am to 9pm
Updated

07:43
22 people – including three children – reportedly killed on Monday in Sumy
07:35
Russia warns it is working on 'swift' response to western sanctions
07:29
Scepticism as Russia claims it will provide humanitarian corridors
Updated

06:21
Russians struggling to breakthrough north of Kyiv, says MoD
Russia forces have failed to make a significant breakthrough to the north of Kyiv, and Ukrainian forces appear to be succeeding in shooting down enemy planes, according to the latest battleground intelligence update from Britain's Ministry of Defence.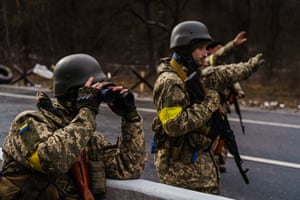 It said on Twitter: "Fighting north-west of Kyiv remains ongoing with Russian forces failing to make any significant breakthroughs.
"Ukrainian air defences appear to have enjoyed considerable success against Russia's modern combat aircraft, probably preventing them achieving any degree of control of the air."
However, it added that "Kharkiv, Chernihiv, Sumy and Mariupol remain encircled by Russian forces and continue to suffer heavy Russian shelling".
Updated