Russian soldiers have committed sexual violence against Ukrainian women and men, children and elderly people," Ukraine's prosecutor general Iryna Venediktova alleged in a seperate statement.



But the victims are silent about it. It's their choice. And it's clear: fear, pain, despair, total disbelief to all," she added.
Specifically, Venediktova referenced reported atrocities committed in Bucha.
"Bucha was released from the occupiers, but the consequences of their atrocities will have to be recovered for a long time: civilians were killed in the streets, cars were shot, torturers in basements," she said.
Venediktova said prosecutors are currently investigating the "horrifying fact of torturing, killing and attempting burning of bodies of six civilians in Bucha," she added to Twitter on Tuesday.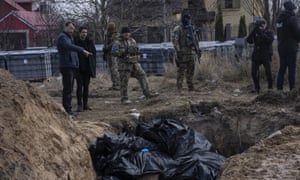 "The occupiers tried to burn the bodies of six tortured and killed civilians in Bucha," she said, adding that prosecutors together with Kyiv Region police officers found a torture chamber in the town of Bucha in the basement of a children's sanatorium.
Ukraine's prosecutor's office said in a statement on Tuesday:



During the occupation of the city of Bucha, soldiers of the Russian Federation armed forces, violating international humanitarian law standards, killed civilians and set fire to their bodies in order to hide the crime.

During the investigation, it was found that the bodies of the dead have traces of violent death and torture. The prosecutors of the Bucha district and Kyiv region prosecutor's office work on the site together with police employees. Measures are being taken to determine all circumstances of the crime. The pre-trial investigation is underway."
The Buchanian District Prosecutor's Office has initiated criminal proceedings, the office confirmed.



In the basement of one of the children's sanatoriums, law enforcement officers discovered the bodies of five men with their hands tied. Soldiers of the Russian Federation armed forces tortured unarmed civilians and then killed them.

Prosecutors and police officers work at the scene of the crime. All measures are taken to determine the circumstances of every war crime and person involved in the Russian aggression in order to bring them to justice."
All over the Kyiv region, investigative and operative groups are investigating crime scenes across various districts, Venediktova said.
"More than 50 national police staff and prosecutors are now involved to conduct first-ever investigations in the territory of Buchansky district alone," she said in a statement earlier this week.
Similar work is also reportedly being developed in all liberated towns in the Kyiv and Chernihiv region, with investigators collaborating with the local population to talk with witnesses, victims and gather photos and video evidence, Venediktova added,
"It takes time and a professional approach to record everything correctly and not lose any chance to find and punish the guilty," she said.