Pope Francis has given an interview to Italian newspaper Corriere della Sera in which he says he has no plans to visit Kyiv, but that he he has offered to meet Russian president Vladimir Putin. The paper quotes him saying:
The first day of the war I called the Ukrainian president Zelenskiy on the phone. Putin, I didn't call him. I wanted to make a clear gesture for the whole world to see.

And then I asked Cardinal Parolin, after 20 days of war, to send Putin the message that I was willing to go to Moscow. We have not yet received an answer. I fear that Putin cannot and does not want to have this meeting right now. But so much brutality how can you not stop it? Twenty-five years ago we experienced the same thing with Rwanda.

I'm not going to Kyiv for now. I sent Cardinal Michael Czerny and Cardinal Konrad Krajewski. But I feel I don't have to go. First I have to go to Moscow, first I have to meet Putin. But I'm a priest too, what can I do? I do what I can. If Putin opened the door …
The Pope also had some critical words for Patriarch Kirill, head of the Russian Orthodox Church, who has been a vocal supporter of the war.
I spoke to Kirill for 40 minutes via Zoom. The first 20 with a card in hand he read me all the justifications for the war. I listened and told him: I don't understand anything about this. Brother, we are not clerics of state, we cannot use the language of politics, but that of Jesus.
At least three civilians were killed in Russian shelling of the city of Vuhledar in the Donetsk region of eastern Ukraine today, Reuters reports the Ukrainian president's office has said.
Here are some of the latest images to come out of Ukraine today.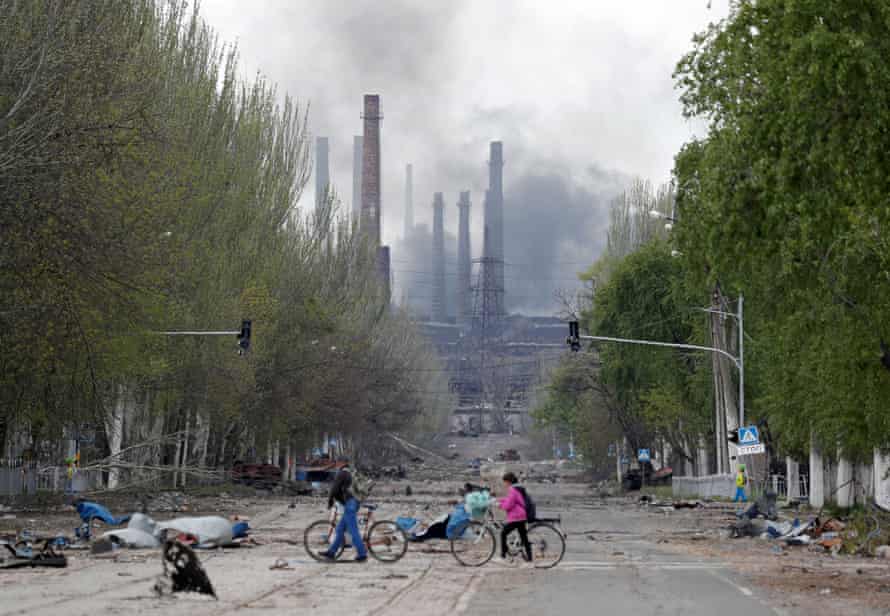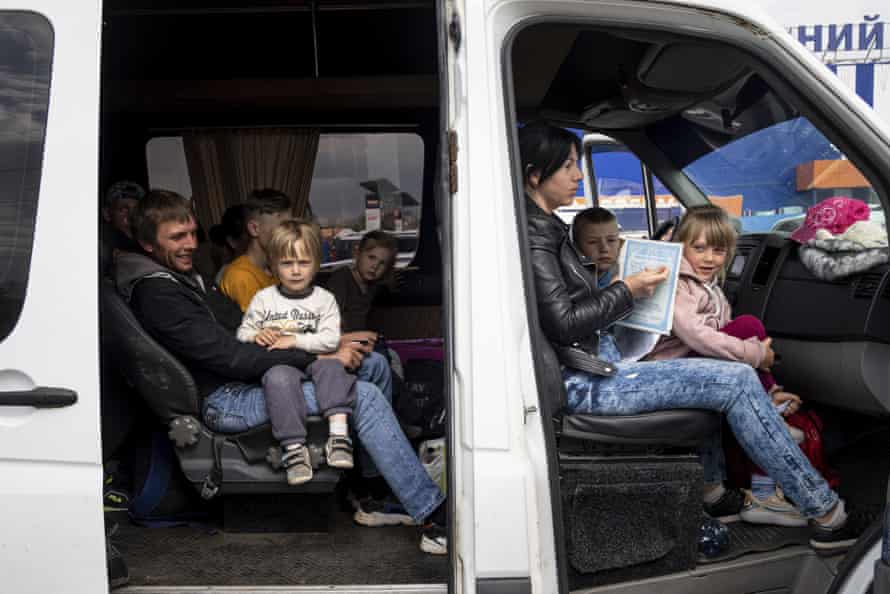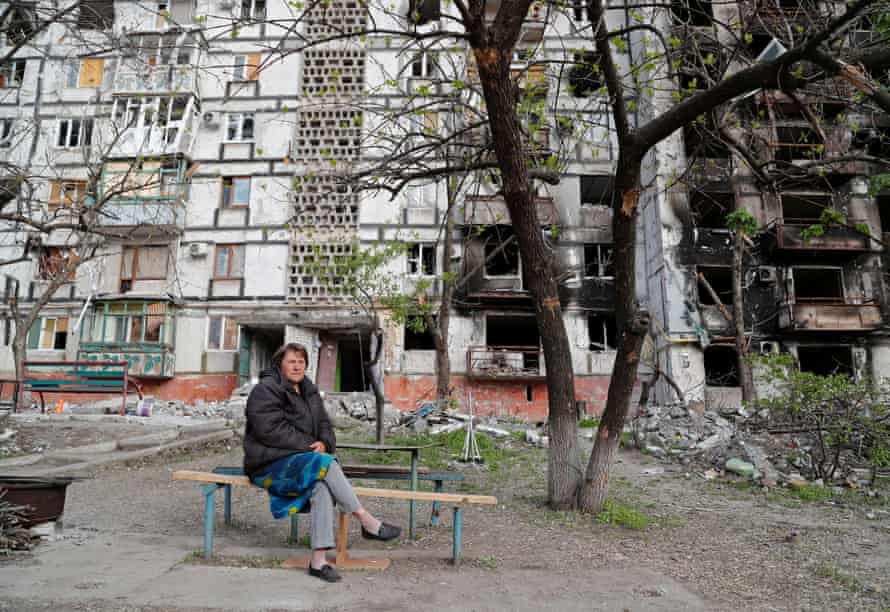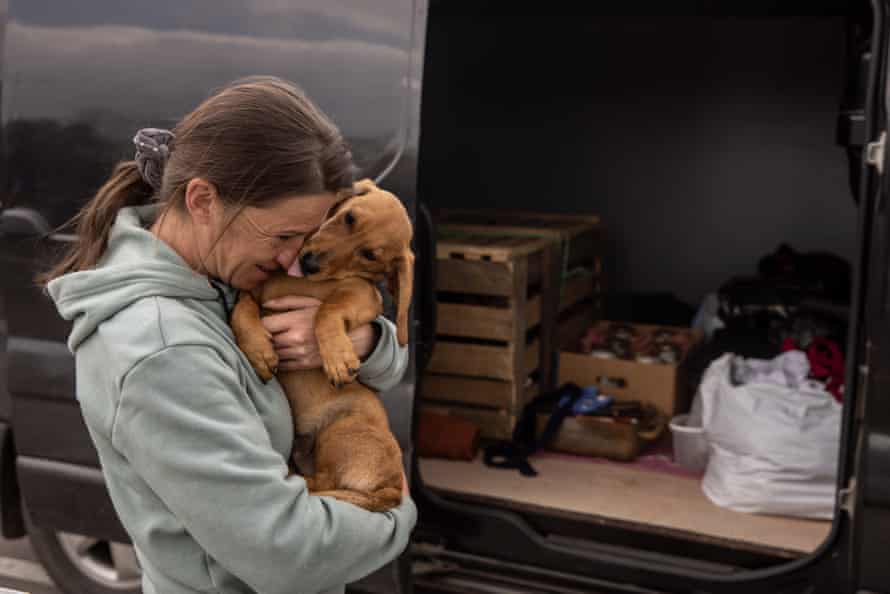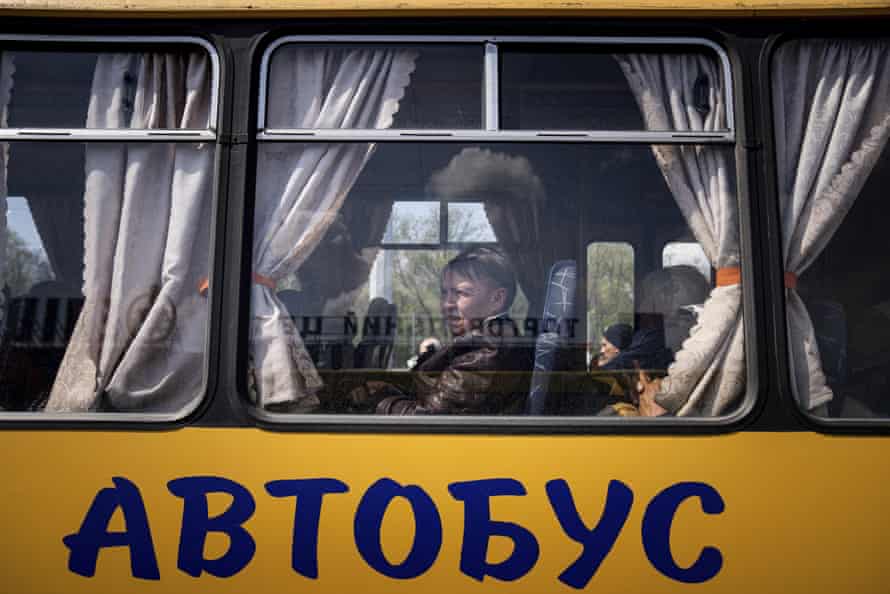 Russia's military now 'significantly weaker', UK MoD says
Russia's military is now significantly weaker as a result of its invasion of Ukraine, the UK Ministry of Defence has said in its latest military intelligence report.
The report, released just before 7am GMT, reads:
Russia's defence budget approximately doubled between 2005 and 2018, with investment in several high-end air, land and sea capabilities. From 2008 this underpinned the expansive military modernisation programme New Look.

However, the modernisation of its physical equipment has not enabled Russia to dominate Ukraine. Failures both in strategic planning and operational execution have left it unable to translate numerical strength into decisive advantage.

Russia's military is now significantly weaker, both materially and conceptually, as a result of its invasion of Ukraine. Recovery from this will be exacerbated by sanctions. This will have a lasting impact on Russia's ability to deploy conventional military force."
European Union prepares fresh sanctions on Russian oil sales
The European Union is preparing fresh sanctions on Russian oil sales and hopes to pass a possible embargo at the next meeting of the EU foreign affairs council, the bloc's chief diplomat said on Monday.
The European Commission, the executive branch of the union, is expected to propose the package of EU sanctions this week, including a potential embargo on buying Russian oil – a measure that would deprive Moscow of a large revenue stream. However, many EU countries remain divided.
Josep Borrell, who chairs the foreign affairs council meetings, said he hopes the EU will be able to take "measures to significantly limit these imports" but conceded so far there is no agreement from all the members.
"But I am confident that, at least with regard to oil imports, this agreement will be possible between now and the next council meeting," he added.
Germany said on Monday it was prepared to back an immediate EU embargo on Russian oil. "We have managed to reach a situation where Germany is able to bear an oil embargo," German economy minister Robert Habeck said.
The European country is Russia's biggest energy customer and could deprive Moscow of a large revenue stream within days.
In mid-May, EU member states will have to reject Moscow's demands for fuel payments to be made in roubles – despite being without alternative gas supply, Brussels has warned.
Kadri Simson, the European commissioner for energy, said on Monday that the Kremlin's demands had to be rebuffed despite the risks of an interruption to supply at a time that the shortfall cannot be made good.
EU ministers warned that complying in full with Moscow's demand for gas payments in roubles would breach existing EU sanctions. Ambassadors from EU countries will discuss the proposed oil sanctions when they meet on Wednesday.
Kyiv says Russia's energy exports to Europe, so far largely exempt from international sanctions, are funding the Kremlin war effort with millions of euros every day.
The European Commission did say it may spare Hungary and Slovakia from any future embargo on buying Russian oil, accounting for the two countries' dependence on Russian crude, two EU officials said on Monday.
Johnson to hail Ukrainian resistance in address to parliament, UK pledges another £300m
British prime minister Boris Johnson will hail Ukraine's resistance against tyranny as an exemplar for the world during a virtual address to the country's parliament after promising a further £300m ($375m) in military aid to Ukraine.
Recalling Britain's resolve during the second world war, Johnson will say that "we remember our time of greatest peril as our finest hour". He will say the bravery demonstrated by those who have sought to defend their country from Russian invaders means the war will come to be known as Ukraine's "finest hour", too.
The speech to Ukrainian MPs reciprocates the move made by the country's president, Volodymyr Zelenskiy, who gave a historic speech to the House of Commons in March.
Johnson will become the first world leader to address the Verkhovna Rada since the conflict began, and seek to show critics he is focused on international affairs despite continuing questions over his leadership.
Britain has also promised it will provide £300m ($375m) more in military aid to Ukraine, including electronic warfare equipment and a counter-battery radar system, on top of around £200m of assistance so far, Reuters reports.
Britain has sent Ukraine more than 5,000 anti-tank missiles and five air defence systems as well as other munitions and explosives since Russia's invasion on 24 February.
Russia plans to annex Ukraine's Donetsk and Luhansk with 'sham' elections, US warns
The US earlier warned that Russia plans to formally "annex" the Donetsk and Luhansk regions in Ukraine's east.
Michael Carpenter, the US ambassador to the Organization for Security and Co-operation in Europe told reporters in Washington on Monday:
According to the most recent reports, we believe that Russia will try to annex the 'Donetsk People's Republic' and 'Lugansk People's Republic' to Russia.

The reports state that Russia plans to engineer referenda upon joining sometime in mid-May."
"This is straight out of the Kremlin's playbook," he added.
Carpenter said that the US also believed Russia was considering a similar plan in a third region, Kherson, where Moscow has recently solidified its control and imposed use of its ruble currency.
We think the reports are highly credible. Unfortunately we have been more right than wrong in exposing what we believe may be coming next, and so that is part of what we're trying to do here.

Such sham referenda – fabricated votes – will not be considered legitimate, nor will any attempts to annex additional Ukrainian territory.

But we have to act with a sense of urgency."
Carpenter said it was also possible that Russia's leaders would try to take over other parts of Ukraine, by imposing "puppets and proxies" in local governments and forcing out democratically elected officials. He said this had appeared to be Moscow's initial aim in Kyiv – a plan that included installing a new constitution in Ukraine — but that Russian forces had been forced to drop back to the country's east and south after they were unable to take the capital.
Hello and welcome back to the Guardian's live coverage of the war in Ukraine.
I'm Samantha Lock and I'll be bringing you all the latest developments until my colleague in London takes the reins a little later in the day.
The European Commission is expected to finalise work on the next, and sixth package of EU sanctions against Russia today, which would include a ban on buying Russian oil.
Boris Johnson will become the first world leader to address the Verkhovna Rada, Ukraine's parliament, since the conflict began when he delivers a virtual address to the country's parliament later today.
It is 8.30am in Ukraine. Here's everything you might have missed:
Some of the first civilians to be evacuated from a giant steel plant in Mariupol reportedly arrived on Monday in the Ukrainian-held city of Zaporizhzhia after an overnight bus journey stymied by delays across the frontline. More than 100 civilians – mostly women, children and elderly people – were evacuated from the Azovstal steel plant, Ukraine's military police said in a statement. Hundreds of people are believed to still be remained trapped in the last stronghold of resistance in the city.
Russia resumed shelling of the Azovstal steel works as soon as buses evacuating civilians from the plant had left on Sunday despite hundreds of civilians remaining trapped inside, Petro Andryushchenko, an aide to the city's mayor, said.
A Ukrainian fighter in Mariupol has said that up to 200 civilians remain trapped inside bunkers in the Azovstal steelworks despite an evacuation operation led by the United Nations. Capt Sviatoslav Palamar, 39, a deputy commander of Ukraine's Azov regiment, told Reuters his fighters could hear the voices of people trapped in bunkers but did not have the equipment needed to dislodge the rubble.
Further evacuations of civilians trapped in Mariupol is set to resume from 7am on Tuesday with the support of the UN and the Red Cross, the city council announced.
A Russian rocket strike hit the Black Sea port city of Odesa in south-western Ukraine, causing deaths and injuries. The strike hit a strategically important bridge across the Dniester estuary. A 14-year-old boy was killed and a 17-year-old girl was wounded, Ukraine's president Volodymyr Zelenskiy said on Monday. "How did these children and the dormitory threaten the Russian state?" Zelenskiy said in his nightly video address.
Russian forces in the Donbas region of eastern Ukraine – where the bulk of the fighting is taking place – are suffering from poor command and control, low morale, and less than ideal logistics, the US says. "We continue to see minimal, at best, progress by the Russians in the Donbas," a senior US defence department official, said in a statement on Monday.
Russia is planning to annex Donetsk and Luhansk with "sham" elections, US officials believe. Russia might also consider doing the same in Kherson, where it is already imposing roubles as the official currency. "The reports state that Russia plans to engineer referenda upon joining sometime in mid-May," Michael Carpenter, the US ambassador to the Organization for Security and Co-operation in Europe, told reporters.
Russia's foreign minister, Sergei Lavrov, was asked to address how Russia could say it needed to "denazify" the country when its president, Volodymyr Zelenskiy, is Jewish, in an interview with Italian TV. Lavrov responded that Adolf Hitler "had Jewish blood" and that the "most rabid antisemites tend to be Jews" while defending Russia's policy of "denazification" in Ukraine, the Kremlin's term for a sweeping purge that Ukraine says is a pretext for "mass murder."
Ukrainian president Volodymyr Zelenskiy said Lavrov's comments showed that "Russia has forgotten all the lessons of the second world war". Israel has summoned the Russian ambassador and demanded an apology and world leaders condemned the remarks.
Britain has said it will provide £300m ($375m) more in military aid to Ukraine, including electronic warfare equipment and a counter-battery radar system, on top of around £200m pounds of assistance so far, Reuters reports.
Boris Johnson will hail Ukraine's resistance against tyranny as an exemplar for the world as he delivers a virtual address to the country's parliament on Tuesday. Johnson will become the first world leader to address the Verkhovna Rada since the conflict began.
More than 70 of 90 M-777 howitzers the US planned to send are now in Ukrainian hands, along with over 140,000 155mm rounds, a senior official with the US department of defence said. Over the last 24 hours, two dozen flights carrying US arms have landed near Ukraine, and another 11 are planned over the coming 24 hours, officials said.
The European commissioner for energy, has said that Russia's demands for fuel payments to be made in roubles had to be rebuffed despite the risks of an interruption to supply at a time without alternative gas supply. After a meeting of EU energy ministers, Kadri Simson said that all the energy ministers had accepted that paying in roubles through the mechanism set out by Russia would breach sanctions imposed by the bloc after Russia's invasion of Ukraine.
The European Commission is expected to finalise on Tuesday work on the next, and sixth package of EU sanctions against Russia, which would include a ban on buying Russian oil at the next meeting of the EU foreign affairs council, the bloc's chief diplomat said on Monday. However, it may spare Hungary and Slovakia from a soon-to-be-prepared embargo on buying Russian oil, accounting for the two countries' dependence on Russian crude, two EU officials said on Monday.

Germany said it was prepared to back an immediate EU embargo on Russian oil, a major shift from Moscow's biggest energy customer that could let Europe impose such a ban within days. "We have managed to reach a situation where Germany is able to bear an oil embargo," German economy minister Robert Habeck said Monday in Brussels, where he met with EU colleagues. "This means it won't be without consequences."