Russian forces in the Kharkiv region have not been engaging in active combat, the Ukrainian general staff has said in its latest update on the conflict.
Their main efforts were instead "focused on ensuring the withdrawal of troops from the city of Kharkiv, maintaining occupied positions and supply routes."
In the southern port city of Mariupol, Russia was continuing to blockade the last remaining Ukrainian forces in the Azovstal steel plant, it said, and was using "mass artillery and air strikes".
In the regions of Donetsk and Luhansk Ukrainian forces had repelled ten Russian attacks and destroyed equipment including five tanks, five artillery systems, and six units of combat armoured equipment, the general staff said.
'Difficult negotiations' underway on Mariupol evacuations, Zelenskiy says
"Very difficult negotiations" are underway on the next stage of evacuations from Mariupol and the Azovstal steel plant, where the city's last remaining Ukrainian defenders are holed up, Ukrainian president Volodymyr Zelenskiy has said in his latest nightly address.
We do not stop trying to save all our people from Mariupol and Azovstal. Currently, very difficult negotiations are underway on the next stage of the evacuation mission – the rescue of the seriously wounded, medics.

It is a large number of people. Of course, we are doing everything to evacuate everyone else, each of our defenders. Everyone in the world who can be the most influential mediator has already been involved in the relevant negotiations.
Russian forces have intensified their bombardment of steelworks, where many of the fighters are thought to be injured. Recent evacuees have described hellish conditions in the network of underground bunkers there.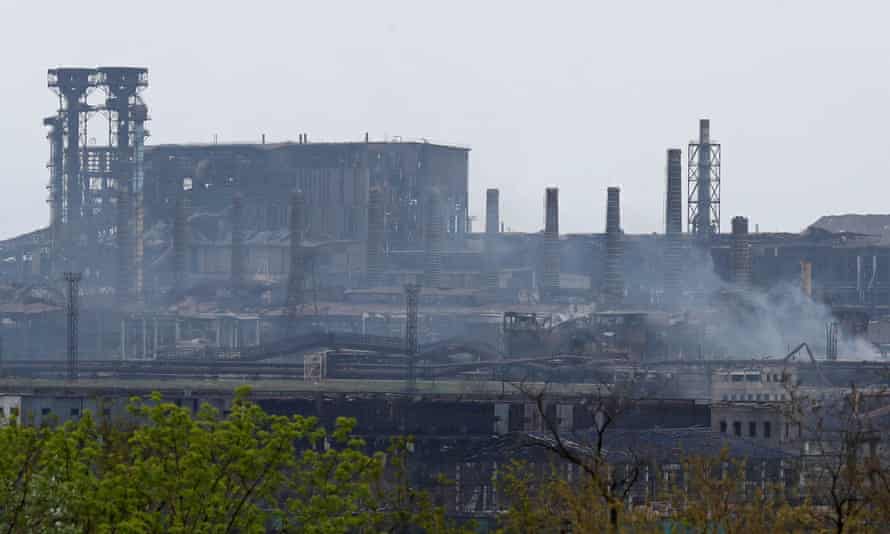 Zelenskiy also warned that the war and Russia's blockade of Ukraine's ports were "provoking a large-scale food crisis".
Russian officials are also openly threatening the world that there will be famine in dozens of countries. And what could be the consequences of such a famine? What political instability and migration flows will this lead to? How much will you have to spend then to overcome the consequences?

These are the questions that need to be answered by those who are delaying sanctions on Russia or trying to postpone aid to Ukraine.
His warning came as G7 foreign and agriculture ministers were meeting in Germany to discuss ways of breaking the Russian blockade of grain exports.
Zelenskiy also claimed that Russia had lost almost 27,000 soldiers, "many of them young conscripts", and that Ukraine had downed a 200th Russian military aircraft.
Russia had also "lost more than three thousand tanks, armored combat vehicles, a large number of conventional military vehicles, helicopters, drones and all its prospects as a state."
And why all this? For a monument to Lenin to stand in the temporarily occupied Henichesk for a little longer? There is no other result for Russia and there will not be any.
The Guardian is not able to verify Ukraine's claims regarding Russian losses and Moscow has provided very little detail.
Ukraine winning battle of Kharkiv, US think tank says
Ukraine has "likely won the battle of Kharkiv", the country's second largest city, the Institute for the Study of War has said in its latest assessment of the conflict.
Ukrainian forces prevented Russian troops from encircling, let alone seizing Kharkiv, and then expelled them from around the city, as they did to Russian forces attempting to seize Kyiv.
Russian units had "generally not attempted to hold ground against counterattacking Ukrainian forces over the past several days, with a few exceptions."
Reports from Western officials and a video from an officer of the Donetsk People's Republic (DNR) indicate that Moscow is focused on conducting an orderly withdrawal and prioritizing getting Russians back home before allowing proxy forces to enter Russia rather than trying to hold its positions near the city.
The US-based think tank said Ukraine would now likely "attempt to disrupt ground lines of communication (GLOCs) between Belgorod [in Russia] and Russian forces concentrated around [the Russian-occupied city of] Izyum, although Russia is using several GLOCs, including some further away from current Ukrainian positions than any Ukrainian counteroffensive is likely to reach soon."
Russian troops had "made no progress" with an attempted ground offensive from Izyum, it continued, adding: "We had previously hypothesized that Russia might give up on attempts to advance from Izyum, but the Russians have either not made such a decision or have not fully committed to it yet."
Meanwhile, it said, the main Russian effort was aimed at encircling the cities of Severodonetsk and Lysychansk in Luhansk.
Russian troops attacking from Popasna to the north made no significant progress in the last 24 hours. Russian forces coming north-to-south have failed to cross the Siverskyi Donets River and taken devastating losses in their attempts.

The Russians may not have enough additional fresh combat power to offset those losses and continue the offensive on a large enough scale to complete the encirclement, although they will likely continue to try to do so.
Other key takeaways included:
Russian forces have likely secured the highway near the western entrance to the Azovstal Steel Plant but fighting for the facility continues.
Russian forces in Zaporizhia Oblast are likely attempting to reach artillery range outside Zaporizhia City.
Ukrainian forces are reportedly attempting to regain control of Snake Island off the Romanian coast or at least disrupt Russia's ability to use it.
As the time approaches 8am in Kyiv, here's a round up of the latest developments.
Ukraine has "likely won the battle of Kharkiv", the country's second largest city, the Institute for the Study of War has said in its latest assessment of the conflict. "Ukrainian forces prevented Russian troops from encircling, let alone seizing Kharkiv, and then expelled them from around the city, as they did to Russian forces attempting to seize Kyiv," the US-based thinktank said.
Ukrainians have also repelled multiple attempts by the Russians to cross a strategically significant river in the Donbas, inflicting heavy losses in the process, according to local officials and British intelligence. British defence intelligence said Russia had lost "significant armoured manoeuvre elements" from a battalion tactical group – a formation with about 800 personnel at full strength – from the failed effort to cross the Siversky Donets River, 12 miles (20km) west of Severodonetsk.
Ukrainian president Volodymyr Zelenskiy says "very difficult negotiations are underway" on the evacuation of the seriously wounded and medics from Mariupol and the city's Azovstal steel plant, which Russian forces continue to bombard. "Of course, we are doing everything to evacuate everyone else, each of our defenders," the president added.
Russia will suspend electricity supplies to Finland from 1am on Saturday the supplier, RAO Nordic, said, amid rising tensions over Helsinki's bid to join Nato.
That news came as US president Joe Biden expressed his support for the right of Finland and Sweden "to decide their own future, foreign policy, and security arrangements" in a call with his Finnish counterpart, Sauli Niinistö, and Sweden's prime minister, Magdalena Andersson.
The White House also said it was 'working to clarify Turkey's position' after president Recep Tayyip Erdoğan said that Turkey would not welcome either Sweden or Finland joining Nato. The comments appeared directed at the Kurdistan Workers' Party (PKK), which Turkey regards as a terrorist organisation. Sweden has a large Kurdish diaspora.
Earlier, the Ukrainian president reiterated an offer to hold direct talks with his Russian counterpart, Vladimir Putin, in the Ukrainian president's fullest public comments on the prospect of peace talks in weeks. "I am ready to talk to Putin, but only to him. Without any of his intermediaries. And in the framework of dialogue, not ultimatums," he told Italy's RAI 1 television.
A Russian soldier has appeared in court accused of murdering an unarmed man on a bicycle, at the start of the first war crime trial in Ukraine since the invasion began. Vadim Shysimarin, a commander of the Kantemirovskaya tank division, is charged with the premeditated murder of a 62-year-old man. The case is scheduled to resume on Wednesday.
Georgia's breakaway region of South Ossetia will hold a referendum on joining Russia on 17 July, the region's leader, Anatoly Bibilov, has announced. South Ossetia was at the centre of the Russian-Georgian war in 2008 after which the Kremlin recognised the territory – along with another separatist region, Abkhazia – as an independent state and stationed military bases there.
Ukraine's defence minister, Oleksii Reznikov, said Kyiv hopes to arm a million people as the country prepares for a "new, long phase of war". He warned that "extremely tough weeks are ahead" and that Ukraine needed "unity, cohesion, will and patience" during this difficult period.
The UK has issued sanctions against a dozen members of Vladimir Putin's family and inner circle including his long-rumoured girlfriend. The Foreign Office argued that the Russian president officially owns only modest assets, and has sanctioned the people who help support his lavish lifestyle.
The US defence secretary, Lloyd Austin, spoke to his Russian counterpart, Sergei Shoigu, for the first time since before the invasion began, the Pentagon said. Austin "urged an immediate ceasefire in Ukraine and emphasised the importance of maintaining lines of communication", the Pentagon press secretary, John Kirby, said.
The EU could agree on a phased embargo on Russian oil next week, despite concerns about supply in eastern Europe, according to diplomats and officials. A senior EU diplomat told Reuters an agreement could come as early as Monday when EU foreign ministers meet in Brussels. A third diplomat said there was a chance of an agreement later in the week.
The lawyer for the US professional basketball player Brittney Griner said her pre-trial detention has been extended by one month. The two-time Olympic medallist was arrested in February at Moscow's airport, allegedly in possession of vape cartridges containing oil derived from cannabis. If found guilty, she could face a maximum penalty of 10 years in prison.
This is Helen Livingstone bringing you all the latest news on the war in Ukraine.