Cheney: Republican leadership 'enables white supremacy'
Liz Cheney has accused Republican leadership of enabling "white nationalism, white supremacy, and anti-Semitism", in a scathing message following the racially-motivated massacre at a grocery store in Buffalo.
The Wyoming congresswoman, who was removed from her position as the No 3 House Republican last year after she joined the panel investigating the 6 January Capitol attack, urged party leaders in a tweet to "renounce and reject these views and those who hold them".
It comes amid increasing scrutiny of Republican figures who have embraced the racist "great replacement theory" the Buffalo killer is said to have cited in a manifesto he used to justify the murders.
The far-right ideology expounds the view that immigration will ultimately destroy white values and western civilization.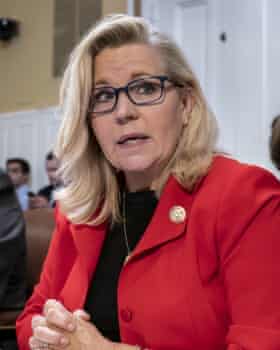 Although a growing number of Republican lawmakers and hopefuls have promoted the discredited conspiracy theory, including JD Vance, the Donald Trump-endorsed candidate who won last week's Republican Senate primary in Ohio, Cheney's message will be mostly seen to be directed at one person: Republican House conference chair Elise Stefanik.
The New York congresswoman, who was swiftly installed to replace Cheney when House minority leader and Trump loyalist Kevin McCarthy orchestrated Cheney's ouster last year, has utilized the great replacement theory to make false accusations that Democrats were plotting a "permanent election insurrection" by replacing white voters with immigrants.
The Illinois congressman Adam Kinzinger, who sits alongside Cheney as the only Republicans on the House panel investigating Trump's insurrection efforts, posted his own tweet slamming as "despicable" Stefanik's promotion of the theory.
On Sunday he added another post, demanding that Stefanik, McCarthy, and extremist Republican congressmembers Marjorie Taylor Greene and Madison Cawthorn be "replaced".
McCarthy is one of five Republicans who received subpoenas from the House panel last week as it seeks more information about Trump's actions to overturn his election defeat by Joe Biden, including the deadly 6 January riots.
Stefanik, meanwhile, has been furiously tweeting this morning, doubling down on her claims that Democrats are purposely manipulating immigration policy "specifically for political and electoral purposes".
Read more:

Victoria Bekiempis
John Fetterman, the lieutenant governor of Pennsylvania and frontrunner in the state's Democratic US Senate primary, suffered a stroke Friday, and is recovering, he said in a statement.
"On Friday, I wasn't feeling well, so I went to the hospital to get checked out. I didn't want to go – I didn't think I had to – but Gisele insisted, and as usual, she was right," Fetterman said in a statement posted to Twitter, referring to his wife. "I hadn't been feeling well, but was so focused on the campaign that I ignored the signs and just kept going."
"On Friday it finally caught up with me. I had a stroke that was caused by a clot from my heart being in an A-fib rhythm for too long," the statement continued.
"The good news is I'm feeling much better, and the doctors tell me I didn't suffer any cognitive damage. I'm well on my way to a full recovery," Fetterman said.
Doctors are keeping Fetterman in hospital for observation, he said in the statement, but "I should be out of here sometime soon."
Good morning, and happy Monday! It's a fresh new week in US politics, but it probably feels depressingly familiar to Joe Biden, who's under pressure on multiple fronts, including a nationwide baby formula shortage, soaring gas prices and inflation, and relief bills for Ukraine and Covid-19 held up by political wrangling in Congress.
The president will see most hope for progress Monday on the $40bn package of military, humanitarian and economic aid for Ukraine as it continues to battle the Russian invasion.
Stalled in the Senate last week by a lone Republican holdout, the Kentucky senator Rand Paul, the bill is set for a cloture vote to end debate later today, setting up a final vote on Wednesday.
You can follow developments in the Ukraine conflict on our live blog here.
Here's what else we're watching today:
Congress will begin discussions on two bills intended to ease the baby formula crisis, one loosening benefits restrictions for families, and another funding emergency imports of formula from south America and Europe.
Joe Biden has two events on his calendar, presenting medals of valor to public safety officials this morning, and a bilateral meeting and reception later for Greek prime minister Kyriakos Mitsotakis.
Scotland's first minister Nicola Sturgeon visits House speaker Nancy Pelosi and Congress members this afternoon.
Vice-president Kamala Harris is traveling to the United Arab Emirates for Tuesday's funeral of President Khalifa bin Zayed Al Nahyan.
The new White House press secretary Karine Jean-Pierre is scheduled to give her first briefing at 2.30pm.