53 min: A promising sign: Hemp smiles. A worrying sign: she's off getting that wrist taped up. But she's back on the field soon enough and tearing down the left wing. Her first-time cross is blocked and cleared.
51 min: Hemp stays down having landed awkwardly on her left wrist. That looks extremely painful. On come the physios.
49 min: England are back in their pre-break groove. In other words, a lot of passing to little effect.
47 min: Stanway attempts to squeeze through a gap that isn't there down the right. But she gets a generous free kick anyway. The visitors load the box. Stanway sends it in low. Hemp, running left to right to meet the ball, sends a first-time effort in the general direction of the top right. Not far away at all. An inch or two further left, and it's doubtful that Friedli was getting there.
England get the second half underway. Switzerland have made two changes at the break: Walti and Crnogorcevic are replaced by Mauron and Marti.
Half-time advertisement. Read! Enjoy! Subscribe!
HALF TIME: Switzerland 0-0 England
Both teams have had their chances. But here we are.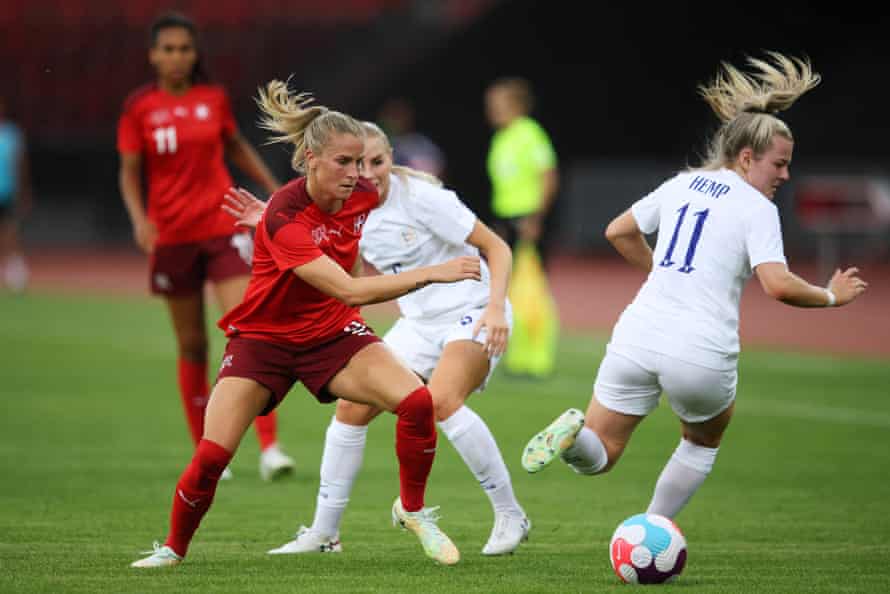 45 min +1: Calligaris is sent flying by Russo's sliding tackle. That's ankle first, ball second, and Russo goes into the book.
45 min: Greenwood's free kick bounces near Reuteler, who prepares to high-kick away but is closed down by Stanway. She's clear on goal! But the whistle goes for a foul on Reutler, Stanway having kicked her foot mid-air, and the hosts breathe again.
44 min: Calligaris attempts a Cruyff Turn but slips over. Russo, who has been England's liveliest attacker, nips off with the ball, only to be rugby tackled by Calligaris, who is booked. Free kick, and a chance for England to load the box.
43 min: England suddenly put the pedal to the floor, and Stanway wins a corner out on the right. Greenwood sends it long. Daly competes for it again, in a crowded six-yard box. Maritz chests down and clears. England claim a handball. Both of Maritz's arms were indeed perilously close to the ball as she chested down, but she just about gets away with it.
41 min: More of the English possession. Plenty of it, but nothing's sticking in the final third.
39 min: Bachmann slips Maendly into space down the left. Maendly fires a stunning ball through the England six-yard box. Crnogorcevic is this close to toe-poking home at the far stick, but the ball evades her foot by millimetres. That cross was begging to be converted. What a ball! But goal kick it is.
38 min: "They're always the worst team to play, a team that's just been absolutely walloped," says Emma Hayes on ITV. "Every player has pride."
36 min: England continue to ping it patiently. Switzerland are happy to sit back and hold their shape.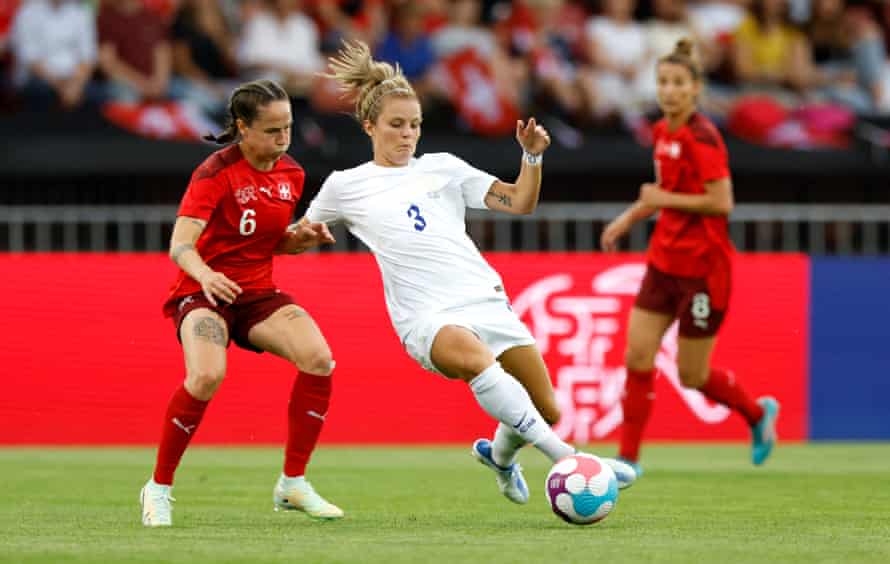 34 min: Daly sends a long right-to-left diagonal for Hemp, who tries to win a header in the box, but is nudged out of it by Maritz. Goal kick.
33 min: England stroke the ball around the middle awhile, but don't really achieve anything. The Swiss, beaten 7-0 by Germany last week, will be happy with the way this has gone so far.
31 min: Another corner out right for England. Greenwood takes again. She sends it long this time. Daly wins a header at the back post and sends a powerful effort back across Friedli and goalwards. The keeper is beaten all ends up, but Crnogorcevic heads spectacularly off the line. Great football all round! A second corner comes to nothing as England are penalised for pushing.
29 min: Play restarts. Everyone refreshed.
28 min: … and that's drinks. Lucozade bottles all round for England. Other isotonic beverages are available.
26 min: Walsh sends a forensic pass down the inside-left channel and nearly releases Hemp into the Swiss box. Maritz looks beaten, but does well to battle her way back into the footrace and eventually gets in front of and across Hemp, limiting the damage to a corner. Nothing comes of the set piece.
24 min: Greenwood takes. Buhler clears with a towering header and nearly sends Bachmann away on the counter. Stanway and Greenwood combine well to slow Bachmann down and eventually force her to turn tail.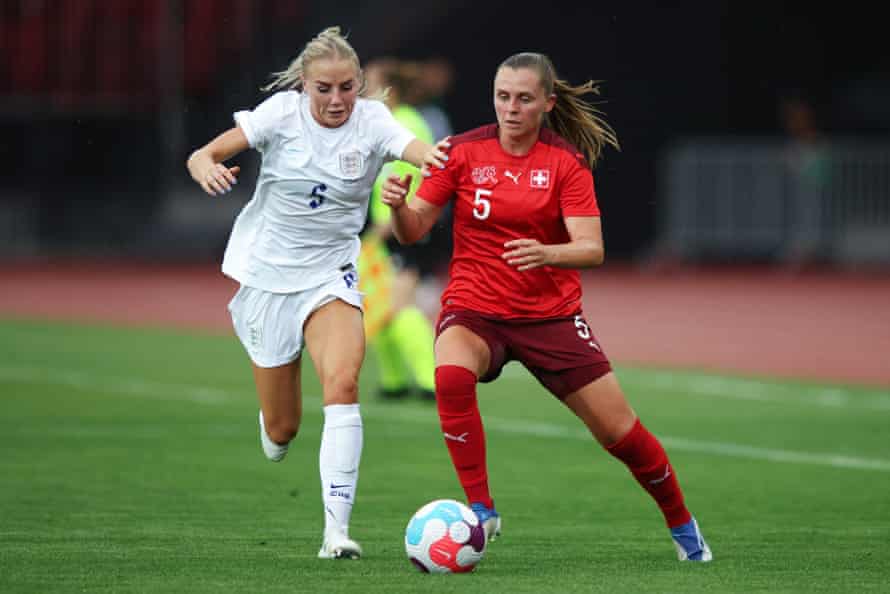 23 min: Walsh rakes a fine diagonal pass wide right for Mead, who wins England a corner. From which …
21 min: Calligaris looks for Crnogorcevic with a long 1980s style pass down the middle. It's no good, but Charles Reep would have appreciated the ambition.
19 min: England faff around at the back, and are nearly punished by Sow, who snaffles possession, and Reuteler, who makes a strong run into the box from the left, only to cross to nobody in particular. England have had some big chances, but the Swiss have now carved out a couple of opportunities for themselves as well.
18 min: Stanway sends a speculative pass down the right channel for Russo, who can't quite get to the ball. Friedli is quickly out to smother.
16 min: Bachmann busies her way down the left, then checks, turns and whips a cross into the centre. Crnogorcevic tries to steers a header goalwards, but Williamson does enough to put her off. Nothing comes of the resulting corner, but Switzerland are beginning to find their groove.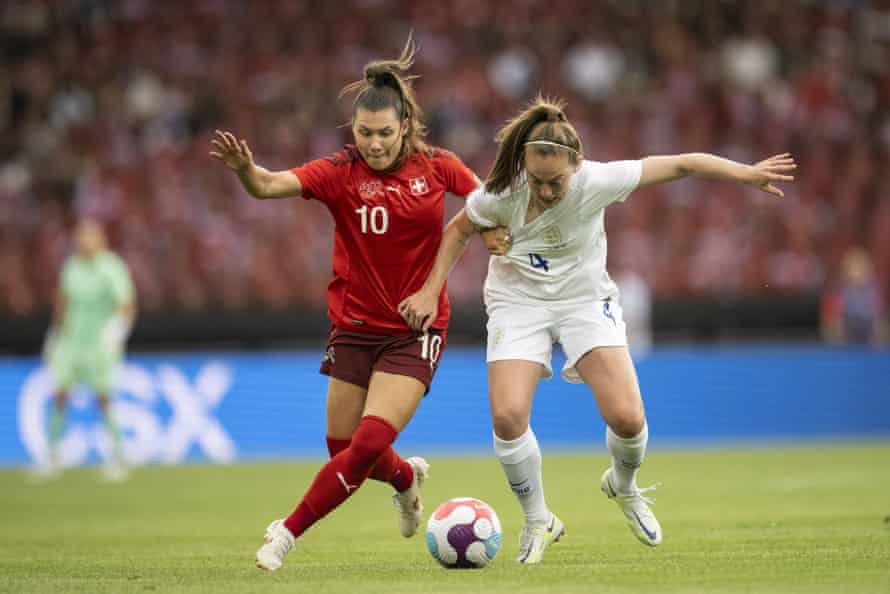 14 min: Bachmann spins into space again and drives towards the England box. She swans past Bright and attempts a one-two with Reuteler, but the return doesn't tee her up for a shot. Shame, that was a fine run.
12 min: In the dugout, Wiegman chews pensively on a four-colour biro, then starts making some presumably eye-catching notes.
10 min: Stanway gets overly physical this time, bringing down Maendly out left. Bachmann swings a free kick straight into Earps' arms. England respond immediately, Hemp skittering down the left and crossing low for Russo, who extends a telescopic leg and attempts to ram home. She nearly forces the ball through Friedli, but the Swiss keeper, so nearly beaten, springs backwards and gathers the slowly rolling ball on the line. England could feasibly be three up already.
8 min: Stanway and Greenwood snap into a couple of tackles in the midfield. The Swiss can't get anything going at the minute. England aren't letting them.
6 min: England should be leading pt.II. Russo with some quick feet out on the right. From a tight spot, she pokes a pass forward to spring Mead clear down the wing. She's got Kirby free in the middle, but doesn't spot her quickly enough. Instead she cuts back for Hemp, who batters a shot straight into Friedli's midriff. England just lacking the finishing touch at the minute.
4 min: England should be leading. Walsh creams a pass out right for Russo, whose mere presence causes panic in the Swiss defence. The ball breaks into the box for Kirby, who simply has to score, unattended ten yards out. But she slams her shot straight at Friedli, who makes a magnificent reaction save. She should never have been allowed to make it, mind, and Kirby smiles wryly.
2 min: England respond as Kirby sends Hemp into acres down the inside-left channel. Hemp flashes a shot-cum-cross through the six-yard box. Then the visitors come again, Kirby nearly opening the Swiss up down the middle with a shimmy and a dink. She's crowded out.
1 min: Switzerland start brightly. Bachmann turns into space down the middle and lays off for Maendly, who scoops a pass down the right for Sow. She's got time and space, but can't find anyone in the middle with her low cross. England clear.
Switzerland get the ball rolling … but only after both sets of players take the knee to warm applause. There's no room for racism. 11,000 tickets have been sold for this game, a Swiss women's record.
The teams are out! The hosts Switzerland wear their first-choice red, which means England don't have to switch out of their white clobber. The Stadion Letzigrund in Zurich is packed out and buzzing. Just the anthems to go, then, and we'll be off!
In-depth team previews? Stadium guides? We've got those as well. Euro fever is beginning to build, isn't it.
Search! Subscribe! Listen! Women's Football Weekly starts next Monday, and will be there for you throughout Euro 2022. Entertainment guaranteed.
Sarina Wiegman talks to ITV. "Of course we want [Lucy Bronze and Ellen White] in the squad, but at the same time this is an opportunity for other players, and we can try out some things, review that, and make decisions for next Wednesday. We've tried different things, Leah [Williamson] in midfield and now Leah at the back. We can use both options in the tournament and tonight we see this opportunity. What is today could change tomorrow, but we are in a good place and know what opportunities we have."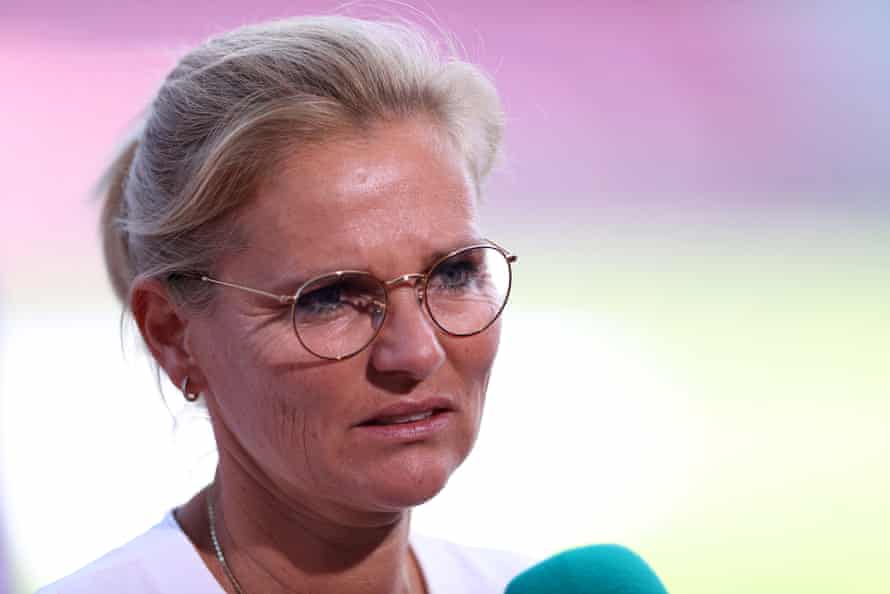 Need a few notes and pointers ahead of Euro 2022? We've got your back. Meet every single squad member at the tournament with the Guardian's magnificent interactive guide. Get clicking!
England make three changes to the side that beat the Netherlands 5-1 last week. Georgia Stanway, Beth Mead and Alessia Russo come in for Bethany England, Chloe Kelly and the poorly Lucy Bronze. Ellen White, freshly recovered from Covid, is on the bench.
Swiss captain Lia Wälti and Noelle Maritz face their Arsenal team-mates Mead and Leah Williamson. The aforementioned Ramona Bachmann and Switzerland's all-time leading scorer Ana-Maria Crnogorčević link up in attack.
The wait is nearly over. In six days' time, England kick off the 2022 UEFA European Women's Football Championship against Austria at Old Trafford. Does Sarina Wiegman know what her starting line-up that evening will be? "We're close but it's hard," she says. "And even though we're close, you still have the opportunities to change it a little bit, because the level is so high and it's so close. We have many options." So that's either a yes, a maybe, or a no, and you can't blame the England coach for declining to reveal her hand. But maybe we'll get one or two clues this afternoon. Here's Suzanne Wrack on the choices to be made.
The biggest questions are around who will start at No 10, with Fran Kirby, Georgia Stanway and Ella Toone in contention, which of Demi Stokes and Rachel Daly will play at left-back and who will start at centre-forward or is back-up to Ellen White should she not be ready after a week out [with Covid].

Asked whether Arsenal's Beth Mead could be deployed as a No 9, after England's top scorer under Wiegman drifted in from the wing to great effect against the Netherlands last Friday, Wiegman replied with a smile: "That's a very good question."
England are in a good place at the moment. They've won their last five games – against Germany, North Macedonia, Northern Ireland, Belgium and the Netherlands – to the cumulative tune of 26-2. Given that the Dutch, the reigning European champions, were swatted aside 5-1 in Leeds last week, and that Wiegman doesn't think Switzerland "will have the level of the Netherlands", England will look upon today's match as an opportunity to fill their boots ahead of the big event. Then again, the Swiss have Ramona Bachmann in their ranks, and when the star turn of the 2018 Women's FA Cup final is on her game, anything is possible. Kick off is at 5pm in Zurich. It's on!