23:34
My colleague Steven Bloor has put together a gallery of Warnie's best pictures. There is a superb shot of him celebrating a wicket in the 1999 World Cup final against none other than Pakistan, a beer-soaked moment with Merv and plenty from his tufty-blond heyday.
23:25
"As a teenage girl I spent many a baking hot summer at the Adelaide Oval in the heyday of the West Indies, Pakistan and Australia cricket battles," writes reader Emily from London.
"I remember feeling homesick and awestruck as I listened to the radio in the summer of 1999 in London to the gripping World Cup final against Pakistan in which Warnie took 4 for 33 from nine overs. It was tense, thrilling and a reminder of summers past. Thanks for the memories Shane."
23:22
Dan Walker from the BBC has posted this poignant interview with Warne only recently. He speaks about the mistakes he has made in the past and the difficulty of learning from them while in the public eye.
23:18
Cricket Australia has issued a media release announcing the Australian men's and women's teams will wear black armbands and pause for a moment's silence before their respective matches today in Pakistan and at the Women's World Cup in New Zealand.
"Arguably the greatest and most influential bowler the world has seen, Shane has been a hero and inspiration to millions of cricketers everywhere," said CA chair, Dr Lachlan Henderson. "He created cult status for leg spin bowling at a time that pace bowlers dominated the game.
"This has been a tragic couple of days with the passing of Rod and Shane and we continue to acknowledge their extraordinary impact on cricket in Australia and the legacies they leave. They were giants of the game with personalities to match.
"Our thoughts are with Shane's family and particularly his children Jackson, Brooke and Summer."
Henderson is going to speak to the media in Melbourne today next to the Shane Warne statue on the MCG concourse.
23:11
I can't stop reading Warne's final tweet, about the loss of Rod Marsh. It feels surreal. I saw it yesterday afternoon, looked at it and then moved on. Today it has been liked 142,000 times and retweeted almost 30,000.
23:06
Warne's former Australia captain, Mark Taylor, was clearly in shock when he also spoke with Nine this morning. Here's what Tubby had to say:
"I really can't believe it. You always felt that Warnie would just go on. He has had a turbulent life but a very full life.
"Warnie is one of the few people in any sport who gets to change the game and that's what Warnie did. He changed the game. When Warnie came into the scene, yes, he was a tubby sort of reddish-haired guy who loved to smoke, loved a beer.
"I was never a smoker, but I loved a beer and still do. I think that is where Warnie and I really struck up a great friendship. I was lucky that I got to captain him."
22:57
This comes from reader and "long-suffering England fan" Guy Hornsby.
"So soon after Rod Marsh, and out of the blue, the game has lost two giants. I never thought I'd see him go so young, and like so many England fans around in the '90s and '00s, he's our generation.
"For all his bombast he was a legend that changed the game, all too much for us English. You got used to watching him dismantle us, but while you hated the result, you couldn't look away. From the 'ball of the century' to that last wicket in Sydney, a game my twin brother Dave was lucky enough to see in the flesh, he tore up the rule book and made spin sexy.
"There's talk of him being 'cricket's Maradona', and I can see some parallels. The career highs and lows, the mischievous nature, the chubby lad who you felt was born to play the game. Of course, the world of cricket will never be that big but also there is something about cricket where these players still feel tangible and 'one of us' in a way Maradona or Kobe never could or would.
"Warne was one the transcended the normal, like Sachin, or Botham. It's unfathomable he isn't around. With Rod Marsh too overnight, cricket is a much poorer place."
22:53
Hello all and thanks Niall.
Ian Healy has just spoken with the Nine Network and said he was not completely surprised Warne had died before his time, but did not expect it to be quite so young.
"An early passing didn't surprise me for Warnie. He didn't look after his body that well. He yo-yoed up and down. He didn't put much sunscreen on. I thought it would have become skin issues for him over time, but not 52. And he would have been full of beans right to the end, I bet."
Healy also offered his own tribute, saying "Warnie spanned generations".
"Not only the way he played but he communicated with Richie Benaud regularly when he was a player, when he was a young player. He used to pick the brains of Richie Benaud. No one before him did that.

"No one really spent time as a mate with Richie Benaud. Then Ian Chappell. We are out on the field warming up, day in, day out, and Warnie is over at the wicket talking to Ian Chappell who is ready to do the toss or the pitch report. He picked the brains of the former players.
"He was the first to do that … that was the first thing that was different about Warnie – from a young age he was an old man."
Updated

22:34
Time to hand over to my colleague, Emma Kemp, who will guide you through reaction and tributes to Shane Warne in Australia. Thanks for joining me and for all the emails you sent in; sorry I couldn't use them all.
22:19
"As a 44 year old cricket tragic from Melbourne, there was no greater hero than Warnie in any field – his loss is a gut punch, a hole torn into Australia's cultural fabric," writes Andy Fisher.
"Watching him bowl at the MCG was the pinnacle of sporting experience for me and many Victorians – the larrikin hometown hero who had remade cricket single-handedly. The crackling hush descending as he stood at the top of his run, a glint in his eye, rolled the ball deftly again and again off the side of his wrist, a cobra mesmerising its prey.
"The theatre. The electricity. The ebb and flow of duels with the likes of Lara, Tendulkar, Flintoff. The way he held 90,000 people's hopes and dreams in his palm … and then the roar of release. Off-field he was always larger than life, in turns hapless or hilarious, getting into scrapes and never not chugging fully from the cup of life. RIP Warnie – you will always be Melbourne's favourite son."
Updated

21:45
Another lovely reader tribute, this time from Colum Fordham.



The hole left in the world of cricket by the sudden unexpected passing of Shane Warne is like the death of Diego Maradona for football fans. He was such a vibrant, fun-loving yet determined cricketer. The look of befuddlement on Mike Gatting's face when he received the ball of the century was just the start of a career that beguiled us all. Watching him bowl was poetry (and theatre) in motion, his dexterity and range of deliveries a joy to behold – unless you were on the receiving end. As Henry Blofeld just said on the radio, he lived life in the fast lane and his cricket would not have been so extraordinary if he hadn't.
21:35
Andy Bull has written this tribute to Shane Warne, a complex and charismatic figure whose legacy will extend far beyond the wickets where he was so dominant.
"You could try to measure Warne's greatness in statistics, but they wouldn't ever really begin to capture it. Instead, it's in the memories he left us with, like that indelible moment at Old Trafford. It's in the way he competed, and how he carried himself, his combination of high skill and low cunning, and how he matched his almost preternatural genius as a cricketer with the genuine, carefree air of a kid at play."
21:17
Here is Saturday's Guardian Sport front page:
21:06
More reaction from Australia, with Shane Watson tweeting: "I am numb!!! My hero, my mentor, my great friend, Shane Warne is no longer with us. Warnie, the impact you had on this great game and everyone around it is immeasurable. Thank you for being so bloody good to me. I am going to miss you so much. Rest In Peace SK."
The former Australia batsman Mark Waugh wrote: "This is just unfathomable to lose another great of our cricket family [after the death of Rod Marsh]. Warnie was the ultimate entertainer on and off the field, never a dull moment who lived life to the fullest. Deepest condolences to his loved ones. RIP mate."
20:47
More of your excellent tributes, which collectively show what a globally popular figure Shane Warne was:
"Test cricket has been my escape and a reminder of what is noble about man's desire to compete. And few shone brighter than Shane Warne. He was the Johan Cruyff of cricket" – Emiel de Bont in the Netherlands.
"I was fortunate to have watched Warne bowl live – unfortunately it was at the Wanderers in 2002 when Australia handed South Africa our worst ever Test thrashing. We used to watch Warne with a mixture of admiration for the magic he produced on the pitch, and fear of what he could do to our team" – Shabbir in Johannesburg.
"I am a lifelong West Indies supporter and remember one of the great performances from Shane in the 1996 World Cup semi-final in Mohali. West Indies had restricted Australia to 207 for 8 and were 173 for 3 in reply, apparently cruising into the final against Sri Lanka. Shane came on and took three more Windies wickets which sparked a spectacular turnaround. RIP Shane, a true genius" – Paul in Cromer.
20:32
"Shane Warne was the game, while making it something new. Warne was always there, the standard that no one could aspire to be near. Warne was, quite frankly, supposed to live for ever. He will, in a way, but now comes the shock to realise that he also won't."
Geoff Lemon reports from Rawalpindi on a momentous day overshadowed by the death of Rod Marsh and news of a terrorist attack in Peshawar – then followed by the news of Shane Warne's passing.
20:27
"I was at Old Trafford when Shane Warne bowled that ball," writes Martin Crookall. I'd been watching cricket for 25 years at that point; I had never seen a ball do that before. I didn't believe it was even possible. I knew I'd seen the past of cricket turn into its future in that instant. I am devastated that Warney's gone from us."
20:20
Mike Atherton, the former England captain and Sky commentator, has just landed in Antigua and is talking to Sky Sports News. He appears genuinely stunned, having heard the news while on the plane.
"I don't think I've ever been more shocked in my life. A man who had such vitality, full of energy and life … someone I played against for a decade in Ashes cricket, and commentated alongside for a long time. I don't think many people read the game better than him, he was the most intelligent bowler I played against, and that came across in his commentary.
"Leg-spin was a dying art in Australia when he was first picked – at that first Test match at Old Trafford, he was a little bit under the radar, until he bowled Gatts, and then he became a superstar of the game. He was two bowlers in one – brilliant defensively, and a magnificent attacking bowler. He's the greatest leg-spinner the game has seen."
20:13
"Like many others around the world, I am blindsided by the passing of Shane Warne," writes Hayley de la Motte. "Many of my earliest and fondest memories are of Warney with ball in hand. He was a cricketer whose unparalleled talent afforded him the rare luxury of succeeding on his own terms.
"From sneaking darts into fitness camps, to refusing be told which hat to wear on the field, his unwillingness to conform made him the rebel hero of my youth. At the same time, his unprecedented skill with the ball, wily charisma, and indomitable spirit made me proud to be Australian. Thank you for all the memories, and the great happiness you brought me and my family, Shane. You will be sorely missed."
19:49
Here's a tribute from beyond cricket – Rolling Stones frontman Mick Jagger:
And Ali Martin has written on tributes from Sachin Tendulkar, Pat Cummins and many more:
19:28
Tributes keep coming in from across the world of cricket. Ian Botham tweeted: "I've lost a great friend on and off the playing field. One of the best. My thoughts are with [his children] Jackson, Summer and Brooke … RIP Warnster."
The India captain, Rohit Sharma, said "I'm truly lost for words. An absolute legend and champion of our game has left us." Former India batter Virender Sehwag called Warne "one of the greatest spinners, the man who made spin cool."
Brian Lara tweeted: "Heartbroken and speechless … My friend is gone! We have lost one of the greatest sportsmen of all time! My condolences go out to his family. RIP Warnie. You will be missed."
19:18
Here is the Guardian's Shane Warne obituary, written by Matthew Engel:



Warne was almost certainly the greatest spin bowler cricket has ever produced. More than that, he was one of the most outsize personalities of any sport. Everything he did in his game and his life was on a grand scale: he lived fast and, it transpires, died young.

Warne singlehandedly revived the discipline of leg-spin, which by the time he burst into Test cricket in the 1990s was almost a lost art … spin bowlers in his era often found themselves apologetic figures brought on to give a little breather to the fast men. Warne was the reverse: he was not just a master of his craft; he commanded the arena.
19:02
BBC Radio Five are broadcasting an hour-long special paying tribute to Shane Warne, with Guardian writer Geoff Lemon joining Jonathan Agnew, Phil Tufnell, Mike Gatting and others – you can listen here if you're in the UK.
19:00
It's 6am in Sydney and Melbourne, with many Australians waking up to the terribly sad news that Shane Warne has died aged 52. The legendary former cricketer and TV broadcaster suffered a suspected heart attack while at his villa in Thailand.
Tributes have poured in from the world of cricket and beyond; we will continue to update this blog with reaction from Australia and more of your memories of Warne, named one of the five greatest cricketers of the 20th century by Wisden.
18:52
Thanks to reader Nikhil Ravishanker for this email. Sport's true legends are the ones imitated in playgrounds and on pitches around the world – and Warne undeniably belongs in this category.



I was seven years old when I first watched Shane Warne in action. The wizardry, the finesse, the sheer panache that he brought to the crease – all of this left an indelible impression on me. When I formally began playing cricket not long after, there was no doubt in my head that I wanted to be a leg spinner, like Warne. I spent hours and hours trying to imitate every single detail of Warne's bowling action, and it gave me such indescribable satisfaction every time I managed to get the ball to turn even a little. This was 18 years ago, and I no longer play serious cricket. But every time I step out to bowl, even if only for fun, it's Warne's endearing style that I strive to emulate. He was, and will forever remain one of my greatest heroes. RIP.
18:46
Here are some more thoughts from the England Test captain, Joe Root: "My experiences of Shane were of someone who absolutely loved the game. Growing up he was a massive idol of mine and someone you wanted to emulate. The way he could win a game on his own, his skill levels were incredible.
"Certainly as a young kid watching him play, I'd have been 14 when the 2005 Ashes were on, in many ways that series was a massive influence on my career. The way he captured the nation, along with the whole of that series … his phenomenal performances were the sort of things that make you want to get into the game and play at the highest level.
"I never got a chance to play against him but anyone that you speak to said how formidable he was to play against, not just with his skill level and how he played the game but he did it in the right way. I did get a chance to sit down and talk cricket with him and I'll fondly remember that. We had two or three hours. He really loved the game of cricket and he was great fun to be around. I'm deeply saddened to hear this news."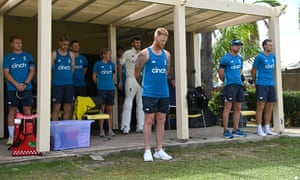 18:41
Basit Parker has emailed to highlight a memorable moment that sums up Shane Warne's brilliance, when he outfoxed South Africa's Daryll Cullinan at the SCG.
"Warne bowled a flipper to Cullinan which was entirely obvious, with Richie Benaud (another legend), noting that was 'the one Warne shows them'. He then bowled a half-tracker that was cut away, before bowling his true flipper which absolutely bamboozled the batter. I could say more, but condolences mostly to Warne's family, and to the wider cricketing community. We have lost an absolute gem today."
18:32
The UK prime minister, Boris Johnson, has tweeted a tribute to Warne. "Totally shocked and saddened to hear about Shane Warne – a cricketing genius and one of the nicest guys you could meet, who also did a lot to help disadvantaged kids into sport."
The Cricket Australia chief executive, Nick Hockley, who is currently in Pakistan for the Test series, said: "Shane was one of the most talented and charismatic cricketers we have ever witnessed. He loved cricket, had an extraordinarily astute understanding of the game and his influence and legacy will last for as long as it is played.
"We are in a state of complete shock at his sudden passing and our thoughts are with his family, his many friends and the legion of fans from all over the world who loved and admired Warnie for his unbelievable bowling skills, his humour, warmth and engaging personality."
18:18
Thanks, Luke. I'll start with more of your lovely tributes to Shane Warne; please keep them coming.
"As a cricket fan from Pakistan who grew up watching him, Warne epitomised Australian cricket. Larger than life, feisty, masterful, and near unbeatable. Cricket has lost a true ambassador of the game" – Hamza Tariq.
"'Warnie' became as much part of our sports discourse as Brits as it did for the Aussies. Not sure I can think of many Aussie sports stars that crossed that divide – which says a lot about the man" – Tom Palmer.
"I'd just finished reading the obituary of Rod Marsh – truly sad news, but this hit me like a steam train. Possibly the last true cricket hero of the free to air era here in England" – Jezz Nash.
18:04
Thank you for all the tributes you have emailed and tweeted. My colleague Niall McVeigh is here to take over the blog, so please keep the tributes coming. As a cricket fan I feel I must say: thank you, Shane Warne.
Updated

17:54
Another nice line from Mike Gatting on the 'Ball of the Century' from a previous documentary: "My partner at the other end said: 'If it was a cheese roll, I wouldn't have let it pitch.' That was Mr Gooch."
17:52
Vic Marks
The shockwaves are not confined to Australia. Shane Warne, like Rod Marsh, was a global presence in cricket. We were all trying to come to terms with the loss of Marsh, reading the torrent of tributes including this one from Warne, which suddenly acquired a haunting quality: "Sad to hear the news that Rod Marsh has passed. He was a legend of our great game and an inspiration to so many young boys and girls. Rod cared deeply about cricket and gave so much – especially to Australia and England players." Then the second thunderbolt struck and this time without any warning.
17:50
Mike Selvey, the Guardian's cricket correspondent, was there to witness Shane Warne's stunning entry into Test cricket in England on 2 June 1993. The "ball of the century" tag came later, but Selvey was in no doubt of its impact. This report appeared in the next day's Guardian with the headline "England Warne down and put in a spin".
"Gatting, perhaps suspecting a tabloid stitch-up or at the very least subterfuge from the wicketkeeper (not possible because Ian Healy was clueless too and groping down the leg side at the time), stood his ground, not in dissent or disappointment, but in total, utter disbelief before hauling himself away. He had every right. With that one remarkable delivery Warne has carved his name in cricket folklore."
Updated

17:49
James Hopkin: "Warne was also extraordinary in the commentary box, his love of the game beaming through with his unrivalled readings of the play – riveting in themselves – and his indefatigable humour and good will The unfairest of dismissals! He really should have gone on to equal his top test score of 99.
Neil Fullerton: "I want to echo one of your other readers' sentiments that it feels ridiculous to feel so stunned by the death of someone I have met or saw in the flesh. The thought that someone who seemed to radiate such energy and love of life could suddenly be gone just doesn't seem possible. Like so many other readers have said, Shane Warne was the reason I wanted to pick up a ball and start bowling. In my memory I spent the whole of the summer of '93 trying to get a tennis ball to do the things I'd seen Shane do on the TV. To me, he is up there with Michael Jordan in terms of sportsmen who transcended their sports … As an England cricket fan, you were terrified to see him come on to bowl, but you were secretly glad he was because you knew it really meant something to get the better of this man (not that it happened very often)."
Julian Dismore: "As the Rajasthan Royals' in-house videographer I filmed with Shane Warne many times between 2008 and 2012. I just can't believe the news about him passing away. The man was a sporting genius, charisma personified and such amazing company. I'm incredulous – he was just 52 and had so much still to give. We might have got off to a tricky start, he didn't really want a cameraman hanging around and distracting the team, but once we'd bonded on the dance floor he couldn't have been kinder. We had so many laughs. He will be missed terribly – and never forgotten. A true legend."
17:39
Andrew Strauss is speaking to Sky: "He was literally the greatest showman … No one played the game the way he did. The flamboyance, the enthusiasm for the game, the incredible competitive spirit that he had, and those extraordinary skills that he had in those fingers of his … you were playing the grand master of the game and he made you know it, as well.
"[Facing him] was a living, breathing nightmare … you're playing to his tune. That was his great skill. He was the poker player, the psychologist, as well as mastering that skill of leg spin bowling. I came out on the wrong end many times against him … and the one or two I did get runs against him, that's going down as the highlight of my career.
"He was an extraordinary human being, he really was … he loved nothing more to go out for a night and talk about the game of cricket … incredible company, you would never have a better night out than you would with Shane Warne … he had a great generosity of spirit … he was the greatest promoter of the sport than you can possibly get.
"If you look at the greatest cricketer, there's Don Bradman, and then there's Shane Warne … we're remembering how we went about his cricket … the ability to laugh at yourself and have a bit of a joke … that's what we all loved about Shane Warne."
Updated

17:35
Michael Vaughan on Instagram: "It just doesn't feel real to be talking about someone who once was an enemy on the pitch to one who became a great friend off it. I am absolutely gutted to have a lost a great friend .. one thing is for sure Heaven will be a lively place now the King has arrived."
17:35
"Without a doubt, he is No 1 ever," Gatting told Sky Sports. "There has been a lot of great cricketers, great spinners and great leg-spinners but Warnie will always be certainly from my point of view the No 1." On the famous delivery, Gatting added: "The nice thing is he always said 'thanks for that, mate, it started my career off'. All I could say was 'it was a bit too good for me' like many others who would suffer the same fate." (PA)
17:30
One of the most notable things about the Ball of the Century was the batsman that received it. Gatting was a fine player of spin – in fact he viewed most of them dismissively. He thought spinners were there to be milked for relatively easy runs, or to be smashed out of the attack altogether, and he often did both batting for Middlesex at Lord's where I grew up watching him captain the side. And then Shane Warne turned up, and changed the game with a single delivery.
Updated

17:27
Phil Simmons, West Indies coach, has spoken to Sky Sports News: "It's a sad day for cricket. I played against Warney earlier, when he just started, on the 1992 tour … his legacy and his genius speaks for itself in how he transformed leg spin bowling and cricket on the whole. He had a big impact in all cricket … the way he did things, he did it a lot different to everybody else, and got results.
"I remember him playing against us and his battles with Brian Lara in the Test series down there [in Australia] … I hope he's remembered in that way, that he brought new aspects to the game of cricket. Nothing was a barrier … in cricket in general … people at Rajasthan [where Warne coached in the IPL] still speak about the different way they played and how they prepared."
17:16
Charles Bickford: "Watching my son get gripped by cricket and particularly leg spin has been a beautiful, bright spot this dark summer. How well I remember my own first summer when cricket bit – and how it became a companion throughout my life.
"He's shown a natural aptitude for it, and a strong work ethic. We've been in the nets most mornings before school this summer – weather permitting. It's been a time travelling experience into the world of young men for me – as the summer progressed we were joined by various local kids and their talk of players past and present, ball types and arguments over 6s and catches. The mind games of Shane Warne. Last week he found he can try out for a Victorian U12 team. My mum framed the letter. I catch him watching old cricket videos all the time. Warnie's voice drifts downstairs describing how to bowl a flipper.
"I was awoken by the rain just now at 3:30am in Melbourne – that weird vector where I often wake – 12 hours before/after I collect him from school. Five hours before this week's match is due to start – the absurdly large club kit bag in the car outside. This time the rain carries the message that the game, the last of this season will be cancelled – and it is almost a relief as I don't think we could possibly know what to do on the field with this awful, awful news."
Updated