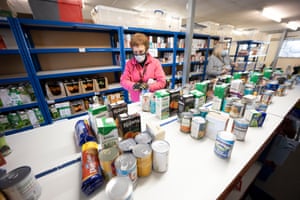 Inflation is causing particular pain for families who rely on food banks, as the prices of essential items has jumped.
My colleague Zoe Wood reports:
With its colourful beach huts and quaint high street, Whitstable is a tourist mecca in the school holidays. But the pile of shopping bags in the Canterbury and District food bank tells a different story about real life in the picturesque Kent seaside town.
The nearly 200 bags, with extra treats such as leftover chocolate advent calendars poking out, are ready to hand out at 22 local schools before half-term as, amid a worsening cost of living crisis, they know some children might go hungry without school dinners.
But soaring inflation is not just hurting the finances of local residents, it is having a dramatic impact on those of the food bank. Demand for its food parcels is at a record high and it has gone from spending nothing on groceries to £3,000 a month to cover the shortfall in donations.
But not only is the charity having to dig into its own pockets, each pound is not going as far as it used to, as the price of everyday foods – from fruit juice to pasta, biscuits, breakfast cereal and long-life milk – climbs up.
The cost of the groceries in one of its standard parcels (enough to feed one person for three days) has increased by 71p – nearly 6% – to £12.64 since December, as a wave of new year price rises arrived on supermarket shelves.
Some of the increases look small – 3p on a packet of bourbon biscuits or 5p on a box of cornflakes – but are big hikes relative to the price tag of what are the cheapest staples the charity can find the high street.
This is one of the reasons anti-poverty campaigner Jack Monroe says the cost of living crisis for the country's poorest households is underestimated in official data. The food bank's shopping basket provides a proxy for that experience.
Peter Taylor-Gooby, professor of social policy at the University of Kent, who is also one of the charity's trustees, estimates that the cost of its standard food parcel rose by 6.5% in 2020 and more than 7% in 2021.
The consumer prices index – the official measure of inflation targeted by the Bank of England – rose in comparison by 0.9% and 2.6%.
Here's the full story.