Eurozone inflation at record: What the experts say
It may be a difficult day in the office for ECB policymakers after inflation soared to 8.6%, more than four times the 2% target, says Alastair George, chief investment strategist at Edison Group:
But low-income consumers face even more diffulties, given 40% increases in energy prices, George adds:
We believe the ECB faces an unenviable task. The supply shock in terms of energy is enormous and likely to worsen as winter approaches and Russia uses energy supplies as a political weapon.

This is putting massive pressure on the eurozone consumer and economic momentum is weakening with PMI indices for new orders already indicating contraction.

In hindsight, the ECB is likely to be seen as hiking rates into a recession.
Fawad Razaqzada, market analyst at City Index and FOREX.com, says stagflation is the key risk facing the Eurozone:
This means the euro is going struggle to shine much even as the ECB has paved the way for aggressive 75 basis point rate hikes in July and September.

Additionally, the fact that inflation has been diverging across the eurozone means the ECB will have a tough time with its anti-fragmentation tool and may make a bigger mess out of the whole situation.
Pushpin Singh, economist at the CEBR, says there will be "significant knock-on effects on the Eurozone economy" if the ECB starts raising interest rates in July, amid the energy crisis.
This comes amid a mounting possibility of a severe gas crisis in Europe, with Russia using gas exports as a means to counter sanctions against it.

Consequently, gas shortages have led to Germany and the Netherlands triggering their own emergency plans to moderate gas usage and supply.

It is likely that if a gas shortage hits the currency bloc, economies will seek to close off supplies to industry first, thereby heralding a drop-off in output in sectors such as manufacturing. In turn, this could result in a reduction in aggregate economic activity and bring recessionary pressures.
At 8.6%, eurozone CPI has now matched the US's record inflation rate in May.
But while the Federal Reserve has already raised interest rates three times this year, the ECB has signalled that its first rise will come this month.
June's accelerated inflation could raise the case for the ECB to kick off with a 50-basis point rise, rather than a 'typical' 25bp increase.
But the UK is still suffering higher inflation, at 9.1% in May.
And earlier this week, the governor of the Bank of England warned Britons should expect to suffer a more severe bout of inflation than other major economies.
Core inflation across the eurozone was broadly stable at 3.7% — if you strip out volatile (but essential!) factors such as energy and food, plus alcohol and tobacco.
That's almost twice the ECB's target, but lower than in the US or the UK….
Eurozone inflation hits record 8.6%
Eurozone inflation has hit yet another record high, as Europe's cost of living crisis deepened.
Consumer prices surged by 8.6% in the year to June, data body Eurostat estimates, accelerating from the 8.1% inflation recorded in May, and higher than forecast.
This latest surge increasing the pressure on the European Central Bank to start raising interest rates from record lows this month.
The increase was driven primarily by energy prices, but food, goods, and services costs also kept rising.
Energy is expected to have the highest annual rate in June (41.9%, up from 39.1% in May), followed by food, alcohol & tobacco (8.9%, up from 7.5%), non-energy industrial goods (4.3%, up from 4.2%) and services (3.4%, down from 3.5% in May).
Inflation has risen steadily for more than a year now, initially fuelled by post-pandemic supply shocks and now by energy prices on the fallout of Russia's war on Ukraine.
It's now four times as high as the ECB's target.
Brexit trade frictions added to UK factory woes in June, says Duncan Brock, Group Director at the Chartered Institute of Procurement & Supply:
New order levels fell for the first time since January 2021 and interest particularly from export markets faded away for the fifth month in a row.

Supply chain managers reported that ports and paperwork were their undoing in June with Brexit a thorn in the side of manufacturers combined with weaker domestic demand, inefficient performance in supply chains and an overall shaky UK economy.

The consumer goods sector took the brunt of the shortfall overall as the mounting cost of living crisis affected spend for manufactured goods. One bright spot remained job creation as businesses played catch-up after lockdowns and disruptions but hires will soon reach peak levels without a steady pipeline of work to keep the machines turning.
UK manufacturing loses more steam as output growth grinds to near-halt
Output growth at UK manufacturers ground to a near standstill in June, the latest sign that the economy is slowing as consumers cut back.
The closely-watched S&P Global / CIPS UK Manufacturing PMI report has also found that business optimism hit a two-year low last month.
Activity rose at the slowest pace in two years, as new orders fell for the first time since January 2021.
And the consumer goods sector was especially hard hit, as household demand suffered a steep retrenchment on the back of the cost-of-living crisis.
The healthcheck on UK factories found that:
Output growth slows to near-stagnation pace…
…as new order intakes fall for the first time since January 2021
Price inflation remains elevated despite further easing
Companies blamed the fall in new business on a range of problems — including the weaker economic outlook, reduced new export order intakes, slower growth of domestic demand, the war in Ukraine, raw material shortages and the slowdown in China.
New export orders contracted for the fifth month running in June — with some firms saying ongoing Brexit-related difficulties and weaker growth had hit orders from the EU.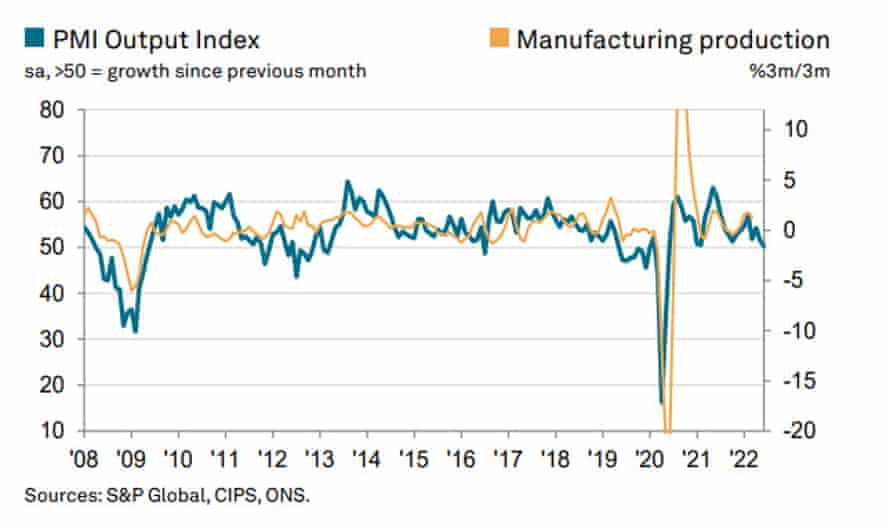 This pulled the manufacturing PMI down to 52.8 from 54.6 in May. That's worse than the preliminary "flash" reading of 53.4 taken during June, and nearer the 50-point mark showing stagnation.
Rob Dobson, director at S&P Global Market Intelligence, said:
Domestic market conditions became increasingly difficult and foreign demand fell sharply again, stifled by Brexit, transport disruption, the war in Ukraine and a global economic slowdown.

Business confidence took a hit as a result, dipping to its gloomiest since mid-2020. Jobs growth also slowed sharply amid the increasingly uncertain outlook and recent surge in energy costs.
Dobson warns that economic conditions may worsen:
"There were some welcome signs that supply-chain constraints and cost inflationary pressures may have passed their peaks. However, with these constraints still elevated overall and demand headwinds rising, it is likely that UK manufacturing will see the economic backdrop darken further in the second half of the year."
Putin swoops on Sakhalin-2 gas project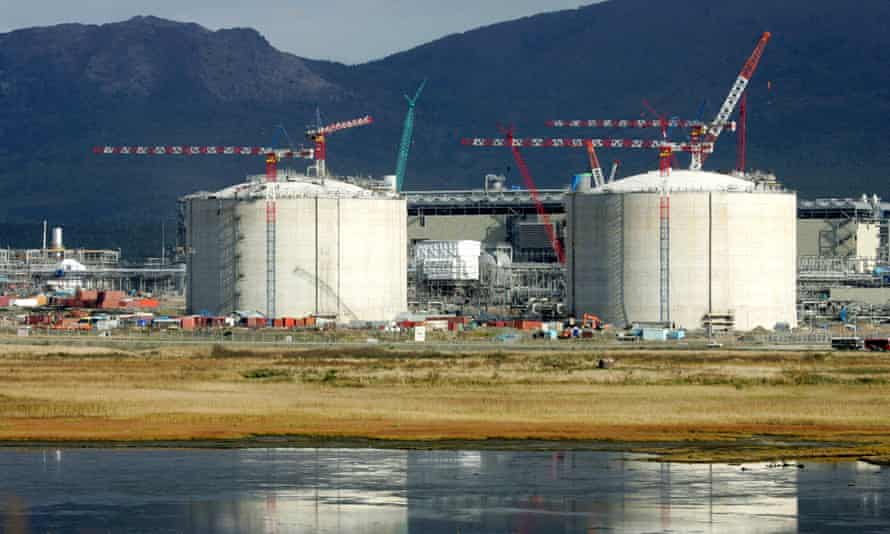 The economic battle between Russia and the West has taken another twist, after President Vladimir Putin signed a decree to take charge of the Sakhalin-2 gas and oil project.
The move could force Shell and Japan's Mitsui and Mitsubishi to abandon their investments in the project, in Russia's far east.
The decree, issued by the Kremlin on Thursday and signed by Putin, says Russia will create a firm to take over all rights and obligations for the project. It cited threats to Russia's national interests and economic security.
Stakeholders have one month to ask for a holding in the new company, and those who opt out may not be fully compensated.
Shareholders include Russian gas giant Gazprom (which owns almost 50%) and Shell with a 27.5% stake, while Mitsui & Co and Mitsubishi own stakes of 12.5% and 10% each.
Shell had pledged to exit the project after Russia invaded Ukraine, and that it wouldn't make new investments in Russia. So Putin's move may complicate its exit strategy….
Eurozone factory downturn 'set to gain momentum'
Manufacturing output across the eurozone has fallen for the first time since the depths of initial Covid-19 lockdowns in early 2020.
The S&P Global Eurozone Manufacturing PMI, which tracks activity in the sector, shows that output fell for the first time in two years.
Growth slowed across euro area countries, with new orders and export demand both dropping, while business confidence slid to a 25-month low.
With demand falling, backlogs of work fell for the first time in almost two years.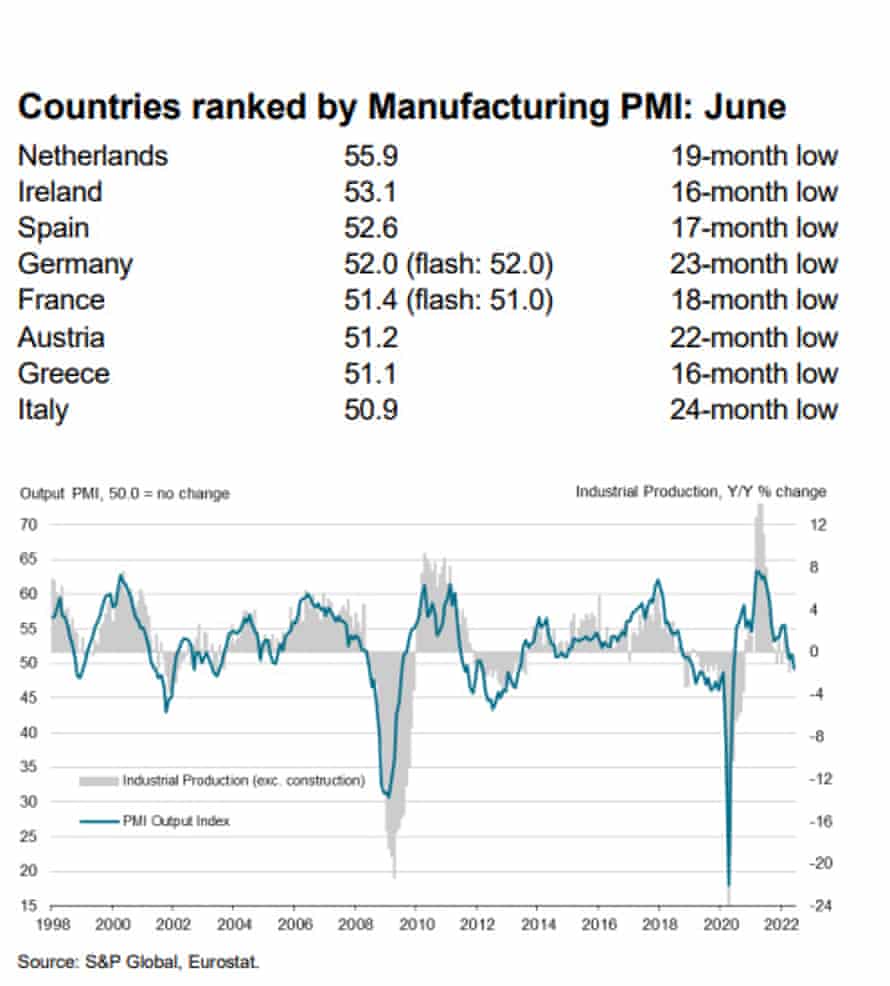 The overall Manufacturing PMI came in at 52.1, down from May's 54.6 (but slightly higher than the flash reading during June).
But the Output Index sank below the 50-point mark showing stagnation, to a 24-month low of 49.3.
Chris Williamson, Chief Business Economist at S&P Global Market Intelligence said eurozone manufacturing has moved into decline in June as demand fell.
Orders for goods have fallen at an accelerating rate over the past two months, dropping in June in every country surveyed with the exception of the Netherlands, and even here the rate of growth has weakened markedly in recent months.

Demand is now weakening as firms report customers to be growing more cautious in relation to spending due to rising prices and the uncertain economic outlook.

The downturn looks set to gain momentum in coming months.
Better news: China's manufacturing activity expanded at its fastest in 13 months in June.
While other Asia-Pacific factories suffer a slowdown, China's plants saw a jump in activity as Covid lockdowns were lifted and manufacturers raced to meet demand.
The Caixin China General Manufacturing PMI found that output rose for the first time in four months, with new orders and new export sales also managing a modest rise.
Dr Wang Zhe, senior economist at Caixin Insight Group, explained:
The easing of regional Covid-19 lockdowns and other restrictions contributed to the recovery.

"Manufacturing supply surged, and demand improved. As Covid restrictions were loosened, production in the manufacturing sector gradually moved toward normality. After three months of contraction, the gauge for output returned to expansionary territory and jumped to its highest point since November 2020.
The recovery of manufacturing demand was not as strong as that of supply, though, and employment levels continued to drop.
Bulb boss Hayden Wood to step down from collapsed energy firm

Mark Sweney
The chief executive and co-founder of the collapsed energy firm Bulb will leave at the end of July, having controversially continued to receive a six-figure salary while the firm is being propped up by billions in taxpayer loans.
Hayden Wood is leaving Britain's seventh biggest energy supplier, which has about 1.5 million customers, as the government continues to seek a buyer to save Bulb.
He stayed on at the company after it went into "special administration" – the largest casualty of soaring energy crisis – in November last year.
Bulb was criticised for keeping on Wood, who co-founded what was once one of the UK's most celebrated startups in east London in 2015, given its £1.7bn rescue was the biggest taxpayer bailout since government interventions in Royal Bank of Scotland and HBOS in 2008.
Here's the full story;
Customer service standards have fallen to record lows at energy companies, with suppliers Utilita and Ovo Energy among the worst offenders, according to a new report.
Customers have had to wait longer for their calls to be answered and have regularly been unable to get hold of their supplier, research by Citizens Advice has found.
Many people have had to navigate an uncertain market that sent nearly 30 suppliers into administration and caused household bills to soar.

Dan Milmo
The EU has moved to rein in the "wild west" of crypto assets by agreeing a groundbreaking set of rules for the sector.
Representatives from the European parliament and EU states thrashed out an agreement on Thursday that contains measures to guard against market abuse and manipulation, as well as requiring that crypto firms provide details of the environmental impact of their assets.
Stefan Berger, the German MEP who led negotiations on behalf of the parliament, said:
"Today, we put order in the wild west of crypto assets and set clear rules for a harmonised market."
Generali Investments: mood will remain gloomy this summer
The mood in the markets is likely to remain gloomy this summer, predicts Generali Investments.
They predict central banks will keep tightening monetary policy in an attempt to squeeze inflation and stop a wage-price spiral breaking out (so-called 'second round effects')
Central banks are on a mission to fight the inflation beast – whatever it takes, even a recession. The financial mood will remain gloomy this summer as economic data deteriorates while central banks walk their hawkish talk.
We expect the Federal Reserve to turn less aggressive this autumn, as it faces a deterioration of the economy and, eventually, employment data. Inflation headlines will also cool off by then, and more so in Q1.
But for now, central banks are left lamenting about second-round effects. The 'wishful-thinking' approach to policy (inconsistent ECB and Fed forecasts) have also delayed the market reckoning about the economic pain. We also question the ECB's political and legal capacity to reallocate its huge balance sheet as it tries to lean against fragmentation.
World markets rack up worst first-half on record
Markets are reeling from their worst first-half to a year in decades, as we blogged yesterday.
By last night's close, MSCI's World Equity Index has fallen by a fifth this year – the worst since it was created in 1990.
That wiped around $13 trillion off the index of global stocks since the start of January, Reuters has calculated, as investors baulked at central bankers' determination to raise interest rates to cool inflation.
Wall Street posted its worst first half since 1970, as recession worries knocked the S&P 500 down over 20% during 2022.
Deutsche Bank's Henry Allen and Jim Reid point out that government bonds, and corporate debt, also tumbled in value this year:
It's hard to overstate just how bad markets have performed over recent months, with the returns in Q2 very much following in Q1's footsteps. A range of asset classes saw significant losses, including equities, credit and sovereign bonds, whilst the US dollar and some commodities like oil were among the few exceptions.

In fact, in total return terms we've just seen the biggest H1 decline for the S&P 500 in 60 years, and in June alone just 2 of the 38 non-currency assets in our sample were in positive territory, which is the same as what we saw during the initial market chaos from the pandemic in March 2020. On a year-to-date basis as well, just 4 of 38 are in positive territory, which as it stands is even lower than the 7 assets that managed to score a positive return in 2008.
So how's the second half of 2022 looking? Not great, with European markets opening in the red, and the FTSE 100 dropping 0.6%.
Introduction: Asia factory slowdown adds to economic worries
Good morning, and welcome to our rolling coverage of business, the world economy and the financial markets.
2022 has been a grim year for the markets, and a rough one for the global economy, as the Ukraine war and pandemic lockdowns in China have driven up inflation and slowed growth.
Six months into a year to forget, recession fears continue to rise as business and consumer confidence are hammered.
And the latest surveys of purchasing managers show that factories in several Asia-Pacific markets continue to suffer from supply disruptions, rising costs and material shortages,
South Korea's manufacturing sector slowed further in June, as foreign demand continued to weakened.
Usamah Bhatti, economist at S&P Global Market Intelligence, explains:
"South Korean manufacturers were increasingly concerned that the risks posed by ongoing shortages, disruptions and inflationary pressures would take longer to dissipate.

As such, the degree of business optimism eased in June to the softest for eight months."
Japan's factories suffered a near-stagnation in new orders….
…while factory output fell in Taiwan for the third month running, as a rise in Covid-19 cases caused disruption.
Annabel Fiddes, economics associate director at S&P Global Market Intelligence, said Taiwanese manufacturers reported a further decline in output and a quicker drop in sales, adding:
The fact that firms currently project a fall in output over the coming year emphasises the challenges that lie ahead.

Not only are firms facing the unpredictable nature of COVID-19 waves, but strong inflationary pressures globally, stretched supply chains and uncertainty over the Russia-Ukraine war.
Asia's stalling manufacturing activity will add to worries of a sharp global economic slowdown.
We learned yesterday that UK household incomes have fallen for an unprecedented fourth quarter in a row, even before the full impact of Russia's invasion of Ukraine.
Pictet Wealth Management fears recessions in the US and Europe in the coming year "looks inevitable", as interest rates are raised and real incomes are squeezed:
"One consequence of the unprecedented shocks facing the world economy, following the pandemic, the war in Europe, as well as major disruptions to supply chains, is that business cycles are likely to be shorter and more volatile than in the past two decades.
We get a healthcheck on eurozone, UK and US factories today, while eurozone inflation could hit a new record high. Economists predict eurozone CPI jumped by 8.4% per year in June, up from 8.1% in May.
The agenda
9am BST: Eurozone manufacturing PMI for June
9.30am BST: UK manufacturing PMI for June
9.30am BST: UK mortgage approvals and consumer credit for May
10am BST: Eurozone inflation for June (flash estimate)
3pm BST: US ISM Manufacturing PMI report for June