18 min Antonio barrels by Fernandinho, who can't keep up but then does brilliantly to slide in, miss the ball first time, but nick it away while he's on the floor.
16 min On 16 minutes, more applause for Noble, who wears the number 16 shirt.
15 min City build and work an angle for De Bruyne to sticks a ball into the box … but it won't come down for Jesus, who can't fiddle a shooting opportunity. He wants a penalty, but ref and VAR say to the contrary.
14 min Email! "I read somewhere that Mark Noble has been on the losing side in more London derbies in the Premier League than any other player," says Ian Burch. "I think it's fair to say that there are a lot of supporters in the capital who'll be sad to see the back of him."
I don't know – he's just played in teams not as good at Chelsea, Spurs and Arsenal.
12 min More City possession, moving the ball from side to side as they seek an attack-altering pass. West Ham, though, look solid, their defensive spacing bang-on and forcing City to come up with something.
10 min This has been a pretty quiet start, but now we've got some excitement: one of the linos has slipped … no he hasn't, Laporte has absolutely nailed him, leaving studs on heel! But he's fine.
8 min On that point, I was surprised Grealish didn't start against Atletico for the same reason. I'm not sure what Guardiola's plan is for him long-term, because it's hard to see him as a big-game fixture in this side.
7 min The game might just be settling into a pattern now, City moving the ball as West Ham shuttle from side to side. I guess this is why Grealish is playing today – with no space left in behind, his relative lack of pace won't matter, and his ability to prompt and create will be useful against a well-drilled and deep defence.
5 min City win a free-kick down the left that Mahrez swings in – it's easily cleared by Fabianski. City do then ringfence the box to keep West Ham hemmed inside inside it, bur Laporte can't do anything with De Bruyne's ball in.
3 min Bowen swings a cross into the box that Ederson tips behind, then when the corner goes short, Fornals plants a cross onto Dawson's head! But he's a fair way out and gets under the ball, sending an effort over the top.
2 min City are wearing that weird snide-looking pyjama top away kit, presumably because if they played in their usual sky blue the light blue on West Ham's shoulders might confuse, er no one. Anyhow, Bernardo fires a ball over the top that won't quite come down for Zinchenko, who pokes wide.
1 min And off we go!
The players take the knee. Black lives matter.
Spurs have beaten Burnley 1-0, thanks to (another) dodgy Harry Kane penalty. Arsenal will have to find something tomorrow night, and given their injury issues, that's a difficult ask.
Now here come the teams!
Here come Noble now, walking out into the London Stadium alone as the crowd cheer. He's made 548 West Ham appearances, a ridiculous effort which puts him joint-sixth on the all-time list, and there are tears in his eyes as he applauds the supporters who hold him in such high regard.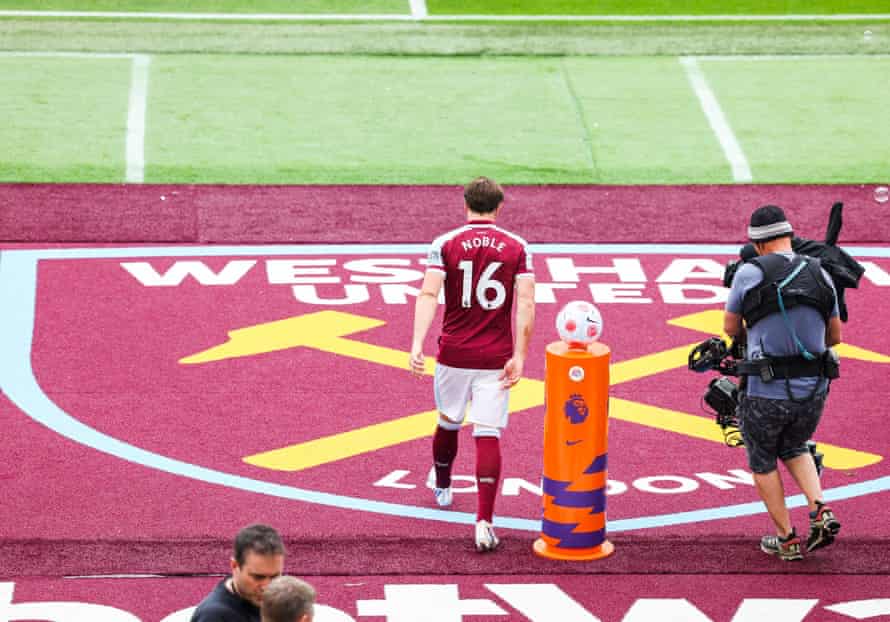 Geoff Shreeves is sitting in a caff with Mark Noble. It's well authentic, and Noble says he's left the club in a much better state than he found it, which is, well, a take.
Gabriel Jesus leads the line for City today – probably, as it's also possible Jack Grealish plays through the middle. He might only have two games left as a City player, given the arrival of Erling Haaland will limit his opportunities even further. Ultimately, he's not a good enough finisher or all-round striker to demand better, but his knack of making things happen is a useful one, and at 25, he's still got time to improve, especially if he's playing every week.
Moyes tells Sky that it's a really big game for both teams – more news as I get it. He notes that City have scored a lot of goals lately, but West Ham will need to get at them.
Guardiola says he wants to involve everyone, which is why he's made the attacking changes he has. He congratulates West Ham for two amazing seasons, identifying set-pieces and transitions as particular threats.
The more I look at the two teams, the more I can see a way for West Ham today – City are vulnerable in the middle of their defence. But looking at the two teams is very different to looking at the game as it unfolds on the pitch, and City just have so much attacking class that if they play even reasonably well, West Ham will probably have to score twice to get a draw.
Eesh, Ashley Barnes has just hit the post for Burnley. This one isn't over – not by a long chalk.
Elsewhere: a Harry Kane penalty, in the eighth minute of first-half injury-time, sees Spurs lead Burnley with an hour gone. If they can hang on, Arsenal will be under pressure at Newcastle tomorrow night, while Everton will be closer to safe.
Noble's best moment in a West Ham shirt? Surely this.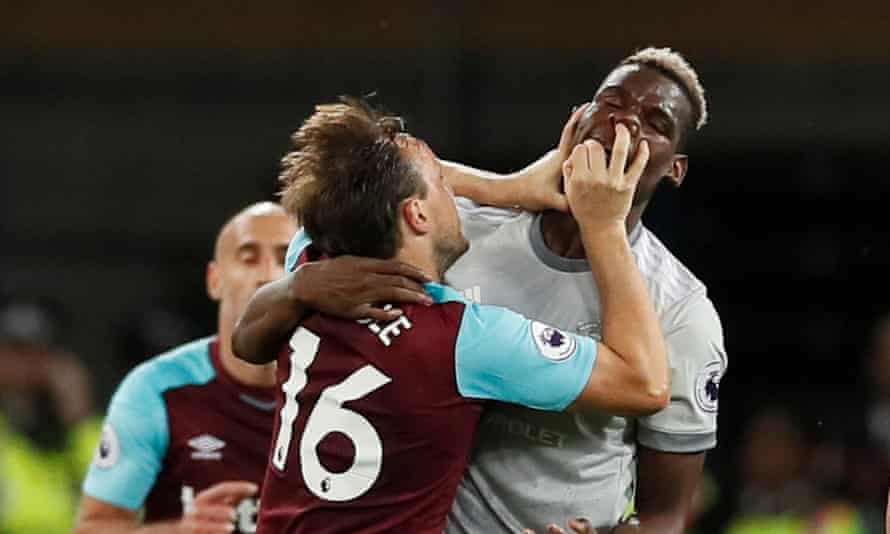 Mark Noble plays his final home game for West Ham this afternoon. He's on the bench, but I'm sure we'll be seeing him at some point.
I do wonder why Foden isn't playing today – with just two games left, resting him doesn't make that much sense. But perhaps Guardiola wants to have him in reserve, to come on fresh after an hour or so as West Ham legs tire.
City, meanwhile, are without Kyle Walker, John Stones and Ruben Dias, all out for the season, but Fernandinho and Aymeric Laporte both passed fitness tests and will play in the middle of defence. Otherwise, Riyad Mahrez, Gabriel Jesus and Jack Grealish replace Ilkay Gundogan, Raheem Sterling and Phil Foden.
Moyes makes one change from last week's 4-0 over Norwich, Tomas Soucek replacing Saïd Benrahma. There's a very solid look to their side, and they won't be giving this away.
West Ham United (a blanketing 4-5-1): Fabianski; Coufal, Zouma, Dawson, Cresswell; Rice, Soucek, Lanzini, Fornals, Bowen; Antonio. Subs: Areola, Yarmolenko, Vlasic, Noble, Fredericks, Masuaku, Johnson, Kral, Oko-Flex.
Manchester City (an implacable 4-3-3-): Ederson; Cancelo, Fernandinho, Laporte, Zinchenko; Rodri, De Bruyne, Bernardo Silva; Mahrez, Jesus, Grealish. Subs: Steffen, Ake, Sterling, Gundogan, Foden, Egan-Riley, Mbete, Palmer, Lavia.
One hundred points; 98 points; 81 points; 86 points; 89 points and counting; however you slice it, the evidence insists that Pep Guardiola's Manchester City have near-enough mastered domestic football. Never before has a team accumulated such tallies, nor demanded such tallies of opponents simply to get in the race. Frankly, it's ridiculous
And, should City win today, they'll be on the cusp of a second successive title, a fourth in five years. They'll not want to allow Jürgen Klopp's messianic monsters even the prospect of a final-day goal-race, so won't be celebrating if they get a result this afternoon, but it's impossible to see them not getting the four points they need to be champions just as it's been impossible to see them dropping points in the run-in; domestic football, near-enough mastered.
So what can West Ham do to stop them? Er, maybe a lot and maybe a little. David Moyes' men have enjoyed another superb season, and on a good day are a brutal prospect for any side, especially given their need to qualify for the Europa League. But over the last few weeks they've been slowly seeping gas, and the disappointment of semi-final defeat to Eintracht Frankfurt will be still extremely sore. They'll need to mine their deepest recesses of nastiness and remorselessness to dredge up a performance today – but make no mistake, they are capable.
Kick-off: 2pm BST