19:29
Tea: West Indies 65-3, trail by 217 runs
A promising start for England in pursuit of the implausible, with Saqib Mahmood striking twice – but the Windies' go-to duo of Kraigg Brathwaite and Jermaine Blackwood have steadied the ship. The draw remains firmly on the cards but it's not quite over yet; more soon.
19:27
30th over: West Indies 65-3 (Brathwaite 32, Blackwood 14) Time for Dan Lawrence, who dislodged Jermaine Blackwood in the first innings, to try and do so again before tea. Oof, his final ball stays very low, and almost traps Blackwood in front. That would have been something.
19:22
29th over: West Indies 63-3 (Brathwaite 32, Blackwood 12) A silly mid-off joins the cluster of fielders at Blackwood's feet, but Leach drifts onto his pads and is put away for three runs. Blackwood into double figures, Brathwaite going absolutely nowhere as tea looms.
19:20
28th over: West Indies 60-3 (Brathwaite 32, Blackwood 9) Blackwood nudges Stokes through midwicket, taking him to a Gaylesque nine from 49.
19:15
27th over: West Indies 59-3 (Brathwaite 32, Blackwood 8) Leach and Brathwaite add another uneventful chapter to their week-long saga. Maiden, and a maximum of 38 overs remaining.
19:14
26th over: West Indies 59-3 (Brathwaite 32, Blackwood 8) Stokes draws a flinch of the shoulders from Brathwaite with a short one that cuts in sharply off the seam.
Stokes then has to stop his run-up, distracted by a pitchside DJ in a bright yellow shirt. Stokes offers up a thousand-yard stare, and the man behind the wheels of steel ducks out of sight. The bowler turns his gaze to Blackwood, and his final ball kicks off the surface, but the batsman is unmoved.
19:08
25th over: West Indies 58-3 (Brathwaite 31, Blackwood 8) Leach looks the more likely, again finding big turn that has Blackwood on the back foot, before the batsmen cuts away for a couple – ending a run of 14 dot balls.
19:05
24th over: West Indies 56-3 (Brathwaite 31, Blackwood 6) Stokes keeps thundering along, but Brathwaite is starting to look rooted in the crease. Maiden, and we're now closer to tea than to the last wicket.
Are you all watching Forest v Liverpool? For shame.
19:01
23rd over: West Indies 56-3 (Brathwaite 31, Blackwood 6) Leach wasn't having much luck at the Malcolm Marshall end, so now he gets a go from the Joel Garner end. There's an immediate improvement, the first two deliveries jagging off the surface, the last beating Blackwood's bat. Blackwood does pinch a couple from a looser ball, taking his total to six off 38 balls.
18:58
22nd over: West Indies 54-3 (Brathwaite 31, Blackwood 4) Tea will be at 3.25pm (7.25pm GMT), and England surely need another wicket by then. Stokes keeps working his line, Brathwaite fending him off with a dismissive straight bat. Another maiden.
Updated

18:54
21st over: West Indies 54-3 (Brathwaite 31, Blackwood 4) Root continues, finding turn and bounce that forces Blackwood back. There's a middling lbw shout, plenty of "love that, Rooty" from Ben Foakes, and one run from the over.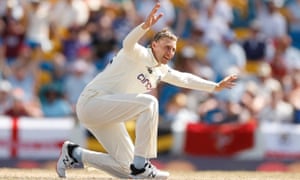 Updated

18:51
20th over: West Indies 53-3 (Brathwaite 30, Blackwood 4) Ben Stokes comes in – perhaps Leach will resume where Root left off at the other end. An overstep for a no-ball, an unwelcome sight for any fidgety patrons looking forward to the tea break. A short ball is jabbed away by Blackwood, short of Lees at short leg.
18:45
19th over: West Indies 51-3 (Brathwaite 29, Blackwood 4) Root's having a bowl! And there's a big, if not huge, appeal for lbw on Blackwood. It looked to be high and wide, and there's no review. Maiden, but that's not important right now.
18:43
18th over: West Indies 51-3 (Brathwaite 29, Blackwood 4) Jack Leach fails to find much inspiration, with one drifting delivery put away by Blackwood. He runs three, which feels like showboating at this point.
18:39
17th over: West Indies 48-3 (Brathwaite 29, Blackwood 0) Mahmood continues to menace the Windies batsmen with his variations, before Brathwaite clips him airily for four to end the over. A quarter-chance of a catch, but he's still finding movement.
18:35
16th over: West Indies 43-3 (Brathwaite 25, Blackwood 0) The first of 50 overs that the Windies have to see out, and Brathwaite does so, repelling Leach with little fuss and nurdling a couple of runs, perhaps just to stretch his legs.
18:31
15th over: West Indies 41-3 (Brathwaite 23, Blackwood 0) Nervy from Blackwood, prodding at a loose, scooting effort that was wide enough to leave alone. Mahmood again summons some fizz from the surface, a snorter that Brathwaite flicks a few feet short of the slips. A maiden for Mahmood, and drinks.
18:24
14th over: West Indies 41-3 (Brathwaite 23, Blackwood 0) Brathwaite, surrounded by a gaggle of fielders chatting purposefully, jogs a couple off a wider Leach ball. Ship-steadying in progress out there.
18:20
13th over: West Indies 39-3 (Brathwaite 21, Blackwood 0) Vice-captain Jermaine Blackwood joins his skipper at the crease and sees out the over – a wicket-maiden for Mahmood. If England can dislodge one of this pair soon, this could really be on …
Updated

18:18
WICKET! Bonner c Root b Mahmood 3 (West Indies 39-3)
Another for Mahmood, and the pressure cranks up on the Windies another notch. This time, a bouncing ball squares up Bonner good and proper, and it's shouldered through to Root, with no need for Crawley to get involved this time.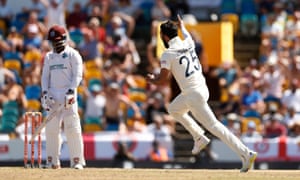 Updated

18:15
12th over: West Indies 39-2 (Brathwaite 21, Bonner 3) Brathwaite clubs a wide one from Leach straight back down the wicket, whistling past the ears of both bowler and umpire. That one goes for four, before sub Craig Overton saves another with an agile piece of fielding.
18:13
"I was about to email and ask why England still had Crawley in the slips, and say that it would cost them one day soon," writes Adam Hirst." Well it didn't, luckily, but he's still there, despite not seeming to catch anything ever. Is it like junior school football, where you put the biggest lad at centre-back because he's least trouble there?"
Nonsense. They don't just stick the big lad at centre-back, that's where I used to play … ah.
18:11
11th over: West Indies 33-2 (Brathwaite 15, Bonner 3) Mahmood has Bonner worried with a ball that skids up off the seam, but is then picked for three runs through the covers.
18:06
10th over: West Indies 29-2 (Brathwaite 14, Bonner 0) Like Campbell before him, Shamarh Brooks never looked remotely comfortable. The eternal Kraigg Brathwaite is now joined by Nkrumah Bonner. A worrying moment for England as Ben Stokes stays down after fielding a Brathwaite drive – but he's back on his feet. The Windies captain then sends Leach away past mid-on for four.
18:03
WICKET! Brooks c Root b Mahmood 4 (West Indies 23-2)
What did I tell you? A shortish ball from Mahmood is edged apologetically into the slips, where Zak Crawley can only juggle it into the air – but Joe Root is on hand to collect his 150th Test catch. Well!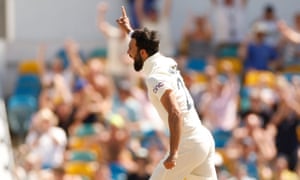 Updated

18:00
9th over: West Indies 23-1 (Brathwaite 8, Brooks 4) Saqib Mahmood gets the nod from Root, and serves up a wild full toss, flicked away for a couple. Just finding his range, I'm sure …
17:56
8th over: West Indies 20-1 (Brathwaite 5, Brooks 4) Thanks, Tanya. Here comes Leach to Brooks, who edges one through the slips for a fortunate boundary. Brooks is nudging at the air next ball as Leach finds some turn, but sees out the rest of the over.
Updated

17:54
7th over: West Indies 16-1 (Brathwaite 5, Brooks 0) Woakes appeals for an lbw going leg-side and England, wisely, don't review. And that's it from me, Niall will take you through to a thrilling England victory at stumps as well as fielding all the choke emails. Have a lovely evening!
17:50
WICKET! Campbell c Lees b Leach 10 (West Indies 14-1)
6th over: West Indies 14-1 (Brathwaite 4) He does and he breaks through as Campbell presses forward and the ball brushes his glove on the way to Lees at short leg. Much English delight. Given not out on the field it was overturned on review by the third umpire.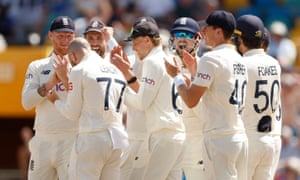 Updated

17:44
5th over: West Indies 14-0 (Brathwaite 4, Campbell 10) Campbell is so nearly tempted by one that moves away by Woakes; and again, swaying his bat out of the way. A tap off the legs brings three from the last ball and it looks as if Leach might get a go with the new ball.
17:40
4th over: West Indies 9-0 (Brathwaite 5, Campbell 4) Ian Bishop admires Fisher's seam position – one for Fisher's scrap book. He's also energetic and hard working. Would it be ridiculously bold to suggest he might have leapt over Overton on the strength of this Test match? Four from the over.
17:35
3rd over: West Indies 5-0 (Brathwaite 1, Campbell 4) Woakes pleasingly on target, Campbell eyes up a full ones, flashes and edges for four, over the hills and past a diving gully.
17:32
2nd over: West Indies 1-0 (Brathwaite 1, Campbell 0) A smart over by Fisher, Brathwaite flashing boldly at one in a way that will please the bowler.
"Thankfully CG Greenidge is only watching." muses Jon Akers, "1984, 214no." With a limp.
17:28
Afternoon session West Indies need 282 to win
1st over: West Indies 1-0 (Brathwaite 1, Campbell 0) Woakes takes the new ball, and the first leaps, and billows off the shoulder of Brathwaite's bat and squeaks to the left of short leg.
"One rum punch as requested Tanya." Oh thank you Craig Keeley! "Do you have a long straw?" To match the devil's long spoon.
17:14
I feel I should bring the choke chatter to a close for risk of flooding the OBO gearbox. But two more arrived while I put the kettle on:
"I managed to resist joining in this conversation until now," writes Tom Hopkins, "but Kim Thonger may have a fight on his hands.
"Anyone heard of the now-rather-maligned diesel engine? NO CHOKE! to go with the other advantages of simplicity it always had over petrol engines. No carburettor, no tappets (remember feeler-gauges, home mechanics?), so much less temperamental and easier to keep going.
"Bit like having a reliable opener or two…"
And Nat Godden:
"Loving the choke chat, and Dominic O'Reilly's story reminds me of the (possibly apocryphal, certainly prejudice enhancing) tale of the old lady who though it was a hook for her handbag so kept it fully extended at all times.
My first car had a choke and I absolutely knew how far from home I could push it right in to use the minimum amount of petrol. A lost skill akin to getting the volume and tone just right to make JetPac load properly on the Spectrum 48K."
17:07
England have declared: West Indies need 282 in 65 overs
Piece of cake for the Windies T20 team but these are red-ball specialists in the limpet sense of the word on a pitch that ain't doing nothing to speed things along.
Updated

16:45
Rain stops play – LUNCH. England lead by 281 runs
39.5 overs: England 185-6 ( Foakes 11, Woakes 9) England lead by 281 Eight overs since the last boundary and many complaints from those who want to check what is happening in City v Southampton and the Grand Prix. Ah, hang on – here come the covers again as the rain starts to fall. They'll take lunch and I'll haul my numb body off the sofa. Back shortly.
Updated

16:41
39th over: England 181-6 ( Foakes 9, Woakes 7) England lead by 277 Seales continues to bowl wide, and, well, nothing much happens.
"We couldn't work out why the car kept running out of petrol," taps Dominic O'Reilly. " Finally, a wise mechanic asked my Dad to take him through his usual car starting routine. Turns out he would pull the choke out to the max, drive round with it like that and then push it back in when returning home."
16:36
37th over: England 176-6 ( Foakes 7, Woakes 4) England lead by 272 England mill fitfully on the boundary, waiting for Woakes and Foakes to get 'em in singles.
"Afternoon Tanya." Kim Thonger, hello.
"I have an entirely different recollection to that of your other correspondents. In every car I drove or owned pre 1982 the choke was a non functional object of blame, serving merely to be chastised for causing lateness for school/work/date/choir/cricket etc. In some vehicles the battery was an alternative scapegoat. Until acquiring a wife who had a knack for internal combustion engines I never had a car with a reliable battery AND a functioning choke. They simply did not exist and I will fight anyone who claims they did. The moral is in my view if you want a mechanical device to work, let a female be in charge."
I like the way this conversation is going.
16:31
37th over: England 170-6 ( Foakes 4, Woakes 1) England lead by 266 Lawrence turns down the single – declaration imminent? – only to hole out to one legged pat-a-cake. Woakes joins Foakes for a few singles and… England bat on.
16:28
WICKET! Lawrence c Joseph b Seales 41 (England 167-6)
A back-foot dog-leg shot to long on.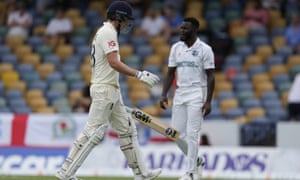 Updated

16:27
36th over: England 167-5 (Lawrence 41, Foakes 2) England lead by 263 It's the two Essex boys, with Chris Woakes left watching on the balcony. Just five off Holder's over, as Root watches from the balcony wearing some kind of back corset.
"Hi Tanya. Maybe everyone knows this already…but perhaps useful to share: I've just discovered that (in France, at least) the test match is live streamed for free on Youtube by Windies Cricket"
Thank you so much Michael Anderson!
16:22
35th over: England 162-5 (Lawrence 38, Foakes 0) England lead by 258 Sharp comeback from Seales, whose loosener was greeted by the flashing blade of Lawrence, and smashed straight for six. He followed up with a toe-crusher next ball, and then the wicket. Great cameo from Bairstow.
"Hello from damp Rhode Island, where the time-zone difference from Barbados works in my favour."
Good afternoon Tat Wood.
"When Tim Saunders asked, I thought of 'skeuomorphism' but that's mainly for design-features (the 'save' symbol being a floppy disc, for example) and went looking for the verbal equivalent. Apparently, there isn't one. There was an attempt to make 'idiomatisation' do the job but that was like trying to make 'fetch' happen.
"Next time it rains, maybe we can all try to invent a catchy word for it and spread it.
"Re. older cars, I remember when the Morris Minor and others had a thing called a 'Trafficator', in lieu of indicators – it was a little 'arm' with reflectors that came out of the side of the car to show which way you were turning. It was spring-loaded and pulled back with magnets."
Updated

16:20
WICKET! Bairstow c Roach b Seales 29 (England 161-5)
Another super catch in the deep as Bairstow bellows the ball down to long off.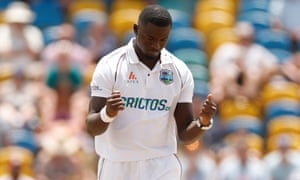 Updated

16:15
34th over: England 152-4 (Lawrence 29, Bairstow 28) England lead by 248 The England brains trust (Root, Trescothick, Collingwood) is mulling over the numbers. Much chin scratching and whispering behind hands. Holder makes the most of the red-ball rules and sends a couple of balls wide of leg stump which Bairstow can't muscle on to.
16:12
33rd over: England 148-4 (Lawrence 28, Bairstow 25) Bairstow is rocking now, all ginger bristle, – two consecutive sixes , one over deep square, the other a yorker boomed back over Joseph's head , followed by a one-handed skiff for a single. The lead heads towards 250.
16:07
32nd over: England 133-4 (Lawrence 27, Bairstow 11) Time for some of Jason Holder's nice and neat running stitch. Lawrence opens the face and plays an ugly but useful four.
16:05
31st over: England 126-4 (Lawrence 22, Bairstow 9) Bairstow, barrel-chested, pivots his club and… inside edges Joseph inches from his stumps and down for four.
"I am also of a certain age as the French might say," writes Adrian Goldman, "and remember the choke as well. But I think it increased the amount of air flowing in, not fuel. Google would know but I am assuming an undergraduate degree in chemistry might lead to the right answer.
"And while on the subject of cars: I have an electric one – and yes, you can jump it because it has a low voltage dc battery to power lights and the like. If that's flat, your car is sol.
"That's my considered non expert opinion."
15:59
30th over: England 118-4 (Lawrence 20, Bairstow 3) Roach thunders in a couple of yorkers, but Lawrence shimmies to drive the third through extra cover for a couple. Another boundary-lite over though.
"I am old enough to remember starting handles," copperplates Simon. "Many years ago, a friend of my father reversed into a snow drift and blocked the exhaust with ice and stalled the engine. Being quick thinking he thought 'I know, the starting handle will clear that', so getting out the starting handle he inserted it into the exhaust pipe and gave it a few quick turns. Turning round he saw our boys in blue, they asked him what he was doing. ' Just trying to start my car', he replied. They breathalysed him."
15:55
29th over: England 114-4 (Lawrence 17, Bairstow 2) England can't wriggle to Joseph to the boundary, so are content with a scattering of singles.
Hello Matthew Dunnill!
"I love to while away the hours with the OBO – but wow you guys make me feel poor sometimes! And now old as well!
"I'm not even 40 and have had 2 cars with chokes – only recently did I get one with any sort of electrics – never mind an ACTUAL ELECTRIC CAR!
"Wow it's grim up north.
" Anyway – I can't believe we haven't got a nice rhyme about how we hope Stokes, Woakes and Foakes don't choke yet…"
There's still time Matthew, still time.
15:52
28th over: England 110-4 (Lawrence 15, Bairstow 0) England continuing to throw the bat and continuing to lose wickets – the lead is 206 though so another fifty will be enough to set the match up. We're due another hour before lunch because of the rain.
15:50
WICKET! Stokes c Brathwaite b Roach 19 (England 110-4)
Stokes guns for an extremely wide ball from Roach and pings it straight to Brathwaite at cover, who gathers low down on his haunches.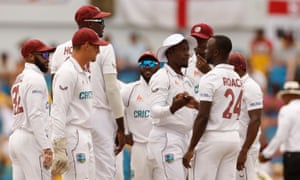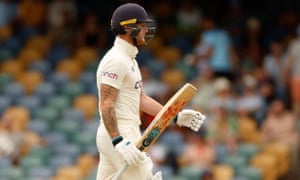 Updated

15:47
Play resumes
27th over: England 107-3 ( Lawrence 13, Stokes 18) One from the final ball of Roach's unfinished over.
15:46
Play to restart at 15.45 GMT
We have our word! Two correspondents at exactly the same time:
"It's possible," writes Greg John. " that Tim Sanders is thinking of skeuomorphism which, according to interaction-design.org, is a term most often used in graphical user interface design to describe interface objects that mimic their real-world counterparts in how they appear and/or how the user can interact with them. A well-known example is the recycle bin icon used for discarding files"
On a different note, I feel duly upbraided by those cricket fans telling me that if I don't like incredibly boring, eventless, and predicable Test matches I'm not a real fan. I bet Robert Wilson et al will be gutted if England declare soon and then attempt to bowl out the Windies in nailbiting fashion."
On the OBO, everyone is invited. Moving quickly onwards…
Tim Sanders himself, "Hello again Tanya ! I've remembered !! t's 'skeuomorphic' which I think is a great word. Visually, it's a decorative feature retained from the nature of the original material or method; but no longer functional. Like imitation stitching on a plastic sofa cover. Language has its own equivalent thing, and I reckon we'll be 'warming up engines' and getting our metaphorical motors running long after we've fixed the climate crisis."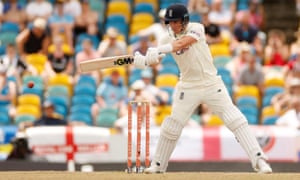 Updated

15:34
Paul Lakin also remembers the choke era: "I'm not even remotely mechanically minded but probably count as an older reader. Wasn't the choke a way of letting more petrol into the engine – leading to the timeless mantra "Give it more choke, go on give it a bit more choke, more choke….oh now you've flooded it". Amazing that cars ever caught on really…"
On a similar theme, can you jump start an electric car? My childhood was full of people borrowing/using jump leads.
In Barbados, a man in a long yellow macintosh is pushing a roller around the ground and the covers are being peeled off.
15:28
"A choke," writes Ian Mills knowledgeably, "was a cable from the dashboard to the carburettor, pulling on the cable richened the mixture being fed into the engine to make it start from cold. Modern cars use fuel injection instead of carburettors."
Ali reports that it is bright outside in Barbados but the covers are still on.