15:05
43rd over: West Indies 101-2 (Brathwaite 40, Bonner 9) Stokes now, as Root rings the changes and I have to squint in the light of the fierce Manchester sun as it streams through the window. Just a leg bye from the over and actually we now take DRINKS.
15:03
42nd over: West Indies 100-2 (Brathwaite 40, Bonner 9) Brathwaite joins in the sudden boundary rush, sending Woakes spinning to the square leg boundary. And I think that is DRINKS.
14:59
41st over: West Indies 93-2 (Brathwaite 33, Bonner 9) Two fours from Leach's over as Bonner wafts a charming cover drive to the rope, and sweeps a leg-side here-you-are behind square.
A email drops by. Hello Tim Sanders.
"Somehow, Fisher and Mahmood's presences seems to cast Anderson and Broad's absences in a better light. They've both started promisingly, and like you I think Mahmood's moment might come with the older ball.
"Regarding pace, I'd like to give a shout out to Worcestershire's Dillon Pennington. New Road is generally a sluggish surface with its annual spring inundation, which affects his numbers. But he could consider himself unlucky to be behind the current debutants in the queue. I've seen him take a triple wicket maiden at Headingley – a T20, but proper bowling at the top order; and in a four-day victory at Scarborough in 2018, Kane Williamson really didn't enjoy facing him."
That's a great call. I saw him in 2018, I think, the year Surrey won the Championship. He put the wind up the Surrey batting at New Road as they were chasing a small target.
Updated

14:53
40th over: West Indies 85-2 (Brathwaite 33, Bonner 1) Root whisks Mahmood off, after just two wicketless overs, and calls for Chris Woakes. A mixed bag, gets away with a couple of loose ones, surprises Brathwaite with some ping-pong bounce with the last ball. A maiden.
14:49
39th over: West Indies 85-2 (Brathwaite 33, Bonner 1) Another maiden for Leach and much oohing from the fielders and prodding from the batsmen. The pitch, says Mark Butcher, has much more of a sandpapery feel on day three than it had previously. This is what is giving Leach his purchase off the surface.
Updated

14:47
38th over: West Indies 85-2 (Brathwaite 33, Bonner 1) A bit of late swing, a bit of dig, Mahmood is providing plenty of threat but no cigar. Yet. But his action is poetry.
"Greetings from Singapore!" Hello Kevin Tong. "Glad to get an early email in, for once. During his interview yesterday, Ben Stokes mentioned that the spinner is in the game, and we all know that it's going to be a big day for Jack Leach. Might I posit that it is also going to be a big day for Ben Foakes? We haven't had much of a chance to see the silken glovework he is known for, so here's hoping we'll see some of that today."
Yes, good point.
Updated

14:41
37th over: West Indies 84-2 (Brathwaite 33, Bonner 0) A Leach maiden.
I don't want to think about this question, it is too poignant. But I wouldn't be surprised if Wood came to the conclusion that his body was just too fragile for this red-ball lark and decided to concentrate on white-ball.
Updated

14:38
36th over: West Indies 84-2 (Brathwaite 33, Bonner 0) Root beckons to Mahmood, to replace Fisher after a good morning spell. Mahmood is up in the high 80mphs immediately and beats Bonner with a snorter.
Updated

14:35
35th over: West Indies 83-2 (Brathwaite 32, Bonner 0) The replay of the wicket shows a bit of the pitch flying off as Leach lands the ball. It also shows Brooks bending down in frustration when he realises what he's done.
Thanks to Ali, for this from the local Bridgetown paper, by young Anmar Goodridge-Boyce.
Updated

14:32
WICKET! Brooks c Woakes b Leach 39 (West Indies 83-2)
The breakthrough! Brooks plays a heavy-footed cut which flies to Woakes at point who swoops and takes on his belly. Just reward for Leach, though not to his best ball of the day.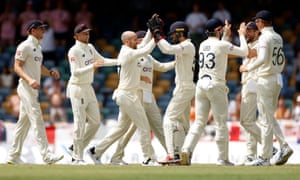 Updated

14:30
34th over: West Indies 81-1 (Brathwaite 31, Brooks 38) Agonisingly close! Fisher finds some extra bounce and catches the top edge of Brooks' bat, from where the ball flies just short of Crawley, who almost flicks it up one-handedly as he dives forwards in hope.
Updated

14:26
33rd over: West Indies 80-1 (Brathwaite 31; Brooks 37) Yikes, the fourth ball is another big turner, catching the outside edge, squeezing past gully. I imagine the voice of Ben Kenobi whispering, "soft hands, Shamarh, soft hands."
"I've just hand-washed two jumpers and they are lounging across a chair outside soaking up the sunshine." says Andrew Benton. "I'd like to think that WI will be 225-8 when I take them in, nice and dry, in a few hours, but I think they'll do an England and get a loadaruns, so….heading for a draw. A top drawer draw, but still a draw. What do you think?"
Now you've put me on the spot. I'm going with your first prediction: wickets for the wily Leach and Mahmood reverse-swing. And your washing will definitely be dry.
14:20
32nd over: West Indies 77-1 (Brathwaite 31; Brooks 34) A maiden from Fisher, who wears thick white wristbands halfway up each forearm. Some nippy bounce to put doubt in the batsmen's mind.
14:17
31st over: West Indies 77-1 (Brathwaite 31; Brooks 34) Not quite as lip-smacking a second over from Leach, and Brooks picks up a couple through the covers.
14:15
30th over: West Indies 74-1 (Brathwaite 30, Brooks 32) Fisher is an expressive figure, runner-bean-fingered hands reaching out in supplication after a good ball. Another perfectly good over, a hint of extra bounce, nice and full.
"Tanya," John Starbuck, hello!
"Good afternoon. I rather like the phrase 'the elongated Fisher'. It reads like a particular species of fast bowler, generally seen in sunny climes."
These tall fast bowlers do feel a bit like a species apart. Jason Holder in particular has a celestial air.
Updated

14:08
29th over: West Indies 73-1 (Brathwaite 29, Brooks 32) It's spin from the Malcolm Marshall end, and Leach's first ball lands and spins sharply past Brooks' bat – and it was 76kph, slower, just like Uncle Gower asked for. That'll sit and and fester in the West Indian minds. The fourth ball is a cracker too, shimming past Brathwaite's pressing blade, and the fifth flies past a diving short leg.
Updated

14:04
Morning session
28th over: West Indies 71-1 (Brathwaite 28, Brooks 31) Here we go. The elongated Fisher, squinting into the sun, has the ball and delivers the first on the money as Jerusalem is belched from the stands. He continues to be tidy and the first over is a maiden.
Updated

13:58
The players are out, and the cameras pan round the full stands which are filled mostly with Brits.
13:58
A lovely story about Shamarh Brooks from Carlos Brathwaite in the BT studio – Brooks was picked for West Indies A on the recommendation of Brian Lara, who watched him hit four fours and was transfixed.
13:52
David Gower, resplendent in a pink shirt covered in birds, thinks Jack Leach needs to bowl much slower. It is hazy in Barbados, and a ruffling kind of wind swings over the ground.
13:39
Mark Wood out of the tour
And awful news for Mark Wood, who had such an impressive Ashes series. He will miss the rest of the Caribbean tour AND The Indian Premier League with a "right elbow injury."
No news yet on a call up. Wood will see a specialist back in the UK.
Updated

13:37
While we wait, more internal turmoil from Yorkshire CCC, as ex-chair Robin Smith puts his oar in and reignites the whole mess.
13:03
Ali's super report on Thursday's business:
And what Ben Stokes had to say after his wunder-innings:
13:03
Preamble
Good afternoon from Manchester, where the skies are rivalling Bridgetown in all their hyacinth gorgeousness and there is a waft of jasmine blossom in the spring air.
Yesterday couldn't have gone much better for England – 150 for Joe Root, 120 for Ben Stokes, back to his belligerent best, and promising debuts for the two new caps: Matt Fisher and Saqib Mahmood. Fisher took a wicket with his second ball, probing the corridoor of uncertainty like a pro. There were no scalps for Saqib Mahmood, but he was miserly and fierce.
Whether England can dig a win from this pancake pitch is down to their perseverance and West Indian fortitude. Ben Stokes, for one, was optimistic:
"I don't want to eat my words here but I can't see [the pitch] getting any better. I think the spinner is in the game and the seamers felt in the game the whole way, so it'll be an exciting day tomorrow."
Play starts at 2pm GMT, I'll be back to read the tea leaves at 1.30pm.
Updated