14:17
90th over: West Indies 245-8 (Da Silva 65, Roach 26) Woakes goes full and Woakesian to Da Silva, but finds only some gentle swing and gets on-driven for four. West Indies lead by 41.
"Tim dearest," says Mac Millings, "Ric Latham may have answered his quick crossword clue – 'Individual who's often stumped? (6-6)' – incorrectly. I looked it up, and the Test batter most often out stumped was Aussie legend Alllan-Border. (I'm pretty sure that's how you spell it.)" Ha.
14:13
89th over: West Indies 240-8 (Da Silva 61, Roach 26) Da Silva likes that front-foot pull so much, he plays it again, less well, shovelling Mahmood for two. Joe Root, manning the stable door, moves third slip into the leg-side ring. "I don't like that field change," says Steve Harmison. "I don't see any reason why you'd not have your catchers in for Da Silva as well as Roach." Roach, finding that there's no short leg, flaps at a short one and takes a single off the last ball of the over. West Indies oozing confidence.
14:08
88th over: West Indies 236-8 (Da Silva 58, Roach 25) At the other end it's Chris Woakes, who finally had a good spell yesterday – though two of his three wickets came from bowling half-way down, so they were not very Woakesian. Da Silva has a waft too, fending at a lifter, but when Woakes drops short again he plays a superb shot, a front-foot pull for three. Given two goes at Roach, Woakes rather wastes them by not bowling at the off bail. West Indies lead by 32.
14:04
87th over: West Indies 233-8 (Da Silva 55, Roach 25) Joshua Da Silva, the batter of the match so far, takes a single first ball, showing plenty of faith in Kemar Roach. Mahmood finds some outswing, but it's too wide of Roach's off stump until the fifth ball, which temps Roach into a tail-ender's waft. And so does the sixth, pitched deliciously full. I'm trying to remember the last England bowler who was brave enough to bowl this length at the start of his Test career. Maybe Darren Gough?
Updated

14:00
The players are out there and the nearly new ball is in the hands of Saqib Mahmood, England's find of the tour.
13:55
"Crossword pedantry" is the subject line of the next email. It's not a gambit that would prise the door open everywhere, but the OBO is in no position to carp. "I've just done the quick crossword," says Ric Latham, "and was disappointed with 24A – 'Individual who's often stumped? (6-6).' Unless there's some statistical evidence that keepers are out that way more often than their colleagues, it's a poor clue." It is! And by way of responding in kind, can I ask you to use single quotes next time, to save us having to change them?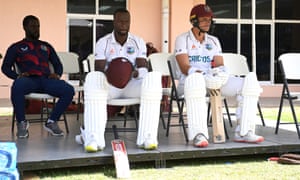 Updated

13:46
Infamy, in for me
The first email of the day is from Tom van der Gucht. "Great Preamble," he says. Too kind! "I especially like your 'Not with a Bangla' pun. It's the sort of bon mot Kenneth Williams would proudly pat himself on the back for in his diaries before slumping again and bemoaning that people fail to recognise his overall greatness…"
As I try to work out just how backhanded that compliment is, Tom decides to add some more. "Actually, having given it some consideration," he writes, "the Preamble reminded me more of Christopher Douglas/Podmore's alter ego Ed Reardon than Kenneth Williams. But still, high praise indeed." The great Chris Douglas! I once had to bowl to him in the nets. Never saw such a dead bat, at least until I came across Kraigg Braithwaite.
13:15
Preamble: the crunch
Afternoon everyone and welcome to the third day of the third Test. In a Hollywood thriller, there's often a moment about three-quarters of the way through, when the hero and the villain face off in a fight to the death. For this series, which has been short of thrills, that moment arrives today. If Joe Root gives a team talk before the start of play, he will only need four words. "We have to win."
Over on the other side of the world, England's women know exactly what they must do tonight: beat Bangladesh or go out of the World Cup, not with a Bangla but a whimper. For England's men the stakes are almost as high, the ramifications just as stark. If they win in Grenada, a dismal winter will have a happy ending, a corner will have been turned, and the decision to let Root carry on as captain will no longer look deluded.
If they lose, it will be their fifth series defeat in a row (albeit with an asterisk against one of them, the 1-2 against India that could yet turn into a 2-2 when the decider is finally played in July). They will have lost to one of the lowlier Test teams as well as to the big three. They'll be back to square one and their red-ball reset will come with a red-face emoji. No pressure, then.
Play starts at 2pm GMT. England's first task will be to use the new ball better than they did yesterday morning (or evening). Joshua Da Silva's job will be to turn his unlikely 50 into the performance that settles the series. It should be riveting.