Defending champion Novak Djokovic and Thanasi Kokkinakis are warming up on Centre Court.
They've only played once previously and that was on clay in 2015 so not much head-to-head form to go on. Kokkinakis slipped outside the world's top 250 last year but is now back up to 79th.
Steve Johnson absolutely in the groove against Ryan Peniston and breaks the Brit again to go 4-1 up in the second set. The American not giving Peniston an inch.
Over on Court 2, third-seed Casper Ruud has taken the opening set 6-3 against Ugo Humbert.
Meanwhile, Johnson is still looking too strong for Peniston and gains a break to go 2-1 up in the second. Just two unforced errors from the American so far. Combine that with 15 winners and he's proving hard to stop.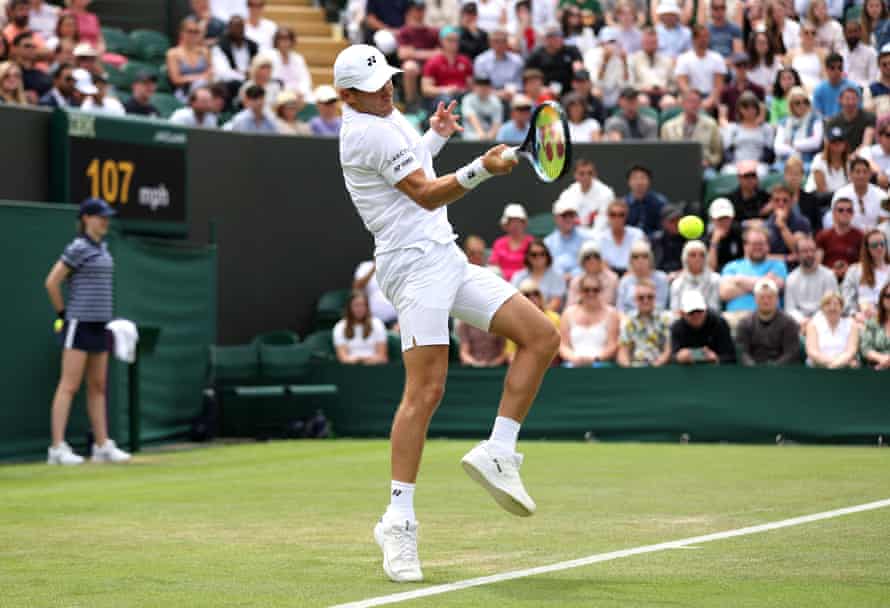 Peniston loses the opening set (3-6) against Johnson. The Brit is finally getting his serve going and sends down three aces to win game eight to 15. But Johnson holds to close the set out. The American is winning 88% of his 1st serve points.
The action is underway on Court 1 where women's second seed Anett Kontaveit from Estonia is playing Germany's Jule Niemeier. Both win their opening service games.
Johnson does finally convert a break point and goes 4-2 up on Peniston. Early days though.
A bit of an early pattern emerging on Court 3. Johnson is cruising through his service games while Peniston is having to scrap hard to hold. Still, it's going with serve so far, Johnson 3-2 up.
Third-seed Casper Ruud is also in action right now. He's playing Ugo Humbert on No 2 Court and leads 3-2 in the opening set.
Ruud, who reached the French Open final, won his very first match at Wimbledon on Monday, a straight sets success against Albert Ramos-Vinolas.
A look at what's in store today.
Court 3: Peniston throws in a double fault and slips to 0-40. But he gets his arm going with some strong groundstrokes and saves three break points before levelling it up at 1-1 against Johnson.
Plenty of eyes now on Court 3 where Brit Ryan Peniston takes on American Steve Johnson. Helped by a couple of booming aces, Johnson holds serve in the opening game.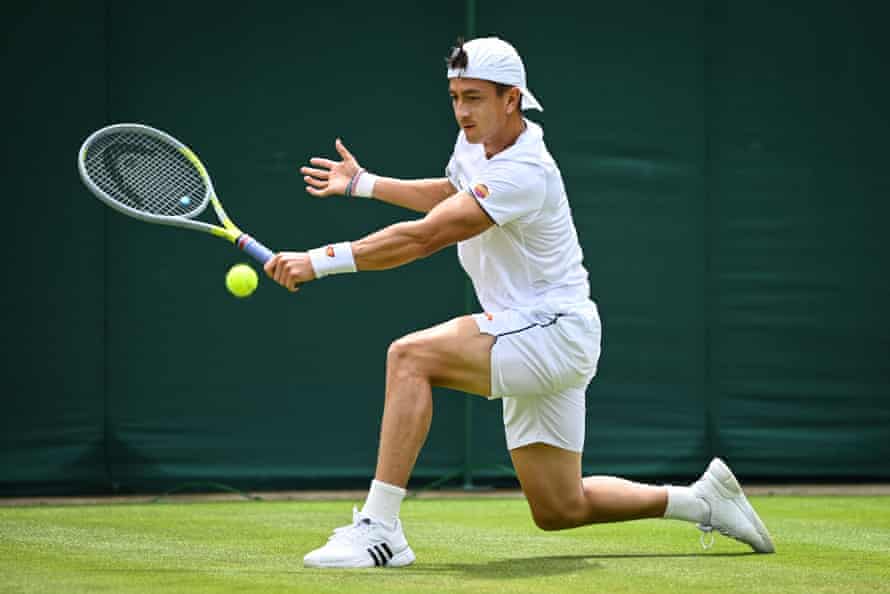 And we're off. The action now in play includes the all-Ukrainian match between Anhelina Kalinina (29) and Lesia Tsurenko on Court 12.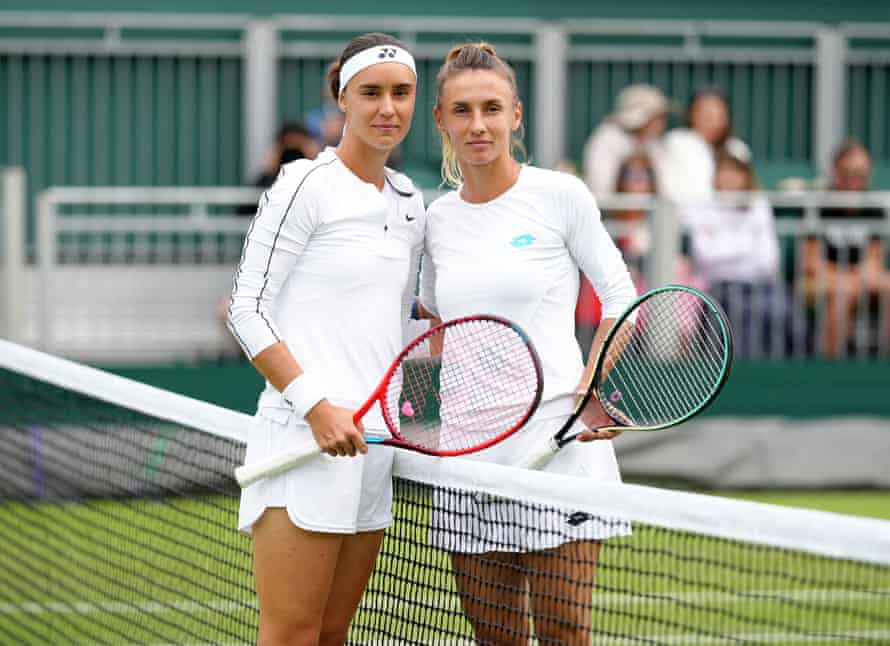 We could be close to some action! Players are starting to arrive on court and some are even warming up.
No sign of play just yet. Time for another song then and this personal favourite seems appropriate. Perhaps there's an umpire on duty this week called Kathleen.
A few tweets and emails suggesting Emma Raducanu has a tough task on her hands today.
That seems a fair assessment. Opponent Caroline Garcia from France is coming off a title win in the Bad Homburg Open (played on grass) and she fought back well in her opener here when defeating Yuriko Miyazaki in three sets. The 28-year-old has a career record of 34-21 on grass.
The bookies make it close, with Raducanu 4/6 and Garcia 6/5.
Aran Scutcher e-mails: "I can't help but think this may be an end of an era match for Murray, this may be his last Wimbledon and therefore possibly today the last match – which would be tremendously sad. I know he's got his detractors but I think overall he's won a lot of people round with his grit, incredible range of shots, and his staunch support of women, particularly in tennis.
"The big servers like Isner rarely leave more than scraps on their serve and not sure Murray is still at the level to overcome the big man. Hope I'm proven wrong.
"My heart says Raducanu and Murray win, and Djoko loses but I'd bet the opposite. Fingers crossed."
Weather update: The 15-minute increments continue. Now we're told there will be no play until 12.30pm at least.
Weather update: Start put back another 15 minutes to 12.15pm.
What do you do during a Wimbledon weather delay? Sing, of course. No, not Cliff, it's Half Man Half Biscuit.
After me…. "Who's afraid… of Virginia Wade".
Unlike us (awkward cough), the official Wimbledon Twitter page is struggling for content during the weather delay.
A bit of Andy Murray news. A reminder that he's the late match on Centre Court today and has an 8-0 head-to-head record against his big-serving opponent, John Isner.
Weather update: No play before 12pm. That's about 15 minutes, nearly enough time to watch the Borg v McEnroe tie-break from 1980.
Emma Raducanu is back in action on Centre Court today. Tumaini Carayol looks ahead to her encounter with Caroline Garcia which follows the Novak Djokovic v Thanasi Kokkinakis second-rounder.
The BBC are now showing highlights so we'll go back to sporting theme tunes. How about a top 40. Steven Pye is the man for the job. Wimbledon only 10th by the way!
I love a pointless stat but never know how to process that one about the amount of strawberries it would take to fill Centre Court. What do you do with that information? I feel neither inclined to say 'wow' or question the number involved. I have no response. Nothing. An emptiness inside.
Beyond my existential strawberry angst (good name for a 60s psych band), how about this one:
Andy Murray's opponent today, John Isner, sent down 54 aces in his opening match. That leaves him just 40 short of Ivo Karlovic's all-time ace record on the ATP Tour of… 13,728. That is worthy of a 'wow'.
Weather update: The covers are off even though it still looks a bit murky overhead. Talk of play maybe, sort of, perhaps starting in about 25 minutes or so. So 11.45am. Possibly.
Andy Murray and Serena Williams have made the early headlines at Wimbledon but what of their siblings?
Well, it emerged yesterday evening that Venus Williams and Jamie Murray will be teaming up in the mixed doubles.
Ah, no play until 11.30am at the earliest, according to official reports. No excuse not to check out more Keith Mansfield tunes in the meantime. This is nice.
This was the weather a little earlier. There's talk of the covers being taken off but perhaps being put on again as drizzle levels divide opinion.
Umbrellas are up at Wimbledon although the BBC's Carol Kirkwood says the clouds will break and there's only 5% chance of rain as we go through the afternoon. Still raining now though. Light winds, sunny intervals and temperatures around 22 degrees are expected although some ominous clouds could return later.
The BBC's coverage is starting up so let's have a listen to one of the great Keith Mansfield's finest ditties: the Wimbledon theme music, 'Light and Tuneful'. Keith there looking like he's just taken a set of Borg.
Some further reading here while Tom Little's version of the Grandstand theme is always worth a watch.
Here's the Order of Play on the main courts today. Play is set to start at 11am on the outside courts. All times are BST.
Centre Court – 13.30
1. Novak Djokovic v Thansi Kokkinakis
2. Caroline Garcia v Emma Raducanu
3. Andy Murray v John Isner
No 1 Court – 13.00
1. Jule Niemeier v Anett Kontaveit
2. Cameron Norrie v Jaume Munar
3. Maria Sakkari v Viktoriya Tomova
No 2 Court
1. Casper Ruud v Ugo Humbert
2. Angelique Kerber v Magda Linette
3. Tallon Griekspoor v Carlos Alcaraz
4. Qiang Wang v Heather Watson
No 3 Court
1. Ryan Penison v Steve Johnson
2. Yanina Wickmayer v Jelena Ostapenko
3. Jannik Sinner v Mikael Ymer
4. Katarzyna Kawa v Ons Jabeur
We're back to the top half of the draw in the men's singles today and 64 are still standing. Rafael Nadal is in the bottom half and was pushed in his opener against Francisco Cerúndolo yesterday. Greg Wood reports.
Nick Kyrgios came through a five-set thriller against Britain's Paul Jubb yesterday but, once more, it wasn't without controversy. The Aussie is clearly a fan of punk shall we say. Hopefully Sean Ingle didn't get in the way of it.
Nine Britons through to round two is the most since 1997. And it could yet become 10. Trying to keep an eye on them all was quite the task as Simon Cambers explains.
Let's go in depth on that Serena Williams v Harmony Tan classic via our man at Wimbledon, Tumaini Carayol.
Sometimes a Grand Slam can take several days to come to the boil. But not this one. After plenty of vibrant action on day one, the Wimbledon crowds were treated to a bona fide classic last night when Serena Williams lost to world No 115 Harmony Tan. Serena served for the match and led 4-0 in the deciding tie-break but just couldn't shake her opponent off.
That Centre Court thriller ended less than 12 hours ago but now we look forward to what should be another belting day of oohs, aahs and oh I says. Andy Murray and Emma Raducanu are back on Centre Court today and both face tough second-round encounters against John Isner and Caroline Garcia respectively.
There's more British interest on Court One with men's No 1 Cam Norrie taking on Spain's Jaume Munar while Heather Watson makes a swift return. She beat Tamara Korpatsch yesterday and makes her bid to reach the third round for the first time since 2017 against Wang Qiang of China on Court Two. Ryan Peniston does battle with American Steve Johnson on Court Three while Harriet Dart plays a delayed first-round match against Spain's Rebeka Masarova.
Defending men's champion Novak Djokovic opens the Centre Court action against Thanasi Kokkinakis at 1.30pm but there's plenty of action (from 11am) to follow on the outside courts before then. Sound good? Okay, let's play…