05:34
Ice hockey: It's the end of the second period at the National Indoor Stadium and Finland's narrow 1-0 lead over Slovakia remains.
05:33
Cross-country skiing: Big news from earlier today – Norway's Therese Johaug will call time on her Olympic career after she contests the women's 30km freestyle event that closes the Games on Sunday. Johaug, who missed the Pyeongchang Games due to a doping suspension, has already picked up two gold medals in Beijing, in the skiathlon and the 10 km classic races.
"Sunday will be my last Olympic race," the 33-year-old said. "It [my decision] won't happen until after the season, I'll have to go a few rounds with myself, it could take a long time.
Johaug has one last chance to add to her collection of Olympic medals, which also includes a silver and a bronze from Sochi. "I think it will be a very tough 30k. If it has not been important previously to allocate [energy] correctly on these trails, then it will definitely be important on Sunday," she said.
05:21
Ice hockey: Just one event in progress at the moment – it's the men's semi-final between Finland and Slovakia. We're midway through the second period and Finland lead 1-0 thanks to Sakari Manninen's first-period goal. The ROC and Sweden play in the other semi later on. Of course no USA or Canada left in the tournament.
05:18
Thomas Bach: Lots coming out of the earlier presser with the IOC president, including his thoughts on the Kamila Valieva saga. Suffice to say he has not been impressed with the athlete's entourage. He also said the IOC did not want the ROC figure skater to continue competing, but given they lost the court case, the rule of law has to be accepted.
Anyway, my colleague Sean Ingle was there, and his report will be landing shortly. Stay tuned.
05:11
Freestyle skiing: The men's skicross is already up and running at Genting Snow Park, with the seeding run to determine the 1/8 final line-up completed. Lots of Canadian flags in the top six – three to be precise – while Switzerland's Alex Fiva topped the times after laying down a 1:11.94.
05:05
Freestyle skiing: The big news so far today then is that the incredible Eillen Gu has secured a second gold medal of these Games, in the women's freeski halfpipe, to add to her big air gold and slopestyle silver. By pocketing her third medal, Gu – who has taken these Olympics by storm – became the first action-sports athlete to win three medals at a single Olympics. Here's my colleague Bryan Armen Graham's full report from the slopes north-west of Beijing: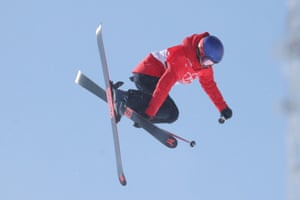 05:00
Today's schedule
Times are all in local Beijing time. For Sydney it is +3 hours, for London it is -8 hours, for New York it is -13 hours and San Francisco is -16 hours.
11.45am-3.10pm Freestyle skiing – after the morning's freeski halfpipe medal battle for the women, the men do their ski cross 🥇
12.10pm and 9.10pm Ice hockey – the men's semi-finals will feature Finland v Slovakia first, ROC v Sweden in the evening. 🏒
2.05pm and 8.05pm Curling – in the afternoon, the losers of tonight's semi-finals will play for the men's bronze medal. In the evening it is the women's semi-finals 🥉
4.30pm Speed skating – the men's 1,000m 🥇
5pm Biathlon – it is the men's 15km mass start race 🥇
6.30pm Figure skating – it is the short program in the pairs ⛸
8pm and 9.30pm Bobsleigh – the first and second heats of the two-women bobsleigh variety