02:13
Alpine team event: Another upset, and it shows how much faster the blue course is. Lena Duerr beats double medalist Wendy Holdener of Switzerland, and seventh-seeded Germany knocks out the second-seeded Swiss, who'll just have to content themselves rolling around on a giant pile of Alpine medals from these Games.
Yes, this affects the USA, which will face Germany in the semis rather than Switzerland.
First up: Austria vs Norway.
02:09
Curling: Remember mixed doubles, when all the shots piled up in the four-foot circle? That's about how the fourth end went. Eve Muirhead had one easily enough but couldn't fit her last shot onto a narrow sliver of the button for two. That's a good force for Japan.
3-1 GB after four ends; Japan has hammer.
02:06
Alpine team event: UPSET! USA into the semifinal with a win over Italy.
And the funny thing — the only US skier to lose was Mikaela Shiffrin. But that's deceiving. The blue course is clearly a little faster, and Shiffrin lost her heat by only 0.02 seconds.
Paula Moltzan had that blue course and kicked things off with a massive 0.56-second win over giant slalom silver medalist and combined bronze medalist Italy's Federica Brignone.
The big break for the US was in the second heat. Tommy Ford is, by any reckoning, the least accomplished skier on the team, and he's 13 months removed from a catastrophic crash. But Luca de Aliprandini went off course, and Ford coolly finished for a 2-0 lead.
Shiffrin lost a back-and-forth heat on the slower course, but that just left River Radamus to clean up with an easy win.
01:57
Alpine team event: Can Norway add another medal here? It's possible. The fourth-seeded team wins the tiebreaker over fifth-seeded France.
Austria easily took out Slovenia.
Next up: USA-Italy.
01:55
Bobsleigh: Francesco Friedrichs is in good shape to finish off his double-double — two-man and four-man in 2018 and 2022. But it's still close. Fellow German Johannes Lochner, who set the track record in the first run and still holds it, is only 0.20 seconds back heading into the fourth and final run.
In position for bronze is Justin Kripps of Canada, who shared the four-man gold with Friedrichs in 2018. He gave back a little bit of time in the third run and will need a solid final trip down the ice to prevent a German sweep, with Christoph Hafer in close pursuit. Not literally. Putting multiple sleds on this track seems like a bad idea.
Team GB's Brad Hall is still in sixth and doesn't seem likely to move up or down.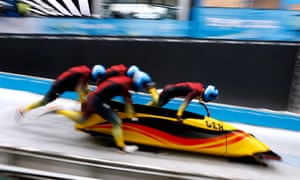 01:48
Curling: The two teams crowd the center line until the two vices (third players to shoot), Chinami Yoshida and Vicky Wright, exchange double takeouts. Yoshida hits remaining GB rock, but it rolls to a spot in which Wright can through yet another double takeout. And so she does, leaving the house empty except for one GB rock.
Skip rocks: Takeout, takeout, takeout, takeout with a roll out of the house. That's a blank.
2-1 GB after three ends; GB has hammer
01:43
Alpine team event: The round of 16 (actually 15, with a bye for Austria) is complete. Canada is out, losing on the tiebreaker to Slovenia. Fourth-seeded Norway survived a sloppy tie with Poland, winning on tiebreak despite two DNFs.
The top eight all advanced. Next up for the USA: third-ranked Italy.
01:38
Curling: Catching up on the second end — GB keeps putting up center guards, and Japan targets them with varying success.
Fujisawa then plays a spiffy double takeout, leaving a GB stone on the button but fully exposed while a Japanese stone is farther out, in position to count for two.
But Muirhead hits a truly excellent shot, taking out the Japanese rock and rolling to the button. That leaves two GB rocks crowding the center with no Japanese rocks in the house, and all Fujisawa can do is hit one to score a single point with hammer.
(One more basic curling point: The goal when you have hammer is usually to score two or more points. If you're not going to get that, you may try to "blank" an end — intentionally getting rid of all the remaining stones in the house and in your hand — to keep the hammer for the next end. If the other team forces you to score one point, that's called a "force." What we just saw was a force.)
2-1 GB after two ends; GB has hammer.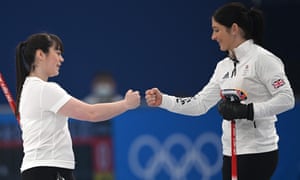 01:28
Alpine team event: His result flew a little under the radar, but the USA's River Radamus placed fourth in the giant slalom. He takes an early lead and wins his heat when Slovakia's Andres Zampa misses a gate.
Next: Paula Moltzan breezes to victory. 3-0 USA, and they've advanced to the quarterfinals.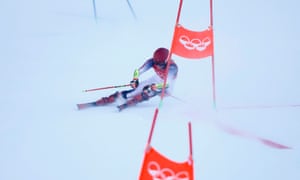 Updated

01:25
Alpine team event: It's the USA vs. Slovakia, and the first US skier is none other than Mikaela Shiffrin, who gets a good start and looks as smooth as can be. No missed gates, no problem. 1-0 USA.
01:19
Curling: Beautiful shot by Japanese vice Chinami Yoshida to bury a red rock behind the multitude of guards out front, but Vicki Wright goes bang-bang up the middle (promotion takeout or raise or runback in curling lingo) to remove it.
Satsuki Fujisawa's first shot drifts a bit too far, and Eve Muirhead puts her shot right on top of that one. That means GB is closer, but because it's behind the tee line (the line bisecting the house from left to right), Fujisawa can respond in kind. The Japanese skip gives it a try, but it doesn't quite curl enough and Muirhead has a shot for two.
(I'm going to dial back on the definitions from henceforth. I assume everyone has the hang of it by now.)
Muirhead makes the shot with ease. 2-0 GB after one end.
01:12
Curling: GB has the hammer (last shot). Japan opts to put its first rock in the house instead of putting up a guard. GB's Hailey Duff easily removes that one. Japan plays its own takeout, and GB decides to ignore that one to play the conventional shot for a team with hammer, a corner guard, behind which they deposit rocks that will be difficult to remove.
NBC then does its traditional lengthy commercial interruption during the middle of an end, but we have ways of seeing what happened Basically, it's a constellation of rocks in front of the house, which is kind of bad for GB, especially given the red Japanese rock sitting in the back of the house
01:03
Curling: Here we go!
After taking bronze in 2014 and fourth in 2018, Eve Muirhead is back again representing the birthplace of the game, Scotland, which specializes in inventing sports that torture the rest of the world. She's also the 2013 world champion.
01:01
Alpine team event: It's minus-3 degrees. Fahrenheit. And windy, though not enough to postpone it again — which is good, because there's not another day to which it may be postponed.
The format: Skiers race head-to-head on parallel courses. Each team has two men and two women. Most wins … um … wins. If they're tied, the combined time of the fastest man and fastest woman determines the winner.
The courses are short giant slalom-ish layouts.
00:58
Medal count check: Looks like Norway won't match its record medal haul of 39 unless it sweeps the cross-country event and reaches the podium in Alpine. They may just have to settle for the record for gold medals — 15.
Canada (25 medals) is virtually assured of finishing ahead of the USA (24) in total medals, but the USA leads in gold medals 8-4 (pending the figure skating team event).
00:46
Ready for February Madness? That's the Alpine team event, which uses a bracket system for head-to-head matchups. It's a bit shorter than the Big Basketball Tournament in March.
00:43
As we bid farewell to these most unusual Olympics, please share your favorite and least favorite moments. Or just some offbeat thought. Or some sport you'd like to see added. Email me with your thoughts or tweet @duresport
00:32
For one last time (for these Olympics), hello from me (Beau Dure) to you (the other billions of people on the planet).
We'll soon have the Alpine team event, which was rescheduled and moved to this date and time. It'll be Mikaela Shiffrin's last chance at a medal here, but it's a slim one.
In four-man bobsleigh, Canada's Justin Kripps is currently interrupting a German sweep, while Team GB's Brad Hall sits sixth and has an outside chance of getting on the podium. A little later, we'll have the traditional finales of a cross-country long-distance race and the men's hockey final.
But you're all here for curling. As you should be, and I'm not just saying that because I spent nine hours in a curling club today. (First two shots were like Niklas Edin. The rest were like Homer Simpson.)
Can Eve Muirhead get Team GB its first and surely only gold of these Olympics? Or will Japan's Satsuki Fujisawa, the bronze medalist in 2018, spring another surprise?
00:15
Coming up today
Times are all in local Beijing time. For Sydney it is +3 hours, for London it is -8 hours, for New York it is -13 hours and San Francisco is -16 hours.
9.00am Alpine skiing – the team event🥇
9.05am Curling – the women's gold medal match: Great Britain v Japan 🥇
9.30am and 11.20am Bobsleigh – the final two runs of the four-man competition 🥇
12.10pm Ice hockey – the men's gold-medal match, Finland v almost defending champions Russian Olympic Committee. In 2018 the competition was won by the 'Olympic Athletes from Russia' team, as the Russian Olympic Committee was suspended at that point due to doping violations. 🤔
2.30pm Cross-country skiing– women's 30km mass free start 🥇
8pm Closing ceremony – Oh, that's it. Done.
Updated