11:02
Just before I hand over to John Brewin, here are those Alan Partridge World Cup draw quiz answers.
1) Who scores the goal which prompts Alan to screech: "Shit, did you see that? He must have a foot like a traction engine."
Answer: It's Belgium's Enzo Scifo, a player who in my memory seemed to play in around six straight World Cups and be aged 28 in all of them.
2) Which goalie has "football pie all over his shirt"?
Answer: The trackie bottoms were the giveaway. It's Cameroon's Thomas N'Kono.
10:56
More World Cup draw chat in this week's Football Weekly Extra podcast. Barry claims the new Adidas ball is so amazing it may be able to go back in time.
10:46
From David Hytner's World Cup draw preview in which Gareth Southgate responds to questions about Qatar's woeful labour rights record, its outlawing of homosexuality and its male guardianship system that denies women the right to make key decisions about their lives?
"It's the first World Cup in a Muslim country, the first in the Middle East and it's the first World Cup in the middle of the season so it's a hugely different feel, culturally," Southgate said, calibrating his answer carefully. "But I went to the World Cup in South Africa [in 2010] – the first time on the continent of Africa – and it was an amazing experience. I went to Brazil [in 2014] – again, an amazing experience.
"Part of the World Cup is visiting places you've not had the chance to go to. I love travel and if there's a trip to go somewhere to improve my knowledge of the world and culture, I'm the first name down."
Southgate is not blind to the social situation in Qatar. Far from it. Neither are his players, especially after they were given a presentation on it in the early part of last week. The midfielder Jordan Henderson described the content as "shocking" and "horrendous".
10:41
German artist Volker-Johannes Trieb has dumped 6,500 football-shaped bags of sand in Fifa's car park in protest at the migrant worker deaths in Qatar. 'World conscience, you are a stain of shame' was emblazoned on the balls, which are meant to symbolize 6,500 workers who have died in Qatar since it won the right to host the World Cup.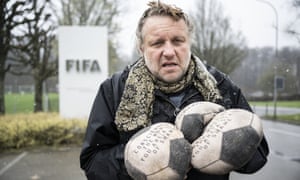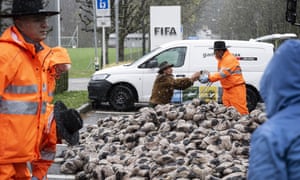 Updated

10:32
Kári Tulinius has been in contact to correct my rookie World Cup draw mistake in the preamble.
"The putative golden draw of USA, Iran and Canada, besides probably looking like a fairly difficult group, can't actually happen because two teams from the same confederation can't be in the same group, with the exception of European sides, of which there can be two."
I still think anyone would happily take the USA from Pot 2 though!
Pot 2 Mexico, Netherlands, Denmark, Germany, Uruguay, Switzerland, USA, Croatia.
10:27
This year's ball is the Al Rihla. Adidas are bigging it up here. Start saving now if you want to buy one.
10:20
David Hytner is our man in Doha for the World Cup draw. Here's his scene setter.
10:14
We've gone early with the Alan Partridge clip but let's beef it up with a quiz element.
1) Who scores the goal which prompts Alan to screech: "Shit, did you see that? He must have a foot like a traction engine."
2) Which goalie has "football pie all over his shirt"?
Answers at 11am when I hand over to John Brewin.
10:07
If only there was, like, an essential guide to how this World Cup draw malarkey works.
10:03
Preamble
Welcome to what can only be described as a bumper edition of the Friday football blog. Not only do we bring you the usual enticing dollop of Premier League team news and hot manager quotes but Friday, good people, is only World Cup draw day! The untwisting of mini footballs doesn't actually take place until 5pm UK time so plenty of time to let the pointless speculation run wild. Will Argentina get Nigeria again? Will England get a group so bad that Harry Kane can probably wrap up the Golden Boot before the knockout phase? Will we post that video of Alan Partridge's 1994 World Cup draw? Answers: a) can't happen (Nigeria haven't qualified), b) maybe, if England get the golden draw of USA, Iran and Canada, c) yes.
Back to domestic matters and Liverpool have the early kick-off on Saturday. After trailing Manchester City by 73 points at one stage, they could go top for around 150 minutes with a home win over Watford. Reds fans better screengrab the table before Burnley 0-4 Man City in the 3pm kick-off.
Updated